Twitter Is Freaking Out About The Return Of Taco Bell's Mexican Pizza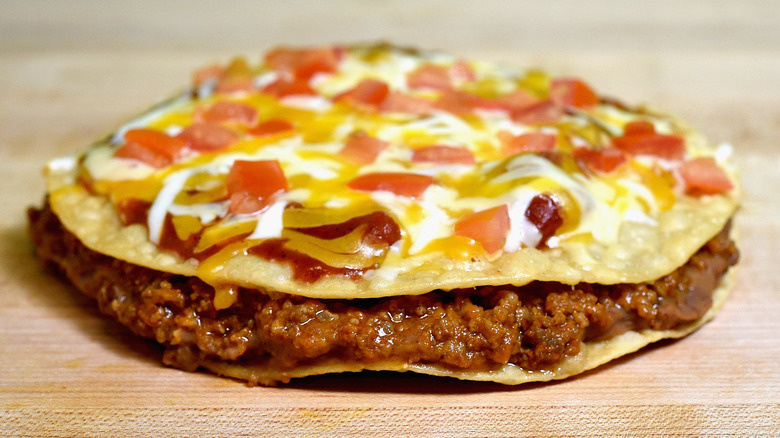 Joshua Blanchard/Getty Images
We don't know who decided to cancel Taco Bell's Mexican Pizza back in November 2020 (per Business Insider), but there's a rumor that the once-popular menu item is returning — and Twitter is freaking out. If you haven't been following the Mexican Pizza saga that made us run for the border to enjoy one last tasty crunch, let's get you up to speed. 
Taco Bell made a questionable decision to stop serving the Mexican Pizza, and this caused a bit of backlash. Outraged fans immediately took to social media to let their feelings be known, with one member of the Twitterverse sharing, "Today is day 70 of my Taco Bell boycott. No signs of cracking to this point. #mexicanpizza." Another echoed that sentiment, writing "Since Taco Bell took the Mexican pizza off menu I have had no desire or reason to eat at Taco Bell."  
But now Twitter is singing a new tune, as in November of this year, LIVING MÁS reported that the rumor of Taco Bell's Mexican Pizza returning is true. The outlet shared that Mike Grams, Vice President and COO at Taco Bell, stated "We're bringing back the Mexican Pizza!" Taco Bell fans rejoice on the Twitterverse as gifs and memes abound.
You'll have to wait to get a taste of the Mexican Pizza
The excitement on social media is mounting, and one Twitter user posted a "Home Alone" gif with Macaulay Culkin's character, Kevin, screaming into the camera. The user captioned it, "When it's a few days before #Christmas and you find out @tacobell is bringing back the #MexicanPizza." 
Another shared a meme of a character from the show "Lost" captioned, "I think I just realized that I want to live." The user wrote in the post, "I just saw that Taco Bell is BRINGING BACK THE MEXICAN PIZZA." Another posted a popular "Seinfeld" gif of the cast excitedly dancing with their arms in the air, and tweeted, "THE MEXICAN PIZZA IS COMING BACK TO TACO BELL."  
If you've never tasted this flavorful, crunchy creation, you may be wondering what all the fuss is over. Let us enlighten you. The Mexican Pizza is made from two crispy flour shells, stuffed with refried beans, beef, and cheese, and topped with cheese, pizza sauce, and tomatoes (via Totally The Bomb). Now that your taste buds are screaming, you'll have to satisfy them with something else, as, per Food Beast, Taco Bell's Mexican Pizza is not expected to be back on menus until April or May of 2022.