Andrew Zimmern Just Threw Shade At Salt Bae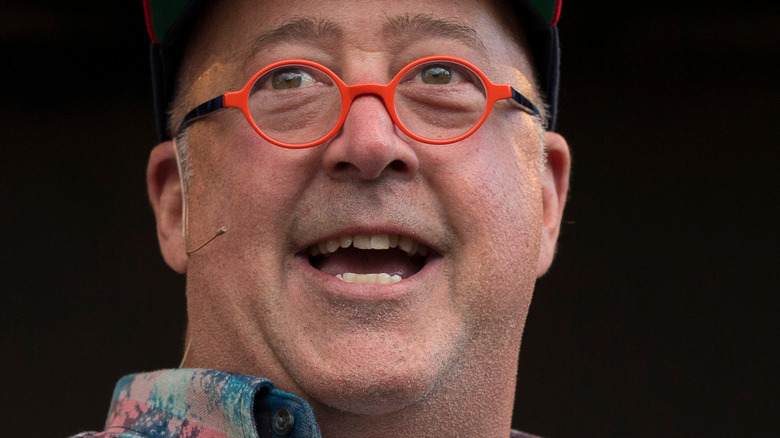 Sterling Munksgard/Shutterstock
In a recent post to his Substack community, Andrew Zimmern threw some serious shade at Salt Bae. "Spilled Milk" is Zimmern's freshly launched newsletter where he dishes on all things food and travel. And on December 2021, the celebrity chef definitely "spilled" his thoughts about a certain restauranter and Instagram star. He begins his post, which is titled, "Oh, The Places You Might Go," with, "More spilled milk...." Already, we know what's coming is juicy.
According to Know Your Meme, Salt Bae, or Nusret Gokce, is known for his feature in an internet meme that went viral in 2017, along with his ultra-expensive steakhouse with locations all over the world. One bill at his London restaurant stood at a hefty total of $50,000. And while Zimmern acknowledged that he loves "his food, his gentle smile, his humor, his desire to please others," he has one qualm with the Internet personality.
Zimmern called out Salt Bae's gold steak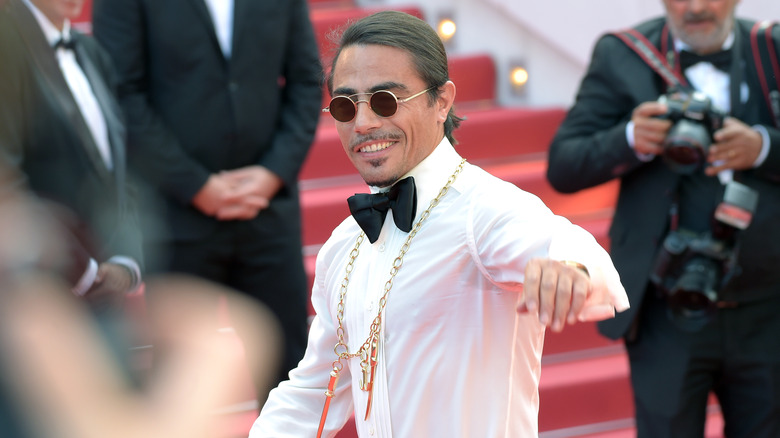 Antony Jones/Getty Images
The fact that Salt Bae serves up a 24-karat gold steak makes Zimmern a little uneasy. The "Bizarre Foods" host writes in his newsletter, "And anyone serving a gold-leaf steak falls into the 'WTF' category for me. I don't get it." Having sampled everything from dung beetles to animal genitalia, Zimmern isn't phased by many food items, as per The Daily Meal. But we can't blame him for disliking the gold leaf entree. Paying upwards of $1,000 for a piece of steak is an odd choice for many.
Esquire Middle East describes the gold itself as tasteless and as something purely for presentation. However, as expected, it dramatically increases the value of the steak. And Salt Bae isn't the only one partaking in the gold-encrusted foods trend — he's merely spearheading it. According to Food & Wine, other steakhouses are also coating their signature meat dishes in gold. So while Zimmern disapproves of the whole gold-leaf steak trend, you can't deny that the demand is there.