Padma Lakshmi Has The Perfect Soup For A 'Chilly Winter Night'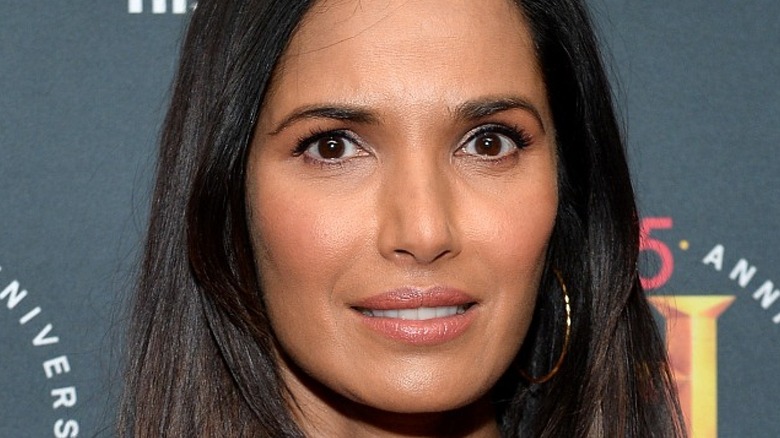 Noam Galai/Getty
During a cold, dreary evening as the wind howls outside, there's hardly a better dinner than a bowl of piping hot soup. It's a soothing, filling meal that will warm you up from the inside out while satisfying that winter comfort food craving. 
With so many varieties, styles, and flavors, there's sure to be a soup just right for you. Maybe you enjoy a classic tomato soup with a side of grilled cheese or French onion with chunks of crusty French bread. Perhaps you're more of a beef stew person who loves slurping up a hearty combination of meat and veggies. There are some soups, according to the famous soup brand Campbell's, that are more popular than others in the United States including tomato, cream of mushroom, and chicken noodle soup.
Celebrity chef Padma Lakshmi has her own thoughts about what makes the best bowl of soup. The "Top Chef" host posted a recipe on Twitter for one of her favorite winter soups she loves to warm up with.
Padma loves her curried butternut squash soup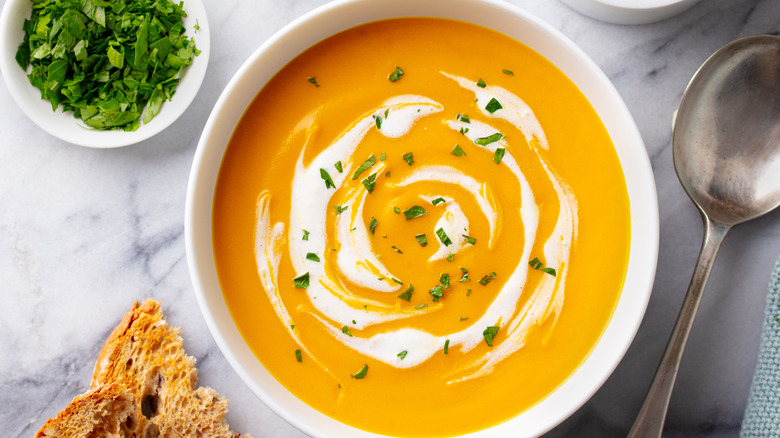 Anna_Pustynnikova/Shutterstock
Padma Lakshmi knows that soup is one of the great comfort foods during the winter months. On Twitter, she posted her recipe for curried butternut squash soup — one of her favorites. "Gorgeous gorgeous girls love soup," she tweeted. "I shared my recipe for Curried Butternut Squash Soup and Homemade Masala Chai on Substack. Both are perfect to cozy up with on a chilly winter night." 
Fans chimed in with their love of the recipe, with one user Tweeting that they plan to make it for the upcoming weekend and another cracking "then u should come to me and make your soup for me then." As Lakshmi mentioned, you can find the soup recipe, which is chock full of herbs and spices, on Substack.
Soup, no matter what kind, is one of those foods the celebrity chef says is ideal for making in bulk ahead of time so it's ready for a quick meal when you need it. "Pick a Saturday or Sunday and involve the whole family in making huge batches of different dishes," she told Today adding, "Then pack them in quart containers so you can take out just what you need."