The Rock's Latest 'Treat' Meal Has Fans Drooling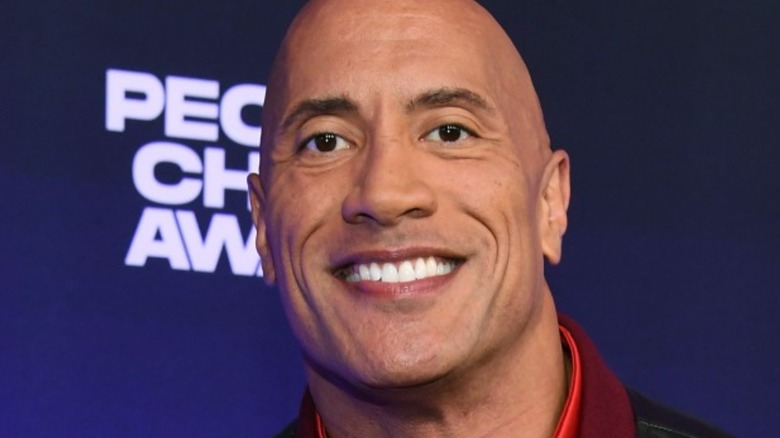 Kevin Mazur/Getty
Dwayne "The Rock" Johnson is a big dude, standing 6-feet, 5-inches tall, according to his WWE bio. While Johnson isn't confirming, and is in fact outright denying, rumors that he plans to return to the ring at Wrestlemania in 2023 (via Give Me Sport), he has used the words "possibly down the road" when speaking of resuming his athletic career. But, whether or not The People's Champion will go back to mopping the floor with jabronis any time soon, he still likes to keep himself fit, and that includes stocking up on plenty of good-for-you food.
When it comes to what he really eats, when Johnson is in training, he may stick to plain yet substantial fare that includes plenty of fish, rice, and eggs. At other times, however, he likes to treat himself to something really tasty like pancakes or ice cream. These days, when The Rock wants to indulge, he may do so with something from his own Teremana Bar, which is where he enjoyed his latest Instagram-worthy eats.
The Rock went with a classic burger and fries combo
The Rock documented a recent visit to Teremana Bar on Instagram — a place where, in the post, he says "dreams come true and the good s*** always plays thru the speakers" (just as The Doors' "Roadhouse Blues" echoes in the background). In the Instagram gallery, he's seen indulging in a moderately-sized meal consisting of two burgers topped with bacon and avocado. His burgers are accompanied by a double dose of fries, both standard and sweet potato. And before even taking a bite, Johnson provides his Instagram followers with his favorite burger hack: "What I like to do is put the lettuce, tomato, and onion at the bottom so my first bite I'm just getting the goods." Uncharacteristically for him, Johnson's meal didn't include a dessert, unless you include the "smokey & sexy" Teremana anejo tequila he was drinking.
Fans, for the most part, are finding Johnson's meal to be impressive and enviable, making an abundant use of heart, flame, and smiley face emojis in the comment section, and tossing around words like "Fantastic!" and "Yummy!" One person agreed with his tip about putting the veggies at the bottom of the burger, adding, "The lettuce protects the bun from getting soggy." Another commenter, however, noted, "I'm getting heartburn just from looking at this post" while someone else wanted to know, "How late do you stay up after eating that so you don't get heartburn?" The Rock has so far declined to answer, but if he did, we like to think he'd say, "I don't get heartburn, I give it!"