The Unusual Ingredient Ree Drummond Adds To Her Tortellini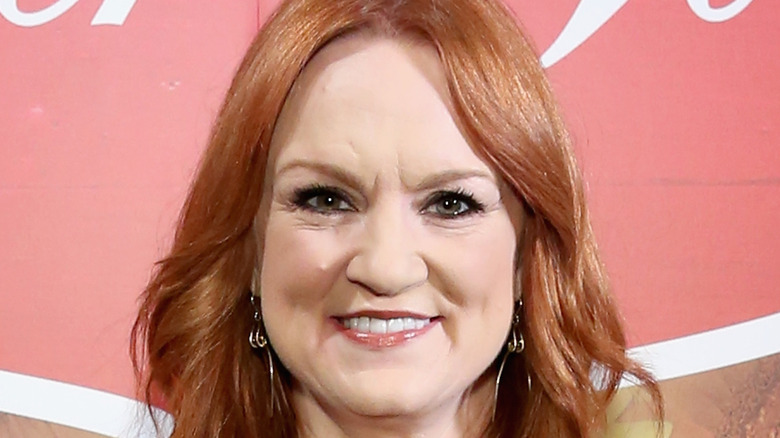 Monica Schipper/Getty Images
Ree Drummond, or "The Pioneer Woman" as most of us know her, is famous for her easy and delicious comfort food recipes. The chef, Food Network star, and author effortlessly navigates her way around the kitchen, and we could all stand to learn a thing or two from her, even when it comes to basic dishes like pasta.
Of all the quick and easy meals in a busy cook's arsenal, pasta has a permanent spot. And even standard recipes, like baked ziti or penne alla vodka, can be customizable. Just take Drummond's tortellini puttanesca, for example. During an episode of her show, "The Pioneer Woman" (as seen on YouTube), she uses all of the standard ingredients for the dish, like olive oil, garlic, chopped kalamata olives, some capers, cherry tomatoes, and crushed red pepper flakes (as noted by Food & Wine). 
But then, she adds what she refers to as a "very weird ingredient" to the pan to elevate it. Before she adds it, though, Drummond challenges her crew to guess what it is, and they take a stab at it. "Tomato paste," exclaims the videographer. Nope. Her versatile ingredient is a but more unusual than that.
Ree Drummond adds anchovy paste to the dish
While anchovy fillets are often added to puttanesca (per The New York Times), Drummond prefers to stir in a tablespoon of anchovy paste, according to the video on YouTube. But, not everyone can get their hands on a tube of this unusual ingredient. Drummond's solution to this problem is easy. "If you can't find anchovy paste, though, you can just buy a tin of anchovies and chop up four," she recommends, revealing, "That's basically what I just added."
What exactly is anchovy paste? Bon Appétit describes it as "a ground mixture of anchovies, salt, and olive oil." And, some of the upsides to using paste over fillets, according to the article, is that it's a good alternative for anyone who is opposed to having chunks or pieces of anchovy in their dish — plus, it adds some saltiness without an undercurrent of fishiness. Think of it as an umami flavor (per Saveur). Sounds like it should become a pantry staple! If you want to make your own, it's pretty simple. Pop Sugar explains that you just need to crush up some anchovies and mix in some olive oil until the consistency is smooth, and you'll be ready to dress up a number of dishes.