David Chang's 'Underrated' Brisket Preparation Is Turning Heads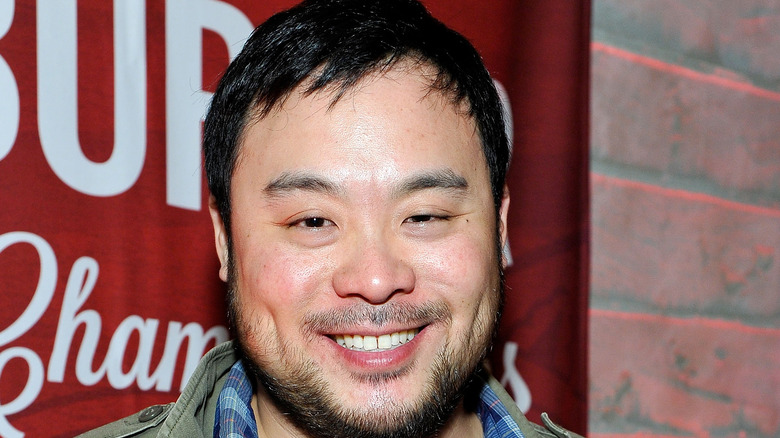 John Sciulli/Getty Images
Fewer foods can spark joy in a meat-eater's soul more than brisket. You've probably made or tasted this cut of beef, whether it's been smoked or barbecued, but leave it to David Chang to come up with a new, cold weather-friendly way to enjoy the delicacy.
According to MasterClass, there are eight primal (main) cuts of beef, and brisket is one of them. It comes from the steer's pectoral muscles, and contains a lot of connective tissue, which can make this cut tough. However, as brisket lovers know, when cooked correctly (using the low and slow method), it becomes tender and delicious.
David Chang, founder of the Momofuku empire and host of Netflix's "Ugly Delicious," knows just how to do it, of course, and he offers a way to use brisket that you might not have considered. In an Instagram post, Chang shared photos of some beautiful-looking shredded beef, and a soup he made with it, along with the caption, "Underrated: boiled shredded brisket ... beef brisket soup with daikon." 
It's not the first time Chang has advocated for brisket as a meat for soup. In his book, "Cooking at Home" (Penguin Random House), he writes, "In Western cooking, brisket is an underrated soup meat ... As many Asian cultures know, you can boil a brisket and end up with a really delicious broth that makes for amazing pho and beef noodle soup." In addition to a broth, Chang points out, boiling nets tender beef, which can be shredded and put back into the soup (via Google Books).
David Chang's followers are boiling over with excitement for this soup
David Chang recently showed his Instagram followers some beef brisket and daikon soup, and they're here for it. James Beard Award-winning chef J. Kenji López-Alt of Wursthall Restaurant & Bierhaus in California is among Chang's followers, and clearly the two share a mind connection. "We're doing this with oxtail tomorrow!" López-Alt commented on the post. Although Chang doesn't provide a recipe in the shared content, one follower suggested that the broth is also flavored with fish sauce and garlic, which sounds amazing.
Although some people commented that the thought of boiled brisket isn't all that exciting, most were on board with the idea. One fan said, "Ultimate comfort food ... Any time of year for me please ... with a side of [diced radish kimchi]." One other person thought the soup was "the best thing a person can eat when it's below 50 degrees." Another nostalgic follower agreed, saying, "This is a childhood fave and remains to be a big part of our family's rotation of soups!" An additional commenter noted that their grandmother used to add noodles to this classic dish. And one fan said the daikon, a white radish that takes on a sweet flavor when cooked, puts this soup over the top. "I live for this soup. Daikon is so f—-ing good!" they wrote. With so many people already loving it, you might want to save this recipe idea to warm up with for those upcoming long winter nights.