Fans Can't Decide Which Celebrity Ree Drummond's Son Resembles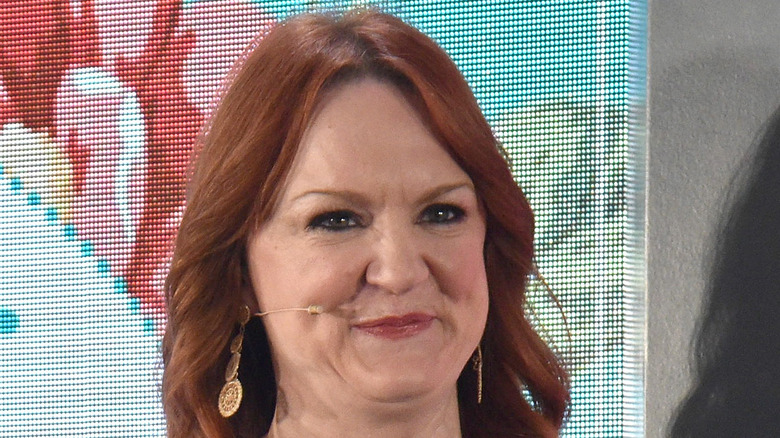 Bryan Bedder/Getty Images
Tall, athletically built, and ruggedly handsome, his blue eyes sparkling mischievously, his grin, utterly infectious. Who might we be talking about, pray tell? Well, it could be any number of celebrities, including Anthony Michael Hall, Neil Patrick Harris, Woody Harrelson, Matthew McConaughey, or many others. As it turns out, it is none other than Bryce Drummond, the 18-year old son of everyone's favorite Pioneer Woman, Ree Drummond, whose four children we've watched grow from little tykes to full-on adults over the last decade or so. On December 25, presumably in connection with the Drummond family celebration of the Christmas holiday, Ree Drummond shared a few photos of herself with Bryce (via Instagram), who happens to be not just a "pretty face" but also a star in his own right as a talented football player for the University of North Texas (via Mean Green Sports). 
"My son is wonderful (first photo), weird (second photo) ... and Woody Harrelson (last photo). Anyway, I think I'll keep him!" Drummond wrote in the caption to her Instagram post. Now, fans are trying to decide whether they agree with Ree over which celebrity her boy actually resembles.  
It's kind of a toss-up, which celebrity Bryce Drummond resembles most
When Ree Drummond shared a few photos of her with her son Bryce on Dec. 25, she made two observations. One is Bryce's highly animated facial expressions, something no one could deny. The other is Bryce's resemblance to actor Woody Harrelson (via Instagram). On this latter point, some of Drummond's fans jumped right on board. "He does resemble Woody Harrelson! Two handsome guys!" one fan wrote. Another commented, "Whoa! I see the resemblance." Still another: "Definitely Woody!!!" Others pointed out how Bryce's smile, in particular, reminds them of Harrelson. "He does look like him!" one fan noted, while another shared, "Wow, he's got Woody's smile." However, not everyone was buying the resemblance between Bryce and the beloved, now-60-year old celebrity.
Others couldn't help but notice how much Bryce also happens to resemble another ruggedly handsome, adorably rubber-faced, fairly complected celebrity born in the 1960s. That would be none other than Anthony Michael Hall, who made a name for himself playing the lovable, low-key sexy "Geek" character in the John Hughes classic "Sixteen Candles." Many of Drummond's followers shared how much Bryce looks like Hall, with one pointing out, "I see Anthony Michael Hall" and another stating "he could be [Hall's] twin ... by the time he bulked up for the 80s movie Johnny Be Good." 
Nor did Drummond disagree. When one fan commented, "Totally Anthony Michael Hall!!!" Drummond said, "I agree with this, too!!"