Fans Are Losing It Over Ree Drummond's Holiday Photo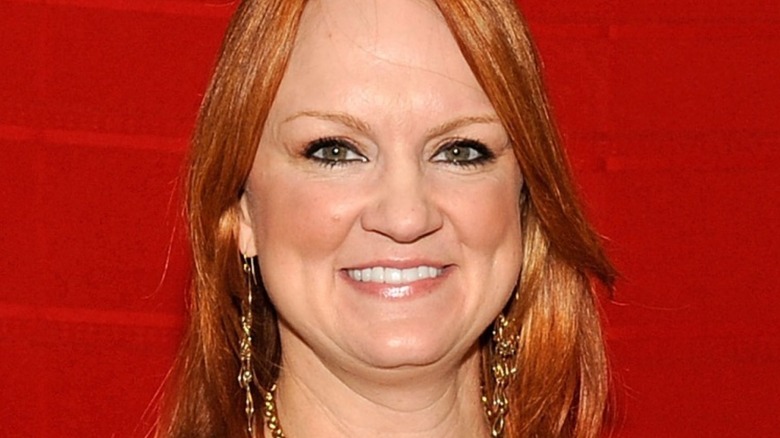 Bobby Bank/Getty
Did anyone doubt that Ree Drummond's family was the type to don matching Christmas pajamas? Not for a second! In a recent Instagram post, the host of Food Network's "The Pioneer Woman" got comfy with her clan on Christmas Day in matching snowman pajamas — and fans are loving the adorable family photo.
Alongside the image, Drummond posted the caption, "Merry Christmas, friends! (We miss you Alex and Mauricio!!)!" Their daughter Alex married Mauricio Scott in May, and they are living in Dallas, Texas (per Taste of Country). Although the newlyweds didn't make it back to the ranch for the holidays, Alex promised to join in the fun and commented on the photo, "Make sure Santa gets us some jammies for NEXT YEAR!!" One curious fan replied to Alex's comment, wondering if the newlyweds might need baby pajamas by next year, but it seems that Alex and Mauricio are in no rush to have a baby (via Showbiz CheatSheet).
Many fans were full of Christmas cheer and a "cuteness overload" seeing the Drummonds lounging in matching holiday gear. A few of the Instagram followers commented on Drummond's ever-popular husband, Ladd, and commended him for participating in the matching outfit photo, with one person saying that "the only thing that would make the picture better is if Ladd had on his cowboy hat."
It's all family fun at the Drummond house over the holidays
If Ree Drummond's Christmas Day Instagram post shows anything, it's that her ranching family can get together for more than a meal during the holidays. As is seen in the image, her family is decked out in matching snowman PJs, with one Insta follower giving them the "best Christmas jammies award."
In the photo, Drummond sits between her husband, Ladd, and her son, Todd, with one person commenting, "Toddie holding your hand is soo sweet, Ree!" They are joined on the sofa by their foster son, Jamar Goff, with Paige and Bryce Drummond smiling behind them. According to The Pioneer Woman blog, Jamar joined the Drummond family about two years ago. Ree hesitated to post about it at first as Goff was a minor, and she didn't want to "subject him to more attention than he wanted or needed before he had a chance to settle in" at the ranch. Though, Jamar makes it Instagram-official by joining in the fun.
One follower also wondered if Ree had a secret to getting her kids to wear matching jammies — but hey, if Ree Drummond was making your Christmas morning breakfast, you'd probably wear matching pajamas, too.