This Is The Secret To Trisha Yearwood And Garth Brooks' Marriage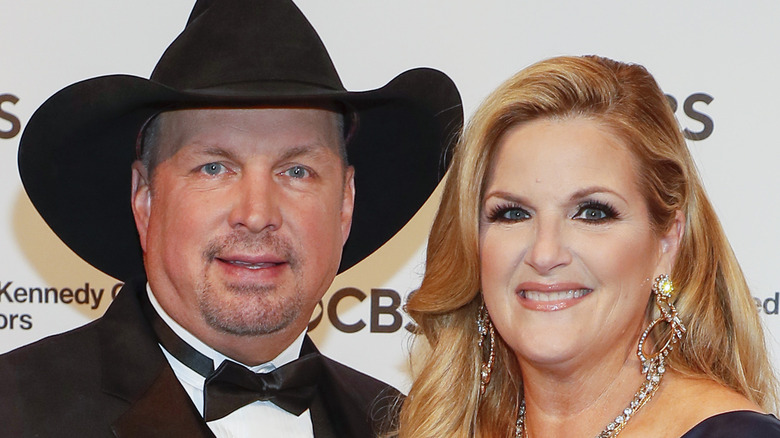 Paul Morigi/Getty Images
Garth Brooks and Trisha Yearwood, aka the king and queen of country music, are couple goals. The two first connected back in 1988, though at the time, both artists were spoken for respectively (via Country Thang Daily). Their careers took off from there. But over the course of nearly two decades, both Yearwood and Brooks faced their own marriage hardships. Brooks wed Sandy Mahl in 1986 and the two were married for 15 years until they divorced in 2001 over "irreconcilable differences." According to Mahl, the country star lifestyle wasn't one she believed their marriage could keep up with and it's what eventually drove them apart, per Country Thang Daily. Yearwood married within the music industry twice. From 1987 to 1991, she was married to musician Chris Latham. Then, in 1994, she and bassist Robert "Bobby" Reynolds tied the knot; However, the two went their separate ways in 1999 (via Page Six).
Suffice to say, Yearwood and Brooks have learned a thing or two about martial ups and downs, which is probably why their relationship has proven to be so successful. That said, Yearwood believes there is one "secret" or key component that's helped keep their marriage alive and well all these years. But first, you need to understand their history.
From tour mates to close friends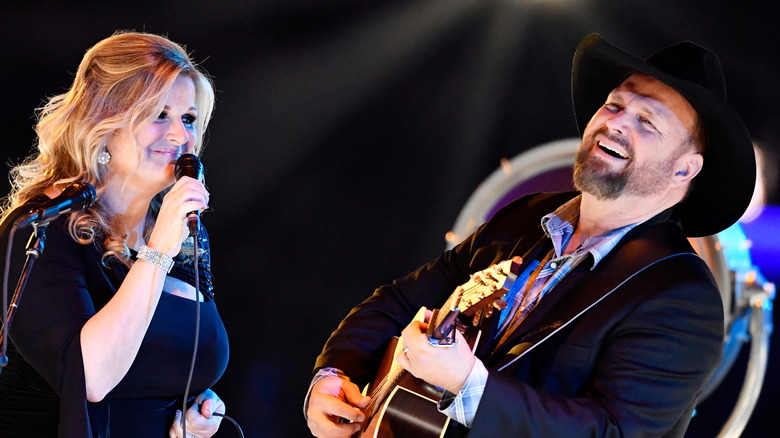 Frazer Harrison/Getty Images
Trisha Yearwood and Garth Brooks are a powerhouse couple in the country music landscape. But what many may not know is that their relationship started out on a professional level. The two met in 1988 through mutual friend and songwriter Kent Blazy, who was working with Yearwood prior to Brooks, according to Country Thang Daily. After hearing Brooks's vocals, he was smitten and 100% hooked. Part musical genius, part cupid, Blazy had the two up-and-coming artists collaborate together on a handful of tracks. Eventually, Brooks's singing career took off and he was headlining his own tour with Yearwood in the passenger seat. The two became an instant country music duo.
"I knew him before his first album came out, so I got to watch that success and see him become just a bigger, more famous version of himself. And it was really valuable to me as an opening act for him in '91 to watch," Yearwood told The Boot. The tour not only took their relationship to new (platonic) heights, but it also deepened their respect for one another, which only solidified their foundation for a future relationship even more. 
Had it not been for the tour, who knows where Yearwood and Brooks would be today?
From close friends to husband and wife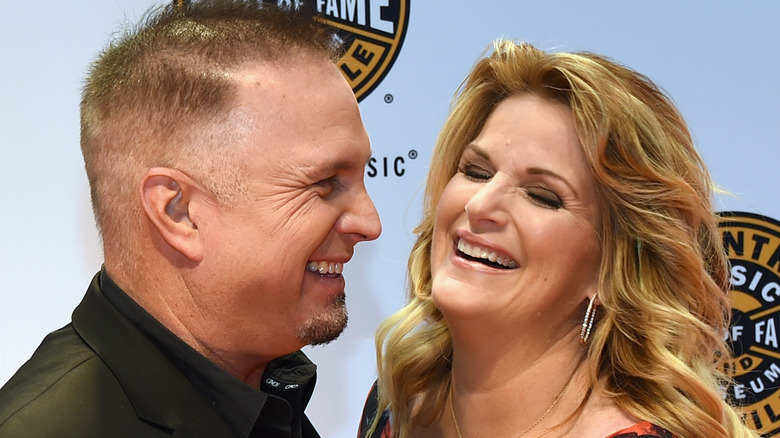 Rick Diamond/Getty Images
Trisha Yearwood is spilling the secret sauce behind her and Garth Brook's 16-year marriage. Speaking with The Boot, the singer-songwriter explained that because "we were married to other people and we were friends for a long time," the glue that holds their marriage together is stronger. "we were buddies — and you'll tell your friends stuff that you would never tell a guy you're dating, right?" she laughed.
Yearwood went on to explain that there was never any pressure between her and Brooks to impress or be perfect around one another because there was never a romantic relationship up at stake; They were just friends. This allowed them to know and fall in love with their true authentic selves, a privilege Yearwood acknowledges not a lot of couples get. "We had this strong base friendship that I think a lot of couples don't get because — and I was guilty of that, too — you go straight into a romance with somebody, and a few years down the line, you're like, "I don't like this guy. What was I thinking?" That being said, going from best friends to lovers put everything they had built together (in and out of music industry) on the line; But it seems like it was well worth the risk.