Joanna Gaines Shared An Emotional Instagram Throwback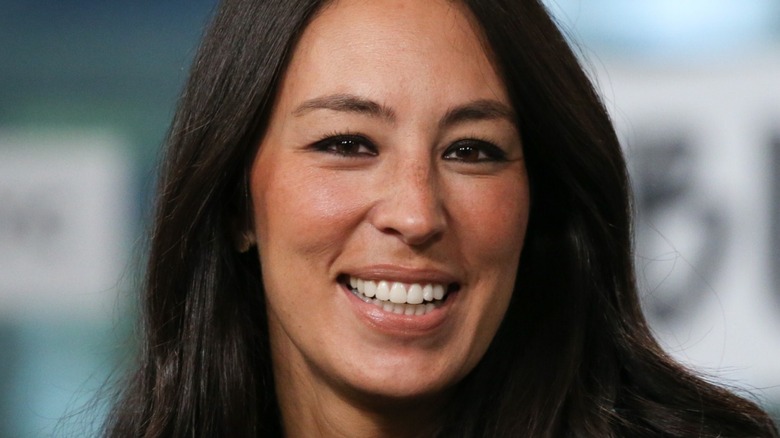 Rob Kim/Getty
If you've turned on a TV in the last few years, there's a good chance you know who Joanna Gaines is. The mom of five — and Texas native — rose to home design and renovation fame with her show "Fixer Upper," which ran on HGTV from 2014 to 2017 and amassed more than 16 million viewers every week (via The Hollywood Reporter). After that, she went on to launch her own TV network with hubby and "Fixer Upper" co-star Chip Gaines called Magnolia Network. The channel, which launched in 2021, features a variety of DIY and food shows. Gaines' success isn't just limited to the screen: She also has stores in Waco, Texas, where she sells her own line of housewares that can also be found in Target stores across the country. She's even written a few cookbooks and a children's book.
Of course, Gaines is well aware of her success and what it took to get to where she is. The TV host recently shared a nostalgic Instagram post in which she reflected on where she's been and how grateful she is for her current life. 
Gaines is proud of how far she has come over the years
Like many of us, Joanna Gaines is feeling especially reflective this time of year, with 2022 just around the corner. On Instagram, she posted a video clip of an advertisement for Magnolia Network displayed on a billboard in Times Square in New York City. If you swipe over, you can see another picture of Gaines in almost the exact same spot — but many, many years ago. "On that trip, something in my heart told me I would live there one day and sure enough, I moved back for an internship in television my last year in college," she wrote in the caption. "The irony is that while I was there, I fell in love with the small boutiques I'd frequent on the weekends—they felt the most like home to me."
Gaines went on to describe what happened between the two photos: She married Chip, had a family, opened her own boutique, returned to television, and launched a cable network. "It's all so surreal and a full circle moment for me and a reminder that nothing is ever wasted," she closed the post, adding, "So thank you, thank you for helping make our wild dreams come true."