Oreo Hilariously Trolled Dionne Warwick With These Cookies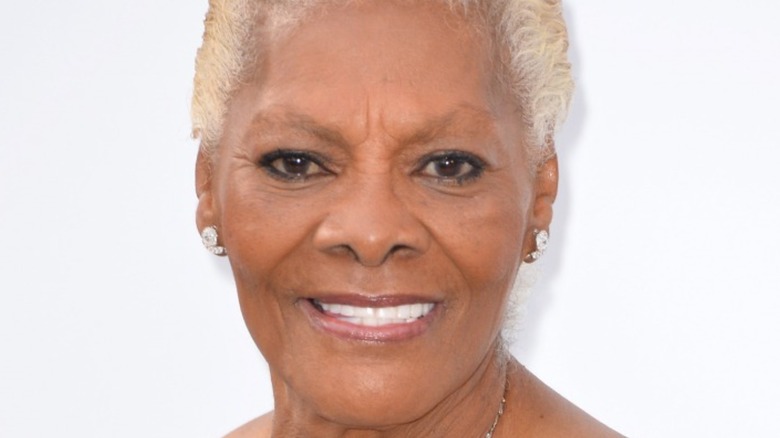 Featureflash Photo Agency/Shutterstock
Dionne Warwick has reigned the Twitterverse over the past year, using the social media platform to call out multiple brands for whatever she does or doesn't like. The seasoned singer has Tweeted with 30 mega-companies including Hellmann's, Hanes, and Oreo, which have trended so hard that outlets like HuffPost and Dish Nation are reporting on them.
According to People, the "That's What Friends are For" singer and the wildly popular Oreo cookie have had a banter going since January of 2021. First Tweeting at Lady Gaga, Warwick asked what the limited-edition Oreo's created for the singer tasted like, adding a little bathroom jest. Fast forward to October, and Warwick Tweets at Oreo, "Hello, What is your weirdest flavor? Why are y'all doing the most? The one flavor was fine." Oreo initially responds with, "well this is fun, hi everyone."
But the buck didn't stop there. Dionne posted a picture of herself on a box of Oreos boldly stating "I promise I won't choose a weird flavor. Have your people call my people," to which Oreo replied, "We don't even have to watch the audition. We're in." Following this with a poll asking who would be interested in seeing her collab with Oreo, the cookie company retweeted, along with the caption "Blocking anyone who votes no." 
Warwick promises Oreo sweet revenge
In a December post, Dionne shares "After asking @Oreo to stick to the original flavor, they sent me these outrageous items as a response," complete with a frowning side-eye emoji. It seems Oreo responded to the diva's request to stick with their original cookie flavor by sending her the Java Chip flavored cookies along with an Oreo lip balm. Now, Auntie Dionne isn't going to just "Walk On By," instead, she claims "I will be retaliating at a later date." 
These Tweets have sparked some internet gold, with one response stating that revenge is "a dish best served cold" and another immediately adding "with milk." One follower was concerned about the cookie company going head-to-head with Dionne and cleverly incorporated a Warwick song, as many others did, replying, "I'll say a little prayer for those Oreos!"
Warwick fans feigned outrage at Oreo for sending their favorite Twitter Queen one of its flavored variations. Many commenters shared their own preference of classic Oreos, while some dared to say Java Chip was their fave. Even Sean Mills offered, "I will take the cookies off your hands, Dionne. That's what friends are for."
We can't confirm what Oreo flavor is tops, but we can agree that the Dionne/Oreo Twitter saga is everything we never knew we needed.