Costco Fans Can't Wait To Try This Japanese Barbecue Sauce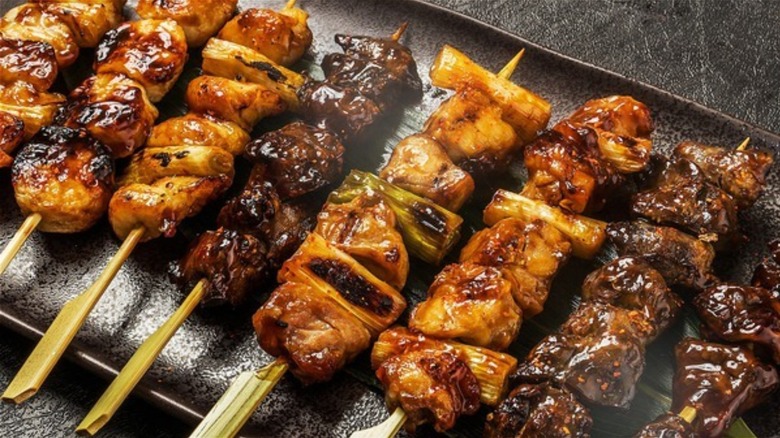 norikko/Shutterstock
Costco is a one-stop-shop for many who prefer to stock up on extra groceries and everyday essentials. Certain products at Costco have struck a chord with its loyalists, for example, the zero sugar Cali Gold BBQ sauce from Kinder's made waves among customers earlier this year as people were truly impressed with the sauce. 
Costco enthusiasts have found something new to rave about. According to an Instagram post from user Costco_doesitagain, the company is currently selling a Japanese barbecue sauce that has many people intrigued. The Original Japanese Barbecue Sauce is produced by a company called Bachan's, a family business that was started in 2013 and is the brainchild of entrepreneur Justin Gill. He writes on the brand's official website, "For as long as I can remember, my Bachan—you might say Granny—would cook up the most amazing meals with our umami–filled, teriyaki-ish sauce! The recipe has been passed down and perfected over generations and today, my family and I are honored to share our authentic Japanese Barbecue Sauce with you."
Instagram reviews are promising
Per the website, Bachan's claims that its sauces are made without preservatives or artificial flavors, and rely on "delicious, clean ingredients." The sauce is already grabbing the attention of Instagram users, with the Costco_doesitagain account spearheading the push for the sauce. The post already has over 10,000 likes and 223 comments with many echoing "we need to check our Costco!!"  
One fan vouches for the Japanese BBQ sauces quality stating, "This stuff is great!!! I have been ordering directly from them for awhile now...buy this people, you won't be disappointed." The commenter also noted that the sauce works well on meats like ribs and wings. One Costco enthusiast offers up a hot tip suggesting to marinate Costco sea bass with the BBQ sauce for half an hour before pan-searing the fish for delicious results. Another fan went on to add, "What makes Bachan's so much better than other pre-made sauces is it's able to retain the nuances of its ingredients, like ginger and green onion, and it's incredibly well-balanced."
Of course, there's bound to be those who don't get the hype, like one underwhelmed Instagrammer who claims that the BBQ sauce is merely a teriyaki type without the extra sweetness. We, however, refuse to let the negativity in and are excited to get our hands on this sauce!