Topo Chico's New Hard Seltzer Flavor Is Perfect For Taco Tuesdays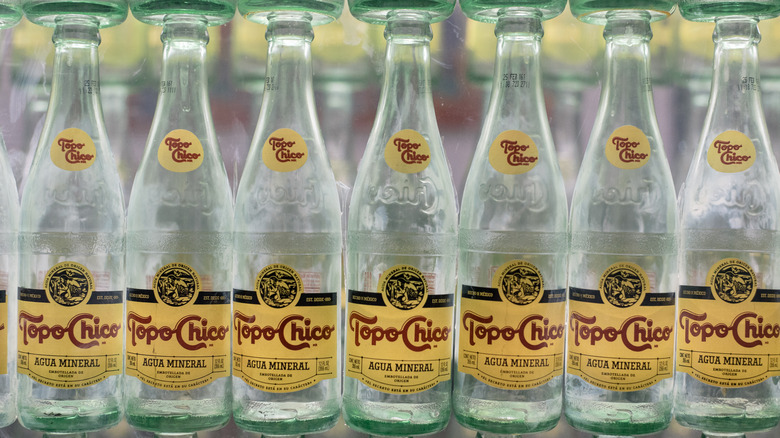 Bloomberg/Getty Images
You may remember being thirsty as a kid and making the grave error of taking a big swig of your mom's drink only to discover that it was sparkling water. Somewhere along the way, you found yourself trying it again, enjoying it, and eventually craving it. The next step: combining it with alcohol.
Topo Chico Mineral Water is a legendary effervescent water sourced and bottled in Monterey, Mexico since 1895, per Wide Open Eats. Topo Chico was named after the Cerro del Topo Chico mountain — an inactive volcano above the limestone-laden reservoir that creates the mineral-infused sparkling water. It even comes with its own legend: an Aztec king's daughter who had fallen ill was reportedly cured by drinking and bathing in the Cerro del Topo Chico's healing waters.
According to Insider, Topo Chico has seen a legendary growth in sales and popularity over the past decade. The mineral water was acquired by Coca-Cola for $220 million in 2017 and saw a 30% bump in sales in the first quarter of 2018 alone. Topo Chico is gaining popularity nationwide, but it's always been the preferred favorite in Texas, where it has developed a cult following. It's also the gold standard mineral water used in the Lone Star State's signature Ranch Water cocktail.
Topo Chico announces its new Ranch Water Hard Seltzer
After a long day of being a Texan, nothing refreshes like Ranch Water. The mixed drink made famous by bartenders tasked with quenching the thirst of folks living through hot Texas summers consists of Topo Chico, tequila, and lime juice (per Sips, Nibbles & Bites). The refreshingly simple cocktail is gaining popularity nationwide, and Topo Chico has now announced that its new Ranch Water Hard Seltzer will be hitting store shelves to kick off the new year.
Molson Coors Beverage Company partnered with Coca-Cola to create Topo Chico Hard Seltzer, which has been gaining immense popularity since its release in March 2021. "There's no cocktail in Texas more legendary than Ranch Water," Matt Escalante, senior director of hard seltzers at Molson Coors Beverage Company, said in a recent press release. "Given the love Texans have shown for Topo Chico Hard Seltzer, it's only natural for the brand to refresh the taste of the classic Texas drink like only we can."
Topo Chico Ranch Water Hard Seltzer comes in a single flavor and features the refreshing effervescence of the mineral water combined with real lime juice. Each 12-oz slim can contains 4.7% alcohol by volume and 100 calories. It will be available starting January 4, 2022 in stores across Alabama, Arizona, California, Colorado, Georgia, New Mexico, Oklahoma, Tennessee, and, of course, Texas.