Here's What Happened To Anthony Bourdain's Favorite Kitchen Knife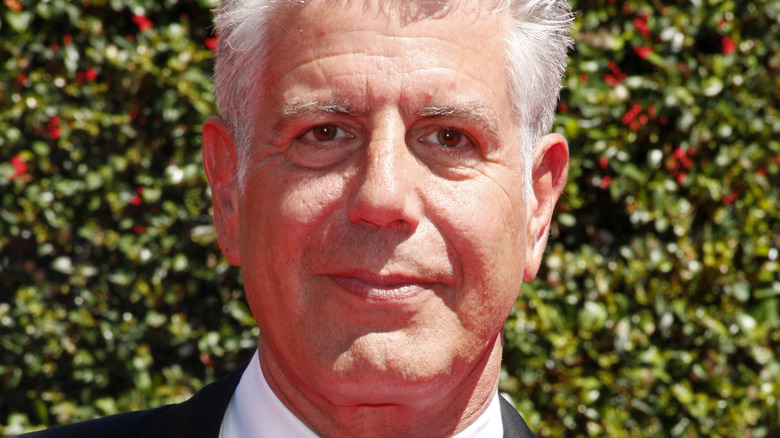 Tinseltown/Shutterstock
Anthony Bourdain's go-to kitchen gadget, per CNN Underscored, was a knife. Specifically, he touted the virtues of the Global G-2 Chef's Knife. The Daily Meal explained that the late Bourdain extolled its usefulness for both pros and novices. But he was also quite fond of his custom chef's knife made by Bob Kramer, according to the Robb Report. In fact, it was "one of Bourdain's favorite tools," per Antiques and the Arts. But what made this knife so significant to the "Parts Unknown" host?
Bourdain provided some insight in a 2015 episode of "Raw Craft with Anthony Bourdain" (via YouTube), where he not only learned how Kramer creates "the most awesome knife in the world" but got to spend time learning the bladesmith's story. "To say that a knife is a chef's most valuable tool isn't just stating the obvious," Bourdain said. "It's an understatement of titanic proportions. ... a good knife is at the foundation of everything you do." 
The celebrity chef explained that Kramer is "one of only 122 Master Bladesmiths and the only one who specializes in kitchen knives." Kramer forges his own steel using a meteorite as a primary ingredient and follows the principles of "time, temperature, and technique" when it comes to making his coveted slicing and dicing tools. Bourdain even referred to the knifemaker as a "rock star" and revealed that Kramer knives are a status symbol among serious chefs. But what happened to Bourdain's favorite rock star-crafted knife?
It was auctioned off
Bourdain lamented in the "Raw Craft with Anthony Bourdain" episode (via YouTube) that to make a single Kramer knife takes an absurd amount of time it takes to make, but it was the kind of absurdity he needed. And per The Robb Report, in 2016, Bourdain dropped $5,000 on a Kramer knife. Perhaps the value Bourdain placed on Kramer knives is why when his knife was auctioned off by iGavel Auctions as part of his estate, it ended up with a price tag well beyond what he paid for it.
According to CBS News, the auction took place in October 2019 and featured belongings that were important to Bourdain during the course of his career. Laurie Woolever, who worked as Bourdain's assistant for many years told the outlet, "Anything that sort of made it to the home collection was something that had a real, personal significance to him, so when I look around this room, I really see so much of him. I see the things that he loved."
Bourdain's knife, which came with a black carrying case and a certificate of authenticity, sold for an eye-popping $231,250. And to keep Bourdain's legacy alive and well, a portion of the auction's proceeds went to Anthony Bourdain Legacy Scholarship at the Culinary Institute of America where Bourdain was once a student himself.