Alex Guarnaschelli Swears By This Advice On Alex Vs America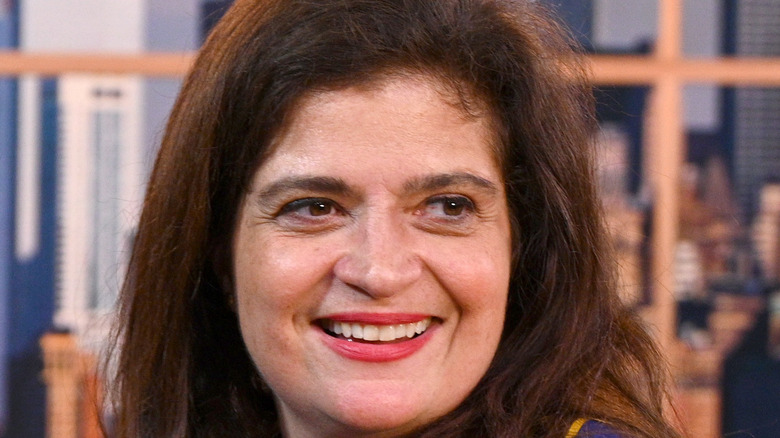 Dave Kotinsky/Getty Images
Fans of chef, restaurateur, and television personality Alex Guarnaschelli may have heard of her latest show, "Alex vs America." The new program premiered on January 2, 2022, and the general premise may seem somewhat familiar to fans of "Beat Bobby Flay" and other similar culinary shows, in which a primary chef squares off against various competitors.
As Food Network explains, the show features two rounds of cooking, featuring Guarnaschelli competing against three different chefs, with any of them (even the star chef) liable to being sent home that episode if their plate is deemed the least impressive by the judges during a blind taste test. Additionally, while Guarnaschelli seems to be able to whip up just about anything thanks to her long, diverse career in the culinary industry, the episodes will be themed around particular types of cuisine. And that will allow each episode's participating cooks to be fearsome competitors specializing in that area — Guarnaschelli certainly isn't taking the home court advantage from that perspective.
The first few episodes of the competition focus on chefs that specialize in shellfish, beef, and spicy foods, with the competitors coming from all over the country, bringing their knowledge to the table as they battle it out for a $15,000 prize and, as Food Network says, the "ultimate bragging rights." The competitive angle is certainly not anything unusual for Guarnaschelli, who has duked it out with plenty of worthy competitors on "Iron Chef America" — though she received some solid advice for heading into this show.
Guarnaschelli knows it must be a 'balancing act' in this new competition show
Alex Guarnaschelli regularly shares her expertise and insight on both Twitter and Instagram, and with the premiere of "Alex vs America," she took to Twitter to answer some questions — and share the advice she swears by as she gets ready to face off with new competitors.
Though Guarnaschelli has some serious culinary chops, she doesn't count on being entirely undefeated throughout the whole series. As she wrote on Twitter, "To be honest, the producer of #AlexvsAmerica told me when we started this show: 'You can't win them all but you also can't lose them all. If either of those extremes happen, there is no actual show'!!" The simple advice makes sense — viewers certainly don't want Guarnaschelli to school the competitors without even breaking a sweat herself, but they also don't want the heavy hitters with particular specialties dancing circles around the renowned chef. As with many things, it's a balancing act.
Based on the buzz on Twitter after the premiere January 2, fans seem to be enjoying "Alex vs America" thus far. One wrote, "Love the authenticity of it and how you truly give your competitors the leading edge. Excellent dynamics for a great show!" Another found Guarnaschelli's latest project a breath of fresh air, saying, "It has such a different energy than any other competition show that's out there."
Viewers will have to stay tuned to see what Guarnaschelli's win rate is, and how she stacks up against her competitors in the coming episodes. "Alex vs America" airs Sundays at 10 | 9 pm CT.