Little Caesars Just Made This Big Change To Its Hot-N-Ready Pizza
When a pizza craving hits, Little Caesars has a Hot-N-Ready pizza pie just waiting to be sliced. With the new year, of course, comes new reasons to enjoy this Little Caesars staple. As many people may currently be resolving to make changes to their eating habits, the chain is following suit by putting a significant update on one of its most popular menu items, as shared in a company press release. It's all about getting more bang for your buck when ordering a Hot-N-Ready pepperoni pizza.
Little Caesars has long been a pizza pitstop for the cost-conscious, offering some cheap pizza options for just $5 a pie. This strategy has worked for the brand for several years, but that doesn't mean innovation isn't in order from time to time. Just as the calendar has turned to 2022, the restaurant chain is serving up a product innovation that just might make pizza night a more frequent occurrence for Little Caesars fans — without making a huge dent in their wallets.
Little Caesars Hot-N-Ready pizza is now much more pepperoni-loaded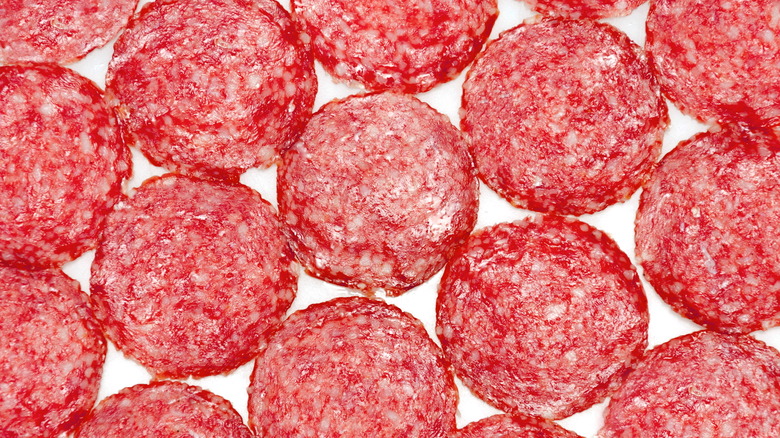 All for you friend/Shutterstock
To kick off 2022, Little Caesars has made two big changes to its Hot-N-Ready Classic Pepperoni pizza, reveals a company press release. First off (and most delightful for customers), the pie will feature 33% more pepperoni. This "new and improved" pepperoni pizza will be available for a limited time, the chain says, and will be celebrated with upcoming promotions at the restaurant.
Second, and perhaps less delightfully, the extra pepperoni comes with a higher price tag. The upgraded Hot-N-Ready pizza will cost $5.55 before taxes instead of $5, which, according to CNN, marks the company's "first price increase in nearly 25 years." Still, even this higher cost is substantially lower than that of other pizza chains. Domino's, for example, has a starting pizza price of $9.99, per Real Menu Prices. At half the cost, Little Caesars preserves its reputation as one of the most affordable pizza spots in the country, especially considering that restaurant prices are expected to increase in 2022.