Baked Feta With Olives Recipe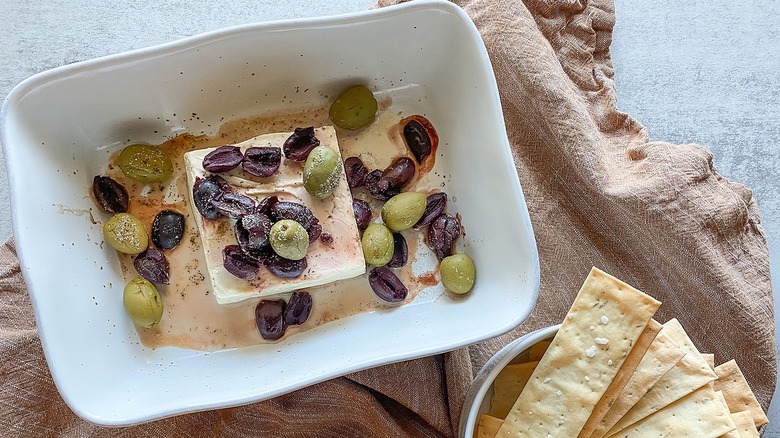 Kristen Carli/Mashed
Are you looking for a quick yet delicious appetizer for a last minute gathering? Look no further than this baked feta with olives recipe! This one-pan crowd favorite dish takes less than 30 minutes from start to finish, and the result is incredibly delicious. "With the ingredients in this recipe always being in season, it is perfect for any get together, any time of the year," says recipe developer and registered dietitian nutritionist Kristen Carli, MS, RD.
The saltiness from the olives, paired with the sweetness from the honey creates a magical combination that will send your taste buds on a flavorful journey. The versatility of this perfectly balanced recipe allows it to act as a casual snack or be a party favorite. This protein packed recipe is not only tasty, but it's also affordable and low maintenance — hooray for fewer dishes! "It's also gluten free, and you can dip just about anything into it," Carli adds. You do not want to miss out on this creamy goodness!
Gather your ingredients to make baked feta with olives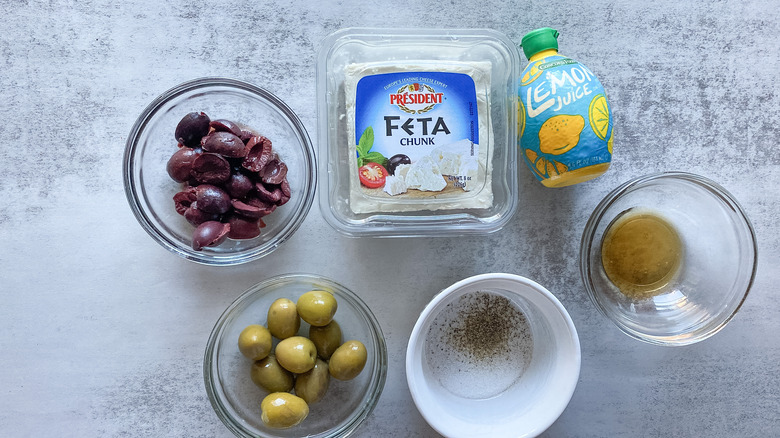 Kristen Carli/Mashed
The best part about this recipe is that you will more than likely already have the majority of the ingredients at home. For starters, you will need feta cheese and two types of olives: kalamata and castelvetrano. Why use two types of olives? Well, it will help add more complex flavors to the dish, especially since castelvetrano olives are not fermented. This means that, unlike many types of olives, they have a delicious rich and buttery taste. Aside from the olives and feta, you'll also need lemon juice, honey, salt and pepper.
One more note about the olives: make sure you grab pitted olives to make this as easy as possible. If this is not an option, you can simply pit them yourself by using a chef's knife or meat pounder to press down on the olive and gently squish out the pit.
Add the feta and olives to a baking dish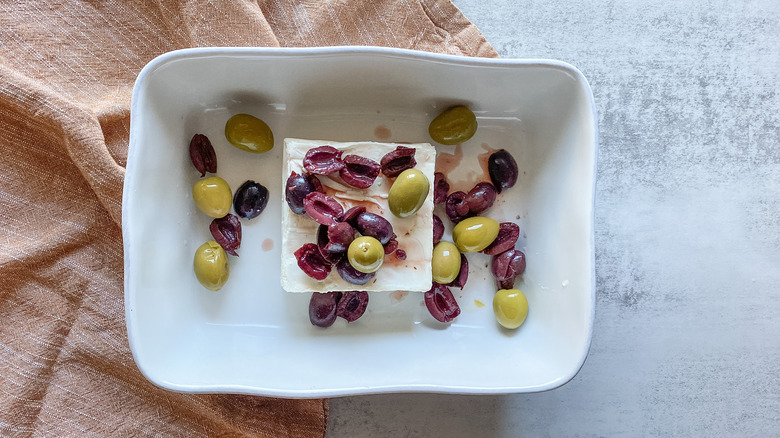 Kristen Carli/Mashed
Let's get started. First, preheat your oven to 350 F. Grab a baking dish and simply add your block of feta to the center of the dish. Next, drain your olives and add both servings of olives to the dish. There is no strategy on perfect placement of the olives, just pour them right on top of the feta. Have you ever heard of the saying, "let the chips fall where they may?" Well, this is one of those situations — let the olives fall where they may!
Dress up the feta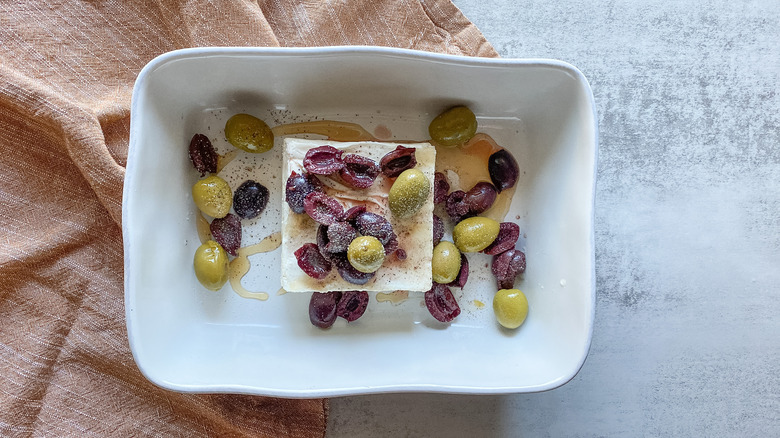 Kristen Carli/Mashed
Time to dress this feta up! Drizzle your honey on top of the feta and make sure you don't miss the olives as well. The sweetness of the honey cutting through the saltiness of the feta and olives is an incredible combo you won't want to miss. Next, add your lemon juice. The acid from the lemon juice gives this dish the perfect zesty pop of flavor that will have you coming back for more. Finally, sprinkle the salt and pepper.
Bake the feta and olives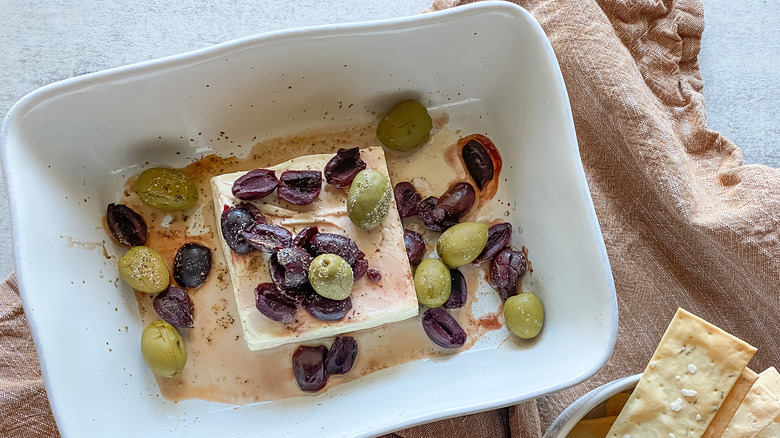 Kristen Carli/Mashed
Once assembled, pop the baking dish into the oven for 20 minutes. Yes, that's right, just 20 minutes — we told you this recipe was low maintenance. Once done baking, use oven mitts to carefully remove the baking dish from the oven. Set the dish aside and let it cool for a few minutes or to the desired temperature. Next comes the fun part, choosing what to use to dip into this feta bake with. We have a lot of yummy suggestions.
Serve with crackers or vegetables for dipping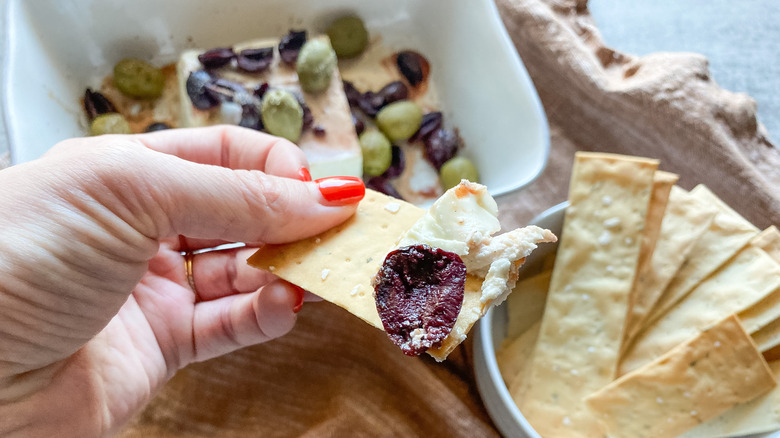 Kristen Carli/Mashed
The limit does not exist when it comes to vessel options to dip into this feta bake. From crackers to vegetables, there are so many great alternatives. This dish holds well in the fridge after the party is over. Need leftover ideas? Reheat and smear on top of your protein of choice, like chicken or fish. This would even be a delicious addition on top of a salad. Get creative — there are so many great ways to enjoy this versatile dish!
Baked Feta With Olives Recipe
This baked feta with olives dish is the perfect appetizer and snack — best of all, it comes together in less than 30 minutes.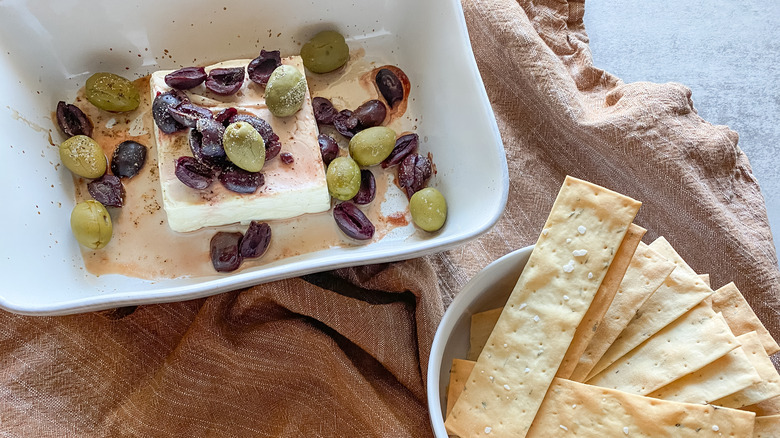 Ingredients
1 (8 ounces) block feta cheese
¼ cup pitted kalamata olives
¼ cup pitted castelvetrano olives
2 tablespoons lemon juice
1 tablespoon honey
½ teaspoon salt
¼ teaspoon pepper
Directions
Preheat the oven to 350 F.
In a small baking dish, add the block of feta.
Top the feta with both types of olives.
Drizzle on the lemon juice and honey, then sprinkle on salt and pepper.
Bake the dish for 20 minutes.
Serve the baked feta with crackers or vegetables for dipping.
Nutrition
| | |
| --- | --- |
| Calories per Serving | 94 |
| Total Fat | 6.9 g |
| Saturated Fat | 4.4 g |
| Trans Fat | 0.0 g |
| Cholesterol | 25.2 mg |
| | |
| --- | --- |
| Total Carbohydrates | 4.2 g |
| Dietary Fiber | 0.3 g |
| Total Sugars | 3.4 g |
| Sodium | 321.9 mg |
| Protein | 4.1 g |