Dunkin' Just Referenced This Viral TikTok Trend In An Instagram Post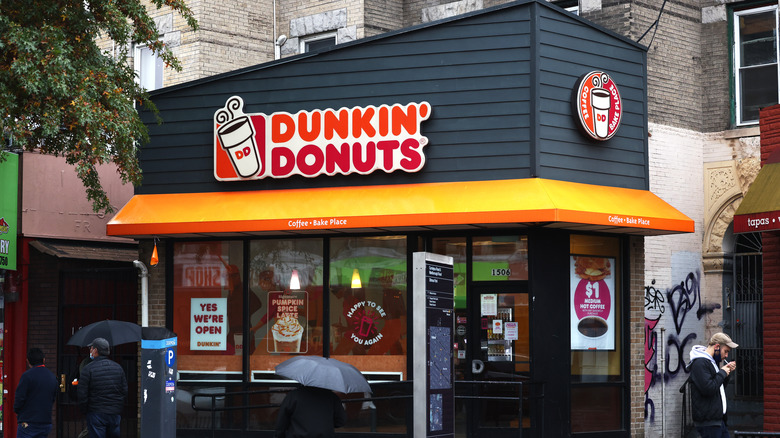 Michael M. Santiago/Getty Images
If you've been on TikTok at all in the past month, you're more than familiar with the viral "Bing Bong" sound.
The audio took over the app after the New York-based one-minute street show "Sidetalk" popularized the jingle, as it starts all of its episodes with this same pitch (via Dexerto.com). The chime is the same one that the New York City subway emits when its doors close. Therefore, this sound has always been iconic — but now, people can't seem to get enough of it.
We've already seen how quick brands are to hop onto TikTok trends (we're looking at you, McDonald's), and this one is no exception. And Dunkin's social media team is no stranger to creating a TikTok viral video either, as seen from its famous collaboration with Charli D'Amelio in which it created a new drink and merchandise with the social media influencer. Unsurprisingly, its take on this "Bing Bong" trend did not disappoint.
Dunkin' used the trend to announce a new item
Unlike many other companies, Dunkin' didn't turn to TikTok as a medium for this trend. Instead, it used Instagram. And even more cleverly, the coffee chain used the trend to debut the release of its new Omelet Bites.
The company's Instagram perfectly delivers the caption, "Sup baby, take me out to Dunkin' for some new Omelet Bites." These warm, eggy creations are a part of the chain's breakfast menu. They were released on January 5, and come in either Bacon & Cheddar or Egg White & Veggie (via Newsbreak). According to Chew Boom, both options are pretty high in protein, with Bacon & Cheddar coming in at 17 grams of protein per order and Egg White & Veggie having 13 grams of protein per order. Along with this flashy new product, two other menu items have been developed: the Chive & Onion Stuffed Bagel Minis and the Stroopwafel Donut. 
So there you have it, folks. Dunkin' now has Omelet Bites. Bing Bong!