The Secret Ingredient Ree Drummond Uses In Her Cowboy Breakfast Sandwich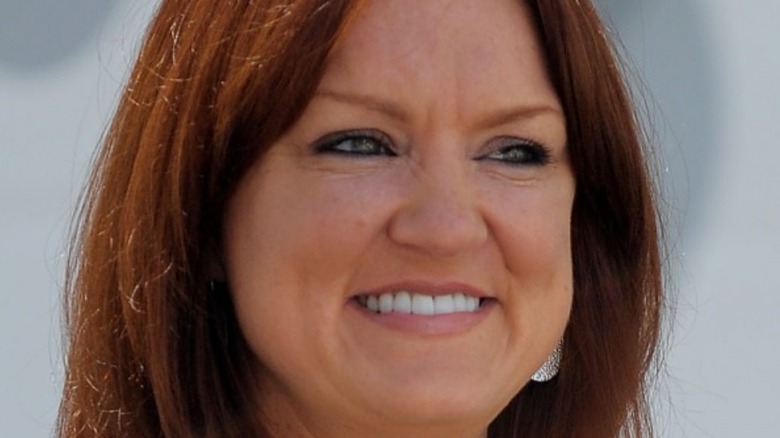 Charley Gallay/Getty Images
Ree Drummond loves breakfast foods and offers a variety of dishes for us to attempt. In one of her recipes, Drummond shares the story of how a visit to her sister in Texas introduced her to what would become one of her favorite breakfast meals – Migas. This is a hearty dish where scrambled eggs are the star supported by bell peppers, jalapeños, onions, cheese, and fried, chopped corn tortillas.
While this may be one of her go-to morning meals, when it comes time to feed her husband, she reveals in the recipe description that she whips him up a Cowboy Breakfast Sandwich. First introduced to this cheesy, meaty meal by her father-in-law, Ree revamped it a bit by adding her own special spin. 
Drummond shares that the primary ingredients you need to make this sandwich are Texas Toast, eggs, cheese, sausage, and if you choose, mayo. She shares, "It's something I love cooking for hungry cowboys, traveling salesmen, visiting dignitaries, and Orkin Men." But there's an additional ingredient she uses in this sandwich that will make your taste buds say Yippee-ki-yay.
Jarred jalapeños for the win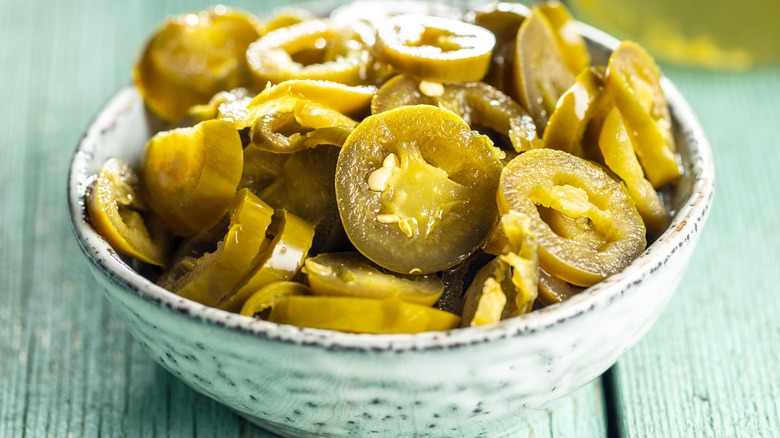 Jiri Hera/Shutterstock
The cook shares on her website, "The secret ingredient of this extremely simple and highly gourmet work of art is jarred jalapeños." But before these spicy peppers make their way to the layers of sausage, cheese, and eggs, they are grilled. The celebrity chef explains that she learned this trick from a short-order cook, but it's worth noting that grilling the jarred jalapeños comes with a caveat: Ventilation is required, whether that be a fan over your stove or opening the kitchen windows. Drummond explains that when the jalapeños start smoking and sizzling, the smell is quite overwhelming.
Drummond is a fan of jarred jalapeños, and not just for the Cowboy Breakfast Sandwich. She pickles them herself and according to some reviews of her Pickled Jalapenos and Onions recipe, you can do this too, as the process is easier than you might imagine (via Food Network). One fan wrote, "Making these for the 2nd time with jalapeños from my garden. Really good, spicy, and easy!!!" While another offered "Made this today. Packed full of flavor with a wonderful kick! Super easy and so delicious. Would make a great gift for any occasion."