The Problem Some Aldi Shoppers Have With This Cauliflower Crust Pizza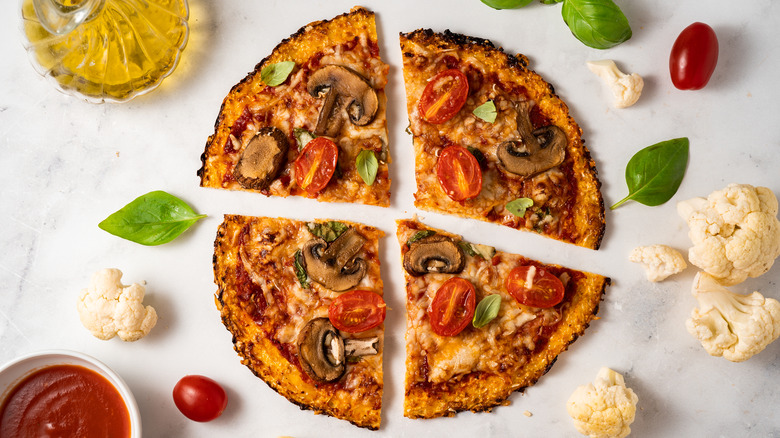 Yummypic/Shutterstock
Some Aldi foods have a cult-like following that could put Taylor Swift's fanbase to shame. Customers love the supermarket's Paradise Fruit Blend, a mix of frozen fruit chunks that can make smoothies and fruit bowls a breeze to blend (via Delish). Another favorite is the Pumpkin and Sage Ravioli that packs the flavors of five kinds of cheese in a single ravioli pocket.
Yet another item that has been a hit among customers for years now is Aldi's Mama Cozzi's pizzas. Per The Kitchn, at any given point in time, Aldi has at least 17 varieties of Mama Cozzi's pizzas in its stores. What's more impressive is that the supermarket has over 60 varieties of this pizza, and while some are only available for a limited period of time, The Kitchn notes that a Mama Cozzi's pizza almost always makes its way onto the store's monthly Aldi Finds.
By way of an Instagram post, the store announced the return of its popular Mama Cozzi's Roasted Vegetable Cauliflower Crust Pizza and while most fans can't wait to get their hands on it, some have a surprising complaint to make.
Fans are calling for a vegan cauliflower crust pizza
Selling for about $5.35, per Aldi's weekly finds, the cauliflower crust pizza is topped with roasted vegetables, is gluten-free, and is a comeback that fans on Instagram are thrilled about. Comments like "racing to Aldi" and "was so so impressed with this" came pouring in with some even suggesting that Aldi's option was the best cauliflower crust pizza that they had ever eaten. "I was hesitant to try this because I don't like cauliflower. Once I tried it, no other pizza crust and pizza can beat this one. I'm forever sold on this," admitted one cauliflower crust fan.
There are some customers, however, who aren't happy with this Mama Cozzi's Cauliflower Crust. While it may be gluten-free, it's not vegan as the pizza uses dairy-based cheese. Aldi lovers took to Instagram requesting a vegan version of this favorite. Comments include, "Would be nice if it was also dairy free!" and "But we need one with vegan cheese." 
One user suggested using the store's own vegan mozzarella to make a vegan version of the popular pie. It's unclear whether Aldi plans on addressing this demand, but in the meantime, we'll keep our eyes open when shopping in the frozen food section.