Goldfish Now Makes Bigger Crackers For Adults
Tiger Images/Shutterstock
Few packaged snacks are as nostalgic as Goldfish crackers. The cute cheddar fish — appropriately bearing the slogan, "the snack that smiles back" — have been a staple in many homes ever since they first hit grocery store shelves back in the 1960s (via PR Newswire). Maybe your mom always packed them in your lunchbox to eat with your PB&J, or perhaps you enjoyed popping them in your mouth one by one as an after-school snack. While the crackers are famous for their cheddar iteration, the family has expanded to include a range of mouthwatering Goldfish flavors, from pizza and Parmesan to s'mores and sour cream and onion. 
If you want to revisit your favorite childhood snack today, you don't have to settle for the tiny fish-shaped crackers of your youth. To help you satisfy your adult-sized craving while making your inner kid happy, apparently, Pepperidge Farm just released a giant version of its Goldfish crackers. Here's what you need to know about the new Goldfish Mega Bites and how to get your hands on them.
The giant Goldfish currently come in two tasty flavors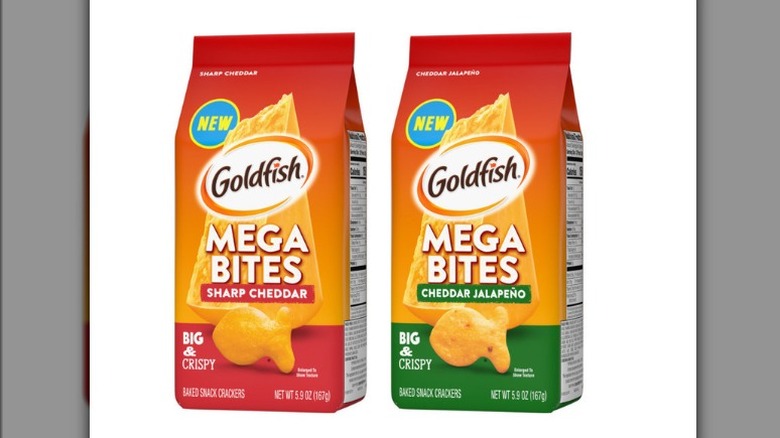 Pepperidge Farm
According to a press release from Pepperidge Farm, Goldfish Mega Bites are 50% bigger than the original cheesy crackers, and they are currently available in two flavors: sharp cheddar and cheddar jalapeño. You can find them at major grocery retailers across the country, where each 5.9-ounce bag retails for $2.69. "This is the first time Goldfish has created a snacking experience specifically with 'Grown Up' tastes in mind," Janda Lukin, chief marketing officer of Campbell Snacks, said in the announcement. In fact, adults consume 40% of purchased Goldfish.
Some of the staff members at People already got to try the new Goldfish. Their verdict? Definitely worth buying. "The larger fish have a more cracker-like feel, but still with the same loveable taste of Goldfish — and who doesn't want more Goldfish in every bite?" Reviews shared by Kroger, "collected as part of a promotion," were largely positive. One said that their kids found the cheddar jalapeño to be too spicy, while others thought the kick was just right. Another found them to be completely addictive: "My husband literally ate the entire bag almost, without letting me know he had them! We have found our new favorite snack!" they wrote.