Burger King Is Testing A New Line Of Whopper Sandwiches. Here's Where To Try One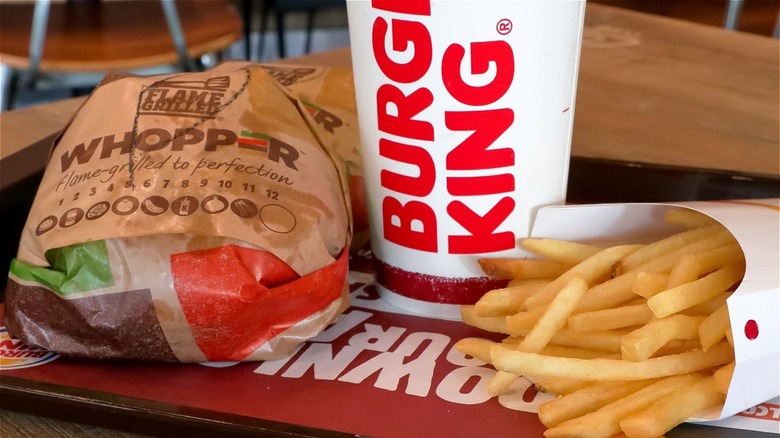 agencies/Shutterstock
Burger King's beloved Whopper sandwich is getting a makeover. According to Chew Boom, three "Whopper Melt" options are currently being tested at select locations of the burger chain.
Hungry patrons can choose from the standard Whopper Melt, which includes two Whopper Jr. patties (which adds up to one-quarter pound of beef), American cheese, Stacker Sauce, and caramelized onions between two pieces of circular toast. Or, opt for the Spicy Whopper Melt, which appropriately features jalapenos and a spicy sauce (instead of Stacker Sauce), along with the same cheese and onions as the standard melt. The Bacon Whopper Melt is also aptly named, as it includes slices of crispy bacon.
The sandwiches range in calorie content from 571 to 609 calories, per Burger King. Around 95 mg of cholesterol per sandwich can be expected, as well, says Fast Food Nutrition. If Burger King's answer to the patty melt is already making your mouth water, keep in mind that you can't order these Whoppers just anywhere.
Locals to this city can try a Whopper Melt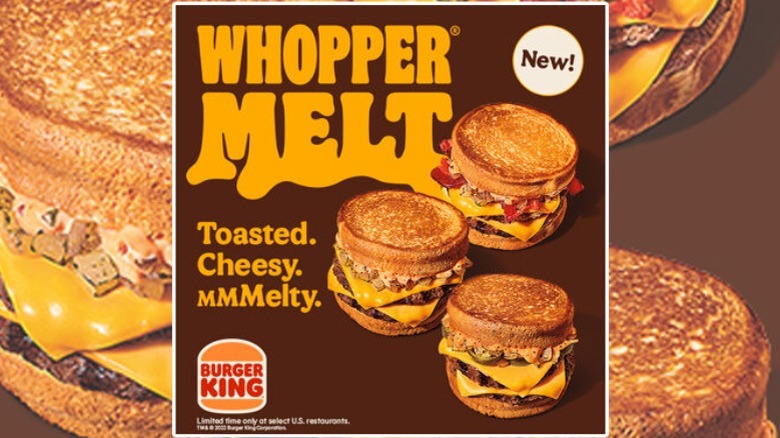 Burger King
The brand-new Whopper Melt sandwiches are being tested right this minute at participating locations in Toledo, Ohio, per Chew Boom. Prices start at $3.99 per sandwich. This is a far cry from the original Whopper's price of 37 cents, but that was back in 1957, so a little inflation is to be expected. 
This isn't the first time the fast food chain has gotten creative where the Whopper is concerned, says Brand Eating. Another beloved iteration is the Angry Whopper, which was most recently brought back for a limited time in 2019. That take on the classic included crispy onion petals, bacon, jalapenos, and something called "Angry sauce." It also nixed the sliced onions and ketchup, and traded standard American cheese for habanero cheese. When that option was around, it retailed for $5 per sandwich, although the BK app often featured a coupon that brought the price down to $3. That same year, BK also introduced the Impossible Whopper, a vegetarian version of the beefy sandwich that was met with much fanfare. 
Stay tuned to find out what test customers think about the line of Whopper Melt sandwiches. Will it be a hit or a messy, melty miss? For now, only patrons in Toledo will be able to tell us.