How To Get A Burger King Whopper For 37 Cents This Weekend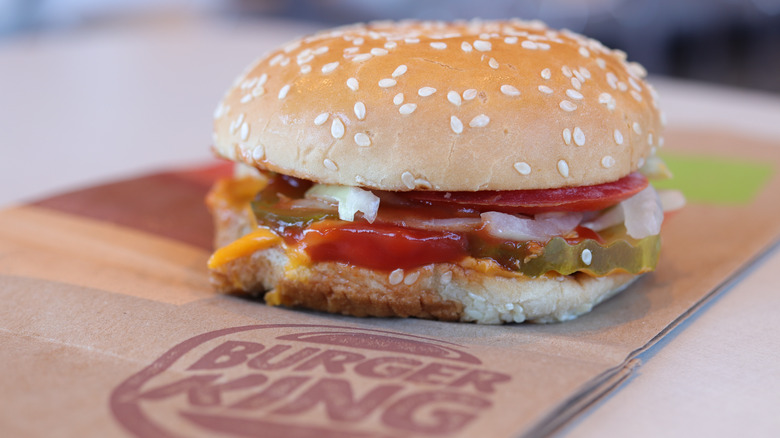 Deutschlandreform/Shutterstock
It's a very special weekend for Burger King — its iconic Whopper turns 64! Many people might be surprised that this easily recognizable menu item is nearly a "senior citizen," but the truth is, the Whopper has been stealing hearts and taste buds since 1957. To celebrate, the fast food chain is offering a two-day promotion in which you can get a Whopper for the low price of 37 cents. If you're a true Burger King devotee, you may know that this number is significant, as this was the price of the menu item when it was first introduced in the 1950s.
Unlike menu items such as the Rib King, sweet potato curly fries, and Cini Minis, all of which were discontinued by Burger King, the Whopper has been a permanent staple since it was first introduced, and with good reason. Featuring a "flame-grilled beef topped with juicy tomatoes, fresh lettuce, creamy mayonnaise, ketchup, crunchy pickles, and sliced white onions on a soft sesame seed bun" (via Burger King's online menu), the Whopper still stands as many people's favorite Burger King menu item. But there are a few things you need to know to score this low price.
What you'll need to get this Whopper deal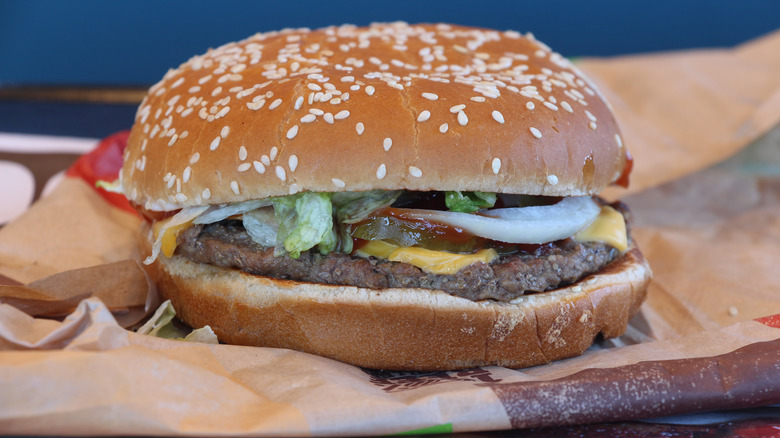 Deutschlandreform/Shutterstock
Famous for their "have it your way" tagline, Burger King shares in a press release you can enjoy this burger over 1,000 ways. But no matter how differently you and your friends eat the signature burger, many agree that it is one of the superior items on Burger King's menu. And with the chain beginning production of its Impossible Whopper back in 2019, vegetarians can now get in on the Whopper action (though unfortunately not for the promotional throwback price).
If you're interested in taking advantage of the promotion, you must be a Burger King Royal Perks member, meaning that you must be a part of the fast food chain's loyalty program. However, if you are a loyalty member, and live in the continental United States, you're golden! Head to your local Burger King December 3 or December 4 to get your special Whopper for just 37 cents.