Shaved Fennel Salad Recipe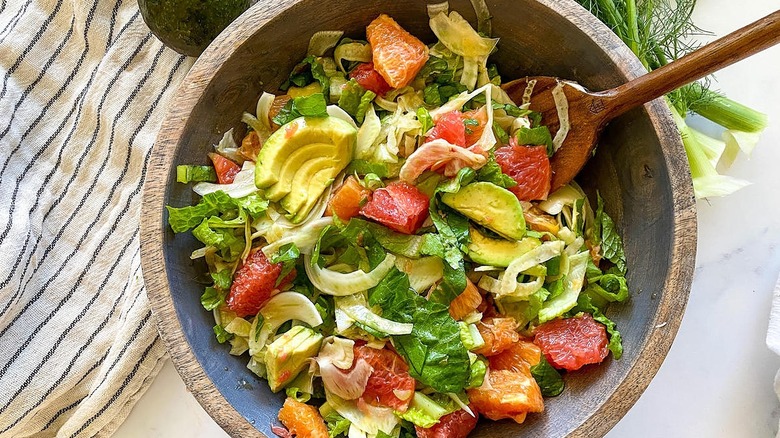 Miriam Hahn/Mashed
When you think of all of the ingredients that make up a good salad, fennel may not be the first thing to come to mind. As it turns out, however, the flowery, bulbous vegetable works quite well as the base for a salad — and recipe developer Miriam Hahn's shaved fennel salad recipe is living proof! "The salad has a citrusy, Asian flavor," Hahn explains. "It is light and flavorful!" When it comes to a salad, "light" and "flavorful" are definitely two words we want to hear!
Indeed, this fennel salad is packed with flavor and nutrition, and Hahn loves just how wonderfully it pairs with various meals. "My favorite thing about this dish is it's a light salad that is super versatile and pairs with so many things," she explains. "Plus, I love using fennel because it is so good for digestion and [it's] full of fiber." She also notes that it even helps with bloating, too. Not only is this salad packed with tasty ingredients, but it comes together in a breeze as well, making it the perfect side dish for busy weeknights. 
Gather the ingredients to make shaved fennel salad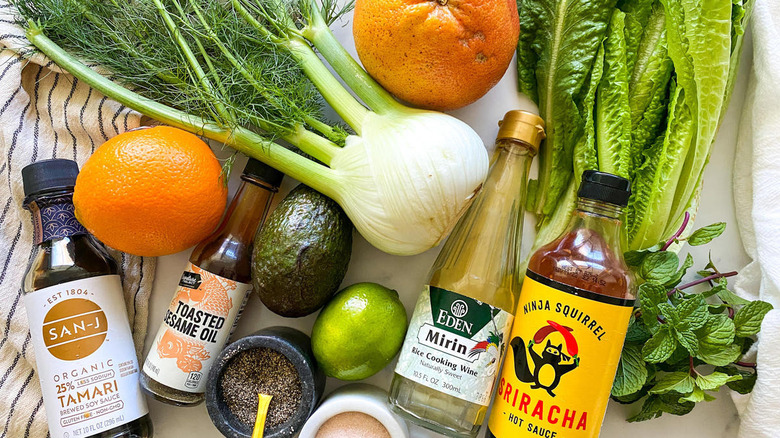 Miriam Hahn/Mashed
Now that you've got fennel on the brain, you're likely eager to jump right into this recipe. Before you do, make sure you have all of the right ingredients on hand. For Hahn's shaved fennel recipe, you'll need a large fennel bulb and some chopped romaine lettuce, which will serve as the base of the salad. Hahn notes that you can use butter lettuce as a substitute for romaine. To add some citrusy flavors to the mix, you'll need a navel orange and a pink grapefruit, along with the juice from a lime. To round out the salad, you'll need sliced avocado, fresh mint, soy sauce, mirin, sesame oil, sriracha, salt, and pepper. Optionally, you can top off the salad with some sesame seeds. 
Start by slicing the fennel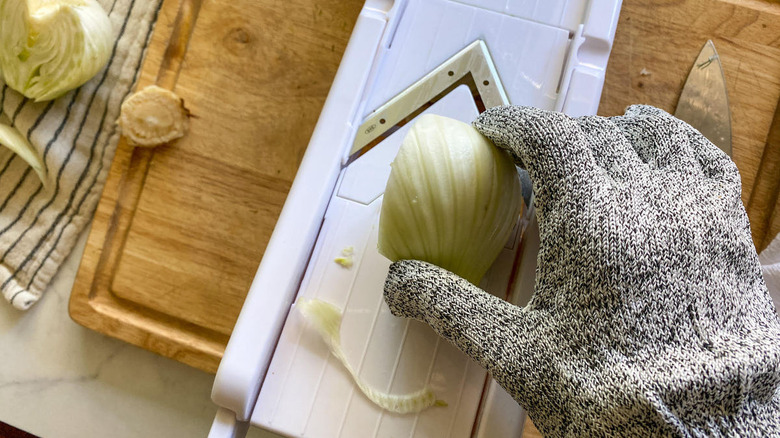 Miriam Hahn/Mashed
To get started on this recipe, you'll want to focus on the fennel first. Cut the stalks off of the fennel, then cut around the circle core at the bottom of the bulb. Remove this core, and then cut the bulb in half. If you're using a mandolin, slice the fennel bulb on the thinnest possible setting — we want super thin pieces. If you don't have a mandolin, simply cut the fennel using a knife, aiming to slice as thinly as possible. "If you don't have a mandolin, the pieces will come out thicker. This is okay, but the very finely shaved pieces from a mandolin are ideal," Hahn explains. Also, if you're using a mandolin, be sure to proceed with caution and wear a protective glove if you have one. 
Slice the orange and grapefruit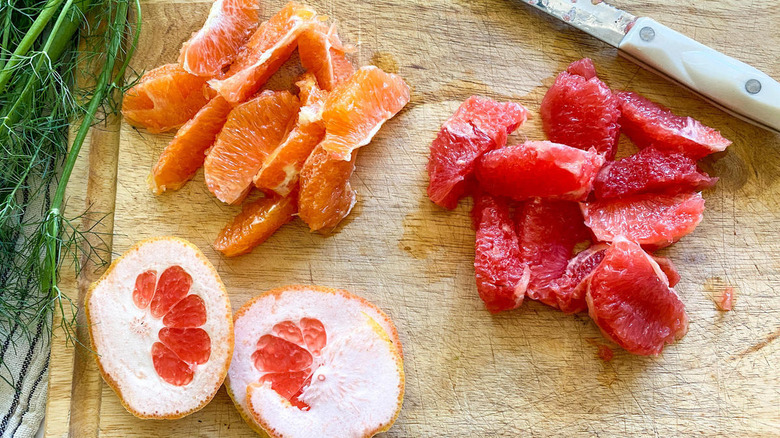 Miriam Hahn/Mashed
Thanks to the addition of orange and grapefruit, this salad has a wonderful, citrusy touch. First, of course, you'll need to prep both fruits. Starting with either the orange or grapefruit, cut both the top and bottom off, then stand the fruit on a flat side on a cutting board. Using a sharp knife, cut the peel off from top to bottom, ensuring that you're also removing the pith layer as well. Once the fruit is completely peeled, cut into each section of flesh, and keep doing so until you've removed each section from the fruit. Repeat this entire process with the other piece of fruit as well. 
Assemble the shaved fennel salad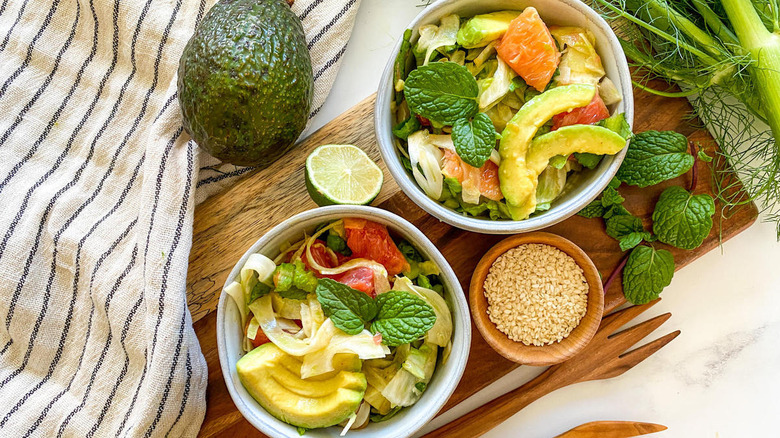 Miriam Hahn/Mashed
In a small bowl, mix together the lime juice, soy sauce, mirin, sesame oil, sriracha, salt, and pepper — this will serve as the dressing for the salad. Now, put the shaved fennel, romaine lettuce, orange, grapefruit, mint, and avocado into a large bowl. Pour the dressing on top, toss the salad, and voila, you're done! Optionally, top the salad with sesame seeds. You're now ready to serve this refreshing, tangy, and citrusy side dish. Hahn notes that this salad pairs well with hot and sour soup as well as proteins like chicken or salmon. "It is a great salad for a brunch menu or baby or wedding shower," she adds. However you serve this dish, you'll bask in the fresh, crisp flavors — who knew fennel made such a tasty salad?
Shaved Fennel Salad Recipe
Fennel might not scream "salad" to you, but you'll change your mind after you taste this delicious shaved fennel salad recipe.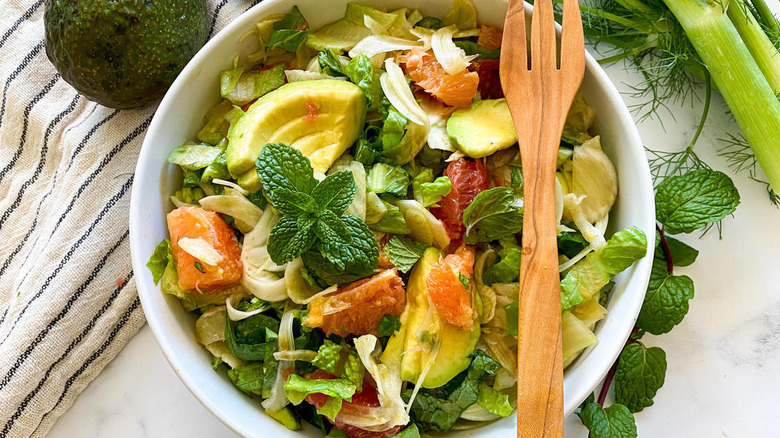 Ingredients
1 large fennel bulb
1 navel orange
1 pink grapefruit
3 cups chopped romaine
2 tablespoons fresh mint, slivered
1 avocado, sliced
1 lime, juiced
1 tablespoon soy sauce
1 tablespoon mirin
1 teaspoon sesame oil
1 teaspoon sriracha
¼ teaspoon salt
¼ teaspoon pepper
Optional Ingredients
Directions
Cut the green stalks off of the fennel bulb. Then cut around the circle core at the bottom of the bulb. Remove core and cut bulb in half. If you have a mandolin, slice the fennel on the thinnest setting to result in very thin, shaved pieces. If you don't have a mandolin, slice the fennel as thin as possible.
To prepare the citrus sections, cut the top and bottom off of the orange and grapefruit. Then, stand the fruit on a flat side and using a sharp knife, cut from top to bottom, stripping off the peel so that you are removing the thin pith layer as well. When the entire orange or grapefruit is peeled, hold the orange or grapefruit so that you can see the sections and cut into each one on an angle to remove a section.
Mix together the lime juice, soy sauce, mirin, sesame oil, sriracha, salt, and pepper.
Put the shaved fennel, orange and grapefruit sections, romaine lettuce, mint, and avocado in a large bowl. Top with the dressing and toss. The salad is now ready to serve. Top with sesame seeds, if desired
Nutrition
| | |
| --- | --- |
| Calories per Serving | 176 |
| Total Fat | 9.0 g |
| Saturated Fat | 1.3 g |
| Trans Fat | 0.0 g |
| Cholesterol | 0.0 mg |
| | |
| --- | --- |
| Total Carbohydrates | 24.2 g |
| Dietary Fiber | 8.9 g |
| Total Sugars | 11.2 g |
| Sodium | 442.1 mg |
| Protein | 3.7 g |