Easy Honey Baked Salmon Recipe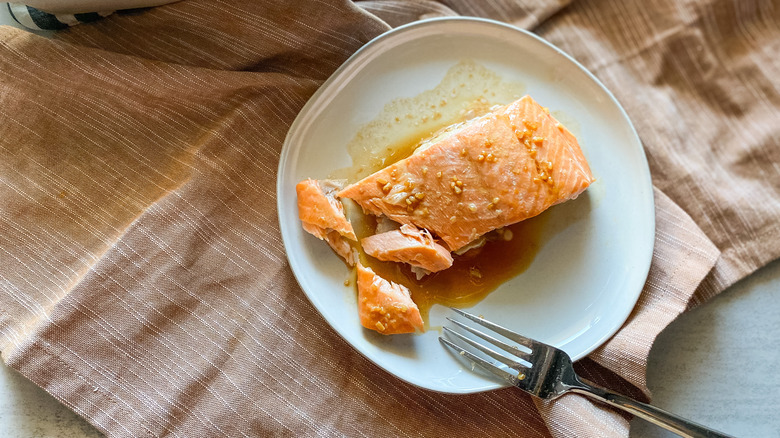 Kristen Carli/Mashed
In her New York Times best-selling cookbook, author Samin Nosrat posits that the key to good cooking rests on a balance of four elements: salt, fat, acid, and heat. If you can successfully balance all four in a meal, Nosrat says that you and any other home cook will have discovered the key to preparing truly delicious dishes in the comfort of your own kitchen (via NPR).
Recipe developer and registered dietitian Kristen Carli's recipe for honey baked salmon works because it seeks to marry all of those dominant flavors that have the ability to make any dish come alive. She also helps us along by providing the proportions for a versatile marinade that works well with many proteins. So, if you find yourself a mega-fan of the flavors of this dish, it will be easy to apply them to any number of other meals for a reliable hit each time.
So, how does this meal fulfill Nosrat's outline? First, this recipe is salty thanks to the use of soy sauce. Salmon itself is a fatty fish, namely rich in healthy Omega-3 fatty acids. And then there is that bit of tang which is imparted by the use of lemon juice.  Then, of course, the heat comes through the baking process. And it all comes together for a seriously tasty salmon dish that can be made with minimal ingredients in hardly any time at all!
This is what you'll need to make honey baked salmon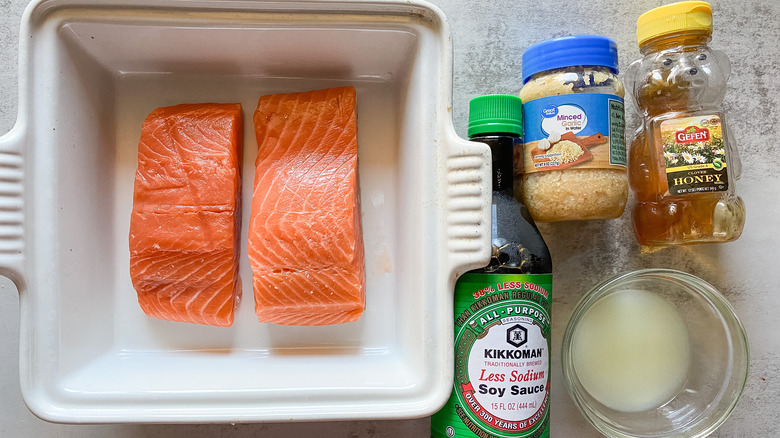 Kristen Carli/Mashed
It doesn't take much to make this delectable dish at home, both in terms of time and ingredients. You'll only need a couple of salmon filets, along with some honey, soy sauce (a low-sodium version is perfectly fine to use here), minced garlic, and lemon juice. Yes, seriously, that's it. Of course, you'll also need some easily accessible baking equipment that you probably already have at home, like an oven-safe dish to bake the salmon filets.
Because salmon is a fairly oily fish, there is no need to add oil to your marinade. The natural oils from this fish should be plenty to keep the filets from sticking to your baking dish and will lend plenty of unique salmon flavor to the final meal.
Prepare the marinade and cook the salmon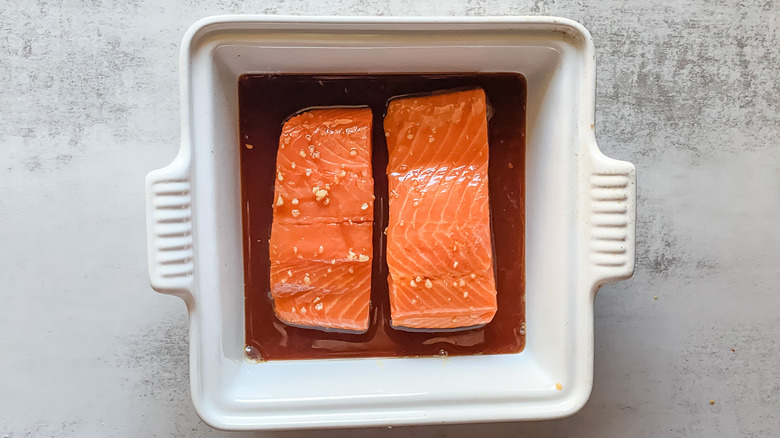 Kristen Carli/Mashed
To get your honey baked salmon ready, begin by preheating your oven to 375 degrees, to make sure that your oven is fully heated and ready to go when it's time to start the baking process. Then, take the salmon and lay it skin side down in a small baking dish. Set this aside, but don't put it too far away, as this assembly process is quick and easy and you'll need to grab this dish fairly soon. 
Next, it's time to get the sauce together. You'll accomplish this by pouring the honey and soy sauce together into a bowl, then adding the minced garlic and lemon juice to the mixture. Whisk all the ingredients to combine, then pour over the fish fillets. Once you've ensured that the fillets are evenly coated with the honey glaze, bake this uncovered for 15 minutes.
This marinade can be adapted for other meals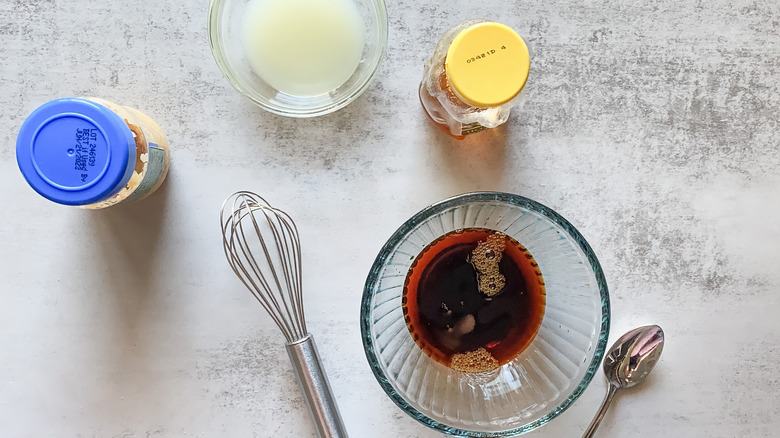 Kristen Carli/Mashed
This marinade recipe doesn't just work well with salmon, though you should certainly try it out that way to treat yourself to the full flavor of this unique fish. But if you're ready to branch out a bit, Carli says she has used this sauce to prepare other proteins like chicken and sea bass, too. If you use a less fatty protein like chicken breasts, you may want to add a few drops of olive oil to keep the flesh from drying out. 
Carli also says the protein can then be cooked in a few other ways, assuming that you want to do something a bit different and break away from the baking dish or oven altogether. "This would also work on the grill or in foil parcels," she says.
How to serve up honey baked salmon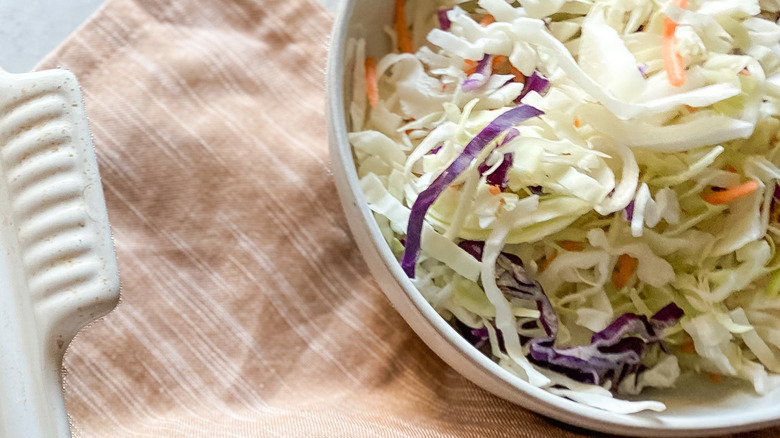 Kristen Carli/Mashed
While the protein is ready, chances are good that you'll want to serve it with something on the side to complement the main protein. Carli says she's all for serving "a crunchy creamy slaw on the side of this dish with some roasted fingerling potatoes." Of course, you can always co with a traditional American coleslaw, courtesy of Carli, or perhaps punch up the heat a bit with a spicy version.
Because the sweet, salty, and sour flavors are reminiscent of those you might find in a traditional Filipino appetizer or main course (via National Geographic), you won't go amiss by swapping out the potato and serving the salmon with a fluffy bowl of white rice, either. If you've got the time, a savory rice pilaf could also work well and dish up a serving of veggies, too.
Easy Honey Baked Salmon Recipe
Just a few things all come together for a seriously tasty honey baked salmon dish that can be made with minimal ingredients in hardly any time at all!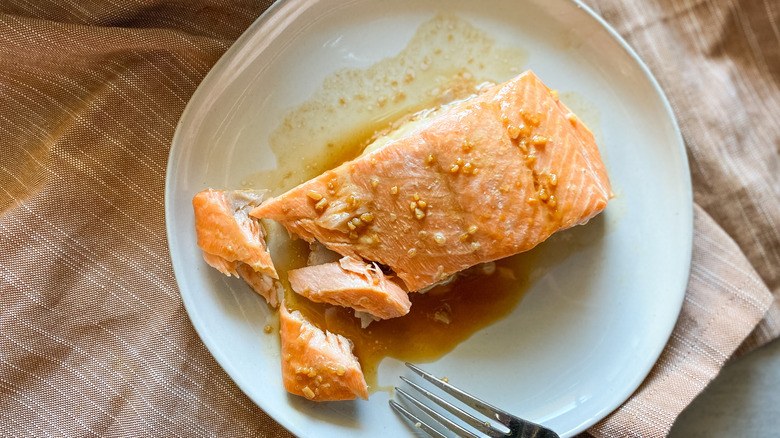 Ingredients
2 salmon fillets
2 tablespoons honey
½ cup soy sauce
1 tablespoon minced garlic
2 tablespoons lemon juice
Directions
Preheat oven to 375 degrees. Place the salmon fillets skin side down in a small baking dish.
In a small bowl, add honey, soy sauce, minced garlic, and lemon juice. Whisk to combine.
Pour sauce over salmon. Bake for 15 minutes.
Nutrition
| | |
| --- | --- |
| Calories per Serving | 931 |
| Total Fat | 53.6 g |
| Saturated Fat | 12.1 g |
| Trans Fat | 0.0 g |
| Cholesterol | 217.8 mg |
| | |
| --- | --- |
| Total Carbohydrates | 22.9 g |
| Dietary Fiber | 0.7 g |
| Total Sugars | 17.9 g |
| Sodium | 3,737.1 mg |
| Protein | 86.4 g |