Why Andrew Zimmern Thinks Fee-Based Restaurant Reservations Will Become The Norm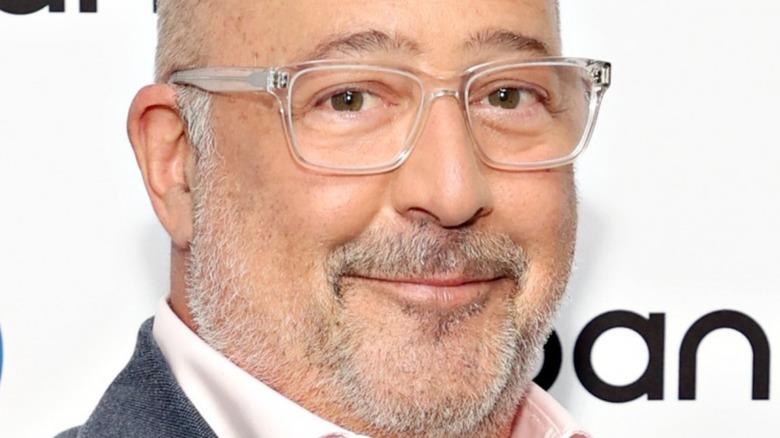 Cindy Ord/Getty Images
"Bizarre Foods" host Andrew Zimmern is making some predictions about the dining scene of the future. But not everyone will like what he sees in his crystal ball. The celebrity chef used the January 11 edition of his Spilled Milk Substack newsletter to discuss the evolution of dining out post-pandemic — and at least one of his predictions may have people thinking twice before making any restaurant reservations. 
Per ABC News, the restaurant industry has been hit hard by the pandemic and is still seeing a labor shortage, resulting in many sit-down dining establishments having to limit their services. The outlet's September 2021 news report explains that patrons may have noticed some of their favorite spots cutting lunch services or only being open on certain nights of the week. Couple that with the rising costs of popular foods, and it's easy to see how the food and restaurant industry is being hit by a perfect storm during the COVID-19 pandemic. As Zimmern wrote in his Spilled Milk post, "The cost of putting roast chicken and vegetables on a plate has gone up 1000% the last 20 years. Restaurants have been unable to charge $30 for a chicken dish but have no issues charging $20 for a fancy specialty cocktail!"
All of this gets to the heart of Zimmern's prediction as to why we might start seeing fee-based reservations soon. But before you start to feel that slow burn in your pocketbook, does Zimmern make a fair point? Can reservations be monetized?
Paying for a restaurant reservation isn't an entirely new concept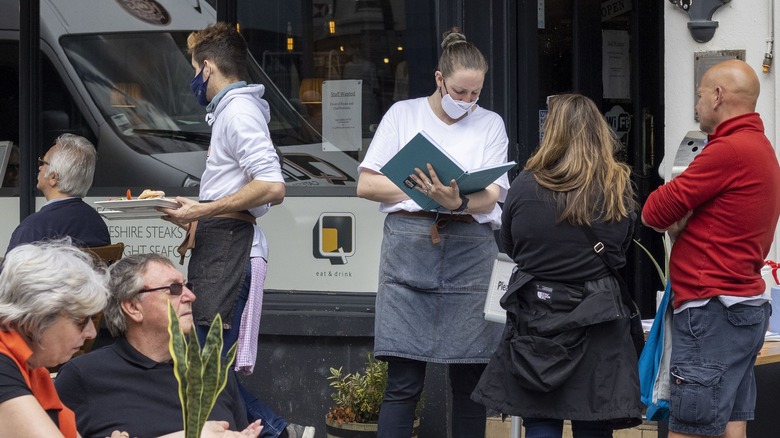 Huw Fairclough/Getty Images
According to a January 11 post in his Spilled Milk Substack newsletter, Andrew Zimmern believes people could soon have to pay to play to eat at restaurants that easily fill up on weekends — and to expect different reservation time slots to have different price values. The "Bizarre Foods" host wrote, "I do believe a Saturday night table at 7 [p.m.] is more valuable than a Wednesday night at 10 p.m. I also think popular restaurants should take credit cards as a guarantee against a reservation."
This isn't a new concept, even if Zimmern's fans may balk at the suggestion. Food Network published a piece in 2014 about apps that charge fees to secure reservations at highly popular restaurants. At the time, a New York Times writer suggested that diners would be turned off by paying for their reservations, writing, "But for restaurateurs — even those who demand $6 for a baked potato to accompany a $48 steak — charging patrons for reservations feels like touching the third rail." It appears the writer may have been a bit of a clairvoyant because none of the apps listed in the article are still active. 
Still, the world has changed because of COVID-19, and so has our experience dining out during it. But would you be willing to pay for your reservation? It's a curious question — and a little restaurant in Maine may be the bellwether for the future of dining out and reservations.
The Lost Kitchen took 20,000 reservations by notecard
If you're familiar with chef Erin French and her Maine restaurant, The Lost Kitchen, you know getting a reservation there with a month's notice is laughably impossible. The Washington Post explains that French's restaurant is so popular that the chef herself decides how reservations are made. When she asked for reservation requests on note cards, delivered by mail, in 2018, you might think that would've been too much of an obstacle. But French received 20,000 reservation requests via notecard. (Still, French's dining experience is a one, and there are bragging rights associated with it.)
So, is the everyday, run-of-the-mill dining experience worth paying for a reservation? We scoured a few forums to gauge customers' takes; surprisingly, the overwhelmingly answer is probably not. In one Quora thread, a participant wrote, "As a diner, I wouldn't throw money into something if I can deal with the restaurant myself. In fact, I'd be worried that my purchased privilege might come at a price (seating, service, time) I am not willing to pay." Another person offered, "As a consumer, I never pay someone to allow me to give them additional money. If you want my business, you will have to pay me."
Andrew Zimmern's other restaurant predictions in his Substack article, meanwhile, include changing tip systems, shorter "work weeks" for many restaurants, more to-go items for sale, speciality restaurants becoming a bigger trend, and consolidated menus. As for the future of reservations, it remains to be seen.