Caramelized Onion Hummus Recipe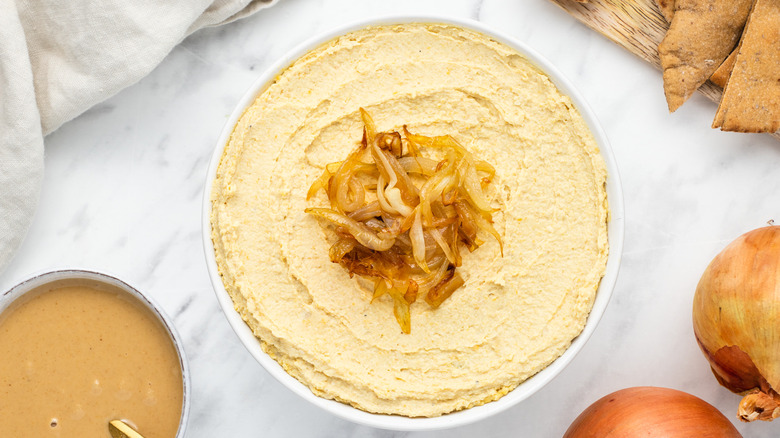 Catherine Brookes/Mashed
There are tons of different hummus recipes that you can find on the internet, but none are quite as good as this one. If you ask us, the combination of onion, garlic, and chickpeas is one of the best, and when you add a little lemon juice for citrus flavor, you have a dip that is off-the-charts good! This hummus would be fantastic to enjoy for a snack, or it would also make a great addition to a sandwich, wrap, or any other sort of Mediterranean food.
Recipe developer Catherine Brookes of Blue Sky Eating came up with this tasty recipe that will undoubtedly leave you wanting more. "The combination of sweet and flavorful caramelized onion with rich creamy hummus is so delicious!" Brookes raves, and we would have to agree. She adds that it "could be great as part of a big lunch spread with other [dips, breads, cold meats, and veggies.]" 
Keep reading to find out how to make this incredible hummus that will make your taste buds dance.
Gather the ingredients for your caramelized onion hummus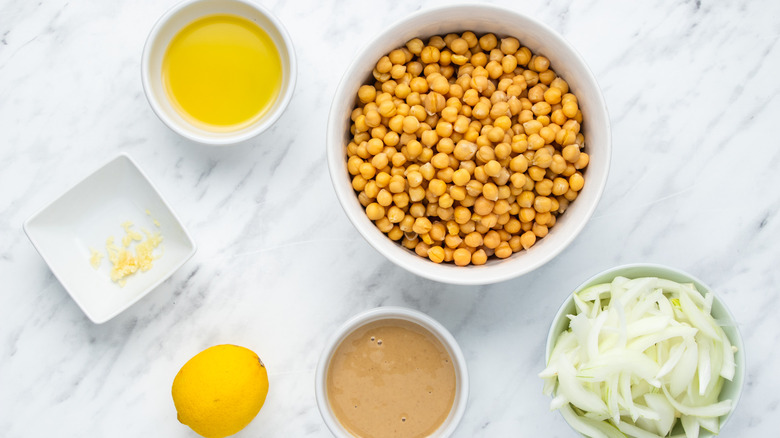 Catherine Brookes/Mashed
This is some of the most fresh hummus you will try, and to kick things off, you will need to take a trip to the grocery store. Start by grabbing some olive oil and a large white onion. In addition, you will need some chickpeas, which serve as the base of most hummus recipes. While you're at the store, be sure to grab some tahini and a clove of garlic. What food isn't better with the addition of garlic?
Then, pick up a lemon for its juice and some salt and pepper to complete the list. That's all you need for this dip, making it easy and affordable!
Cook the onions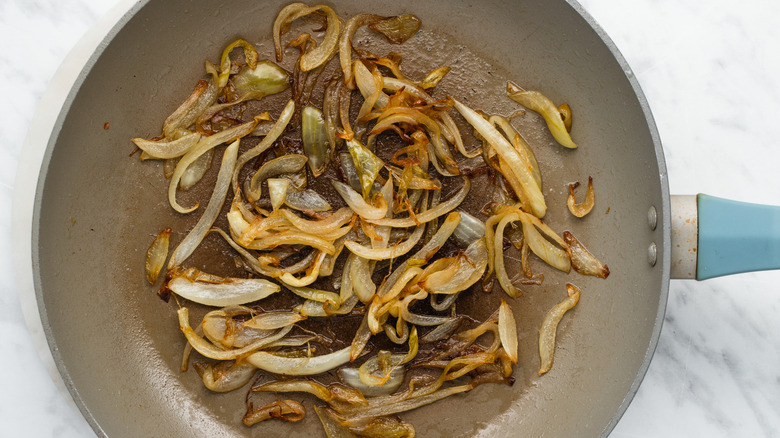 Catherine Brookes/Mashed
Now that you have all the ingredients, it's time to put together this dip. It should only take a few minutes, and we love that it's homemade rather than store-bought. Take out your favorite frying pan and place it on your stove. Heat one tablespoon of olive oil to start. Then, toss in the onion and cook for about 3 minutes on medium-high heat. Be sure to stir constantly so the onions don't stick to the bottom. 
Then, reduce the heat to low and cook the onions until golden and caramelized. Again, be sure to stir frequently. "Probably about every 2 minutes is good," Brookes notes of how often to stir. Continue cooking for about 25-30 minutes.
Mix everything together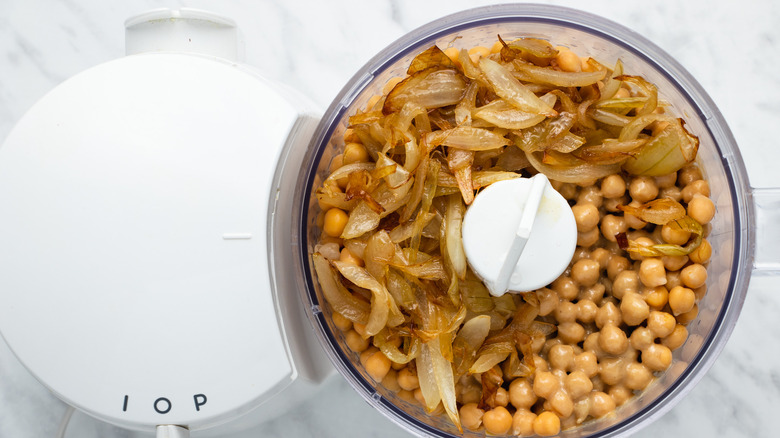 Catherine Brookes/Mashed
By now, your onions should be caramelized and ready to go. Remove them from the pan and place them into the bowl of a food processor. "I'd say for this one a food processor is essential, as a blender won't get it quite as smooth, unless you have a very high powered one," Brookes shares. 
Then, add the remainder of the ingredients, including tahini, chickpeas, lemon juice, salt, and pepper. Be sure to set a little bit of the onion to the side to use as garnish if you desire. If you don't want to use any for garnish, go ahead and dump the whole batch in.
Blend the hummus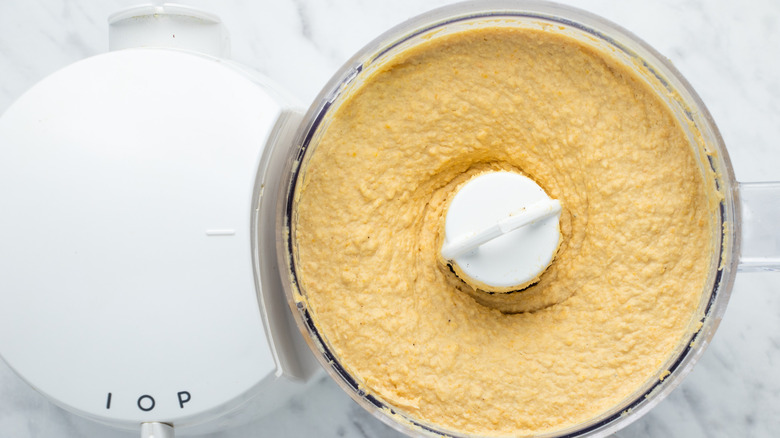 Catherine Brookes/Mashed
Before turning on the food processor, secure the device with a lid and blend the ingredients until smooth. This should only take about 2 minutes. If you find that the hummus is a little too thick for your liking, simply add a tablespoon of water at a time until it reaches the desired consistency. It's all about preference, and there are ways to get exactly what you want! 
Then, remove the hummus from the blender and add it to a serving dish. Doesn't it look like something you bought at the store?
Serve and enjoy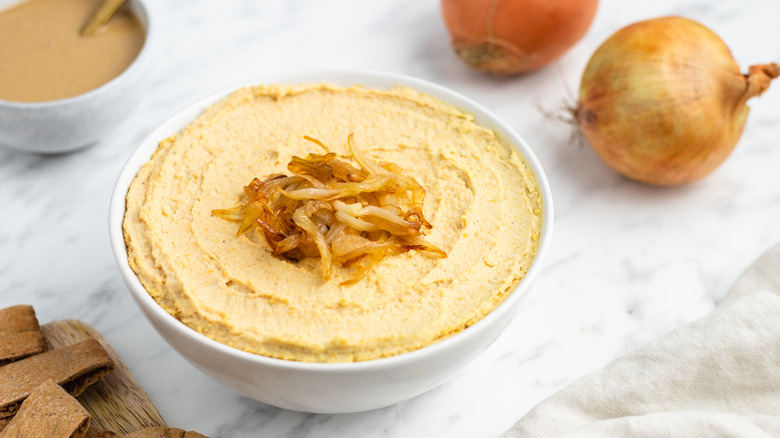 Catherine Brookes/Mashed
The last part is the best part because it means you finally get to enjoy the hummus. This spread would go well on several things, and Brookes shares a few of her favorite serving suggestions like "pita bread, carrot sticks, celery, cucumber, [or] tortilla chips." We also think it would go really well as a spread on a sandwich. 
If you have any leftovers, it will keep. "Store in an airtight container in the fridge for up to 3 days," Brookes shares. "You can also freeze hummus for up to 3 months. Just thaw in the fridge overnight when you want to use it again." 
There's more than enough to go around. We hope you like this recipe as much as we do! 
Caramelized Onion Hummus Recipe
Regular ol' hummus is good on its own, but when you want a next-level flavor? Try this caramelized onion hummus recipe. It'll become a fast favorite dip.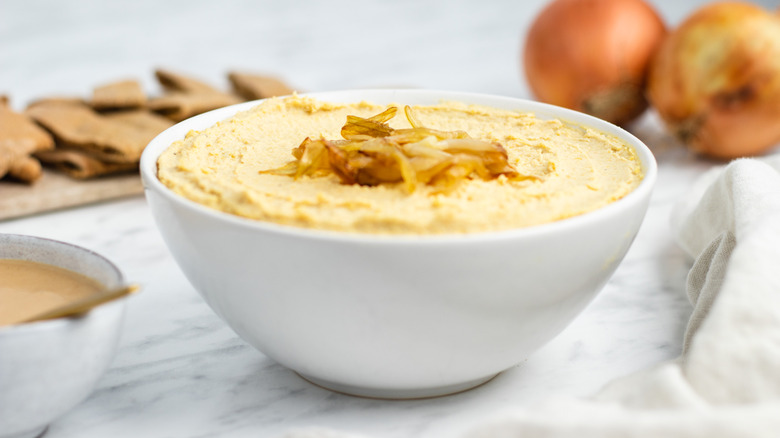 Ingredients
¼ cup + 1 tablespoon olive oil (divided)
1 large white onion (sliced into strips)
2 14.1-ounce cans of chickpeas (plus ¼ cup of the liquid from one of the cans)
⅓ cup tahini
1 large clove of garlic (crushed)
1 lemon, juiced
salt
pepper
Directions
Heat 1 tablespoon of olive oil in a frying pan.
Cook the onion for about 3 minutes on a medium-high heat, stirring constantly. Then reduce to a low temperature and cook the onions until golden and caramelized, stirring frequently. This will take about 25-30 minutes.
Add the caramelized onion and all remaining ingredients to the bowl of a food processor. Reserve a little of the onion to garnish the hummus later, if desired.
Blend until smooth — about 2 minutes. If the hummus is thicker than you would like, you can add a little water, 1 tablespoon at a time.
Serve with the reserved onion.
Nutrition
| | |
| --- | --- |
| Calories per Serving | 189 |
| Total Fat | 10.9 g |
| Saturated Fat | 1.4 g |
| Trans Fat | 0.0 g |
| Cholesterol | 0.0 mg |
| | |
| --- | --- |
| Total Carbohydrates | 18.6 g |
| Dietary Fiber | 5.2 g |
| Total Sugars | 3.4 g |
| Sodium | 225.5 mg |
| Protein | 6.1 g |