Chipotle's New Team Menu Highlights These Well-Known Winter Athletes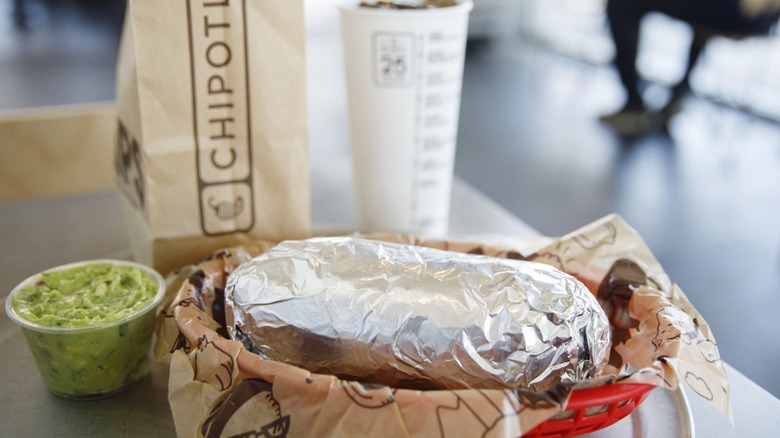 Bloomberg/Getty
In recent months, Chipotle has made strides when it comes to working with athletes. According to Restaurant Business, the chain started signing college athletes as brand ambassadors back in 2021, prompting thousands of individuals to apply for affiliation with the restaurant. Chipotle hasn't stop at collegiate athletes, however. Forbes reports that the chain gifted NFL player and chess fanatic Kyler Murray a Chipotle-themed chessboard in a marketing stunt. The chain has also notably tapped football stars Chase Young and Justin Fields, basketball figure Tyler Herro, and skateboarder Tony Hawk to share their signature Chipotle orders for a curated menu called Team Chipotle.
Most recently, Chipotle's sports-centric menu continues with handpicked selections by American winter athletes. Chew Boom reports that the chain just released a second Team Chipotle menu inspired by the regular orders of Hailey Langland, Kendall Coyne Schofield, Charlie McAvoy, and other winter sports stars, in addition to soccer player Alex Morgan and football wide receiver JuJu Smith-Schuster.
The menu features eight new tacos, burritos, and bowls
The new limited-time Team Chipotle menu features entrees ranging from plant-based to chicken-centric, Chew Boom reports. The Alex Morgan Bowl comes with the chain's just-launched plant-based chorizo, as well as cilantro-lime white rice, pinto beans, fajita veggies, two types of salsa, and guacamole. For a handheld dish, the Red Gerard Tacos feature chicken, tomatillo-red chili salsa, cheese, sour cream, and romaine inside crispy corn tortillas. Vegetarian burrito fans can opt for the Hilary Knight Burrito, filled with brown rice, pinto beans, veggies, cheese, salsa, and guacamole. The other Team Chipotle items are bowls and come with a variety of ingredients.
The menu is digital-only, which means it can be ordered from exclusively through Chipotle's app and website. While it won't be offered permanently, there's a chance that the chain will continue rolling out Team Chipotle specials in the future since this is its second time promoting the athlete-backed menu.