Duff Goldman's Wife Calls Him The World's Best Husband After This Burger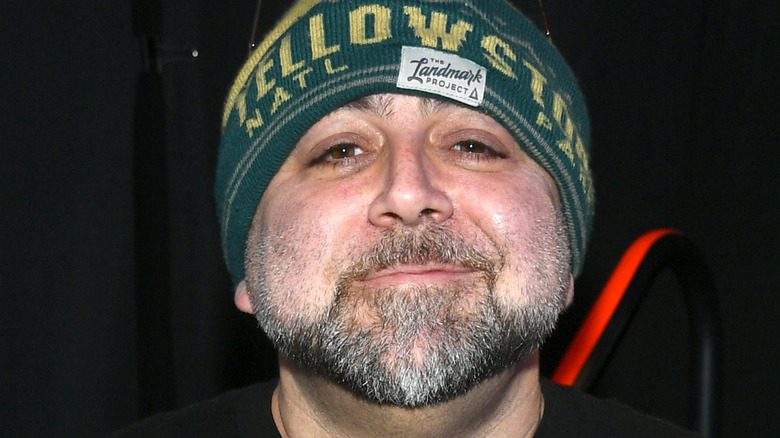 Dave Kotinsky/Getty Images
Ask anybody what they think of when they hear the name Duff Goldman, and they'll more than likely give you the same, single-word answer: cake. The response isn't wrong. Twenty years after the opening of his first Charm City Cakes shop in Baltimore, MD – the bakery that put him on Food Network's radar and ultimately landed him shows like "Ace of Cakes" and "Kids Baking Championship" – the 47-year-old is practically synonymous with the tiered-treat (via Food Network). However, Goldman's repertoire expands well beyond the world of baked goods.
With a degree from the Culinary Institue of America, the celebrity chef is formally trained in all aspects of the culinary world, which was especially handy earlier this week when his wife, Johnna, had a craving for something from the savory side of food. "My muffin @johnnapgoldman wanted a burger," Goldman said in a post to his Instagram page on Saturday, January 15. "She married a chef for a reason. I love my muffin."
Along with the sweet shoutout, Goldman also shared a drool-worthy photo of the meal that he whipped up at his ladylove's request. Based on her response to the snap, it certainly seems like her hubby did a good job.
Fans are also impressed with Duff Goldman's burger skills
As if being married to renowned pastry chef Duff Goldman didn't already make his wife, Johnna, one of the luckiest people in the world, it seems that her husband can cook up a mean burger as well. A self-proclaimed "burger freak" with an affinity for "Bob's Burgers" (via Parade), the Food Network star seemed to go all-out for his wife's request for the cookout staple, which, based on the Instagram snap of his creation, he appeared to have topped with onions, lettuce, tomatoes, avocado, and several strips of bacon. 
We certainly think that sounds like a winning combination, and apparently, Johnna did as well. "I'm still thinking about that burger and perfect fries," she commented on his post before awarding him an impressive accolade. "I have the best husband in the whole wide world!!!!" Goldman's fans were also blown away by the meal he whipped up.
"Yummy Yummy ... great job duff," one follower commented. "That looks so amazing!" said another fan. A third Instagrammer by the username @mygreenpillow specifically complimented Goldman's use of cherry tomatoes, though, for user @kakealicious, the sauteed onions were key. Meanwhile, user @sdavidsontupperware gushed over Goldman's upload as a whole. "I don't think I can love this post enough," the Instagrammer commented, and we wouldn't be surprised if others are feeling the same way. Hey, Instagram, anyway we can get a "super love" button sometime soon?