Duff Goldman Is Obsessed With This Animated Show And We Need A Collab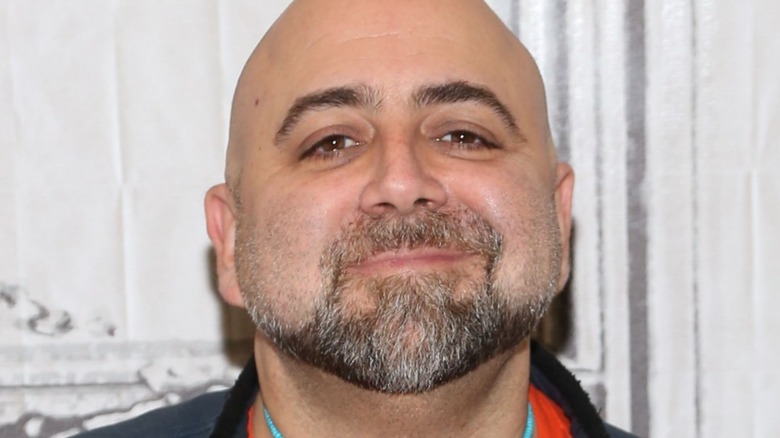 Manny Carabel/Getty
Between appearing on Food Network programs like "Buddy vs. Duff" and "Kids Baking Championship," overseeing the operations of his bakery, Charm City Cakes, and raising daughter Josephine with wife Johnna, it's safe to say that Duff Goldman is a busy guy. Therefore, when he gets a bit of downtime, we don't blame him if he simply wants to sit back and relax with something good on the television. As for what it is that the chef prefers to have up on his screen, we know for certain that he isn't watching any cake shows, though it seems that reality television altogether may not be his genre of choice. "I like kid stuff," he told Yahoo Life of his television-watching habits. "I watch cartoons all the time."
The self-proclaimed "big kid" named "Ratatouille," "Ice Age," and "Frozen" as some of his favorite animated films, and when it comes to TV shows, Goldman revealed there is one particular program that he has been enjoying more than anything else. "Bob's Burgers might be the best show on television," Goldman wrote on his Twitter page on December 7. "Tweet author included," he added.
Bob's Burgers brings Duff Goldman 'so much joy'
We certainly love tuning into Duff Goldman's various television programs, but if the "Duff's Happy Fun Bake Time" host himself says "Bob's Burgers" may be the "best show on television," we'll take his word for it (via Twitter). For those unfamiliar with the hit Fox program, "Bob's Burgers" follows the antics of Bob Belcher, his wife, Linda, and their three children as they try to keep their burger restaurant afloat. The show is currently in its 12th season and, according to Variety, averages about 10.9 million viewers per episode, a handful of whom appear to be following Goldman on Twitter based on the response to his tweet. "1000% true. All time favorite for me," user @SaraHasIdeas replied, while another said the show was a "staple" for their family (via Twitter).
Goldman's tweet even caught the attention of Simon Chong, the supervising director for "Bob's Burgers" who said they were a fan of Goldman's show "Ace of Cakes." In response, the baker explained a little bit more about his love for the show. "Simon, this show brings me so much joy. There are so many genius jokes," he tweeted. "I can't wait to binge it AGAIN and catch all the jokes I've missed."
We absolutely love the love between these two TV figures and can't help but hope for some sort of collaboration in the future, like a "Bob's Burgers"-themed cake, or a Duff Goldman-themed burger of the day.