Aldi Fans Can't Wait To Grab These Chocolate Truffle Hearts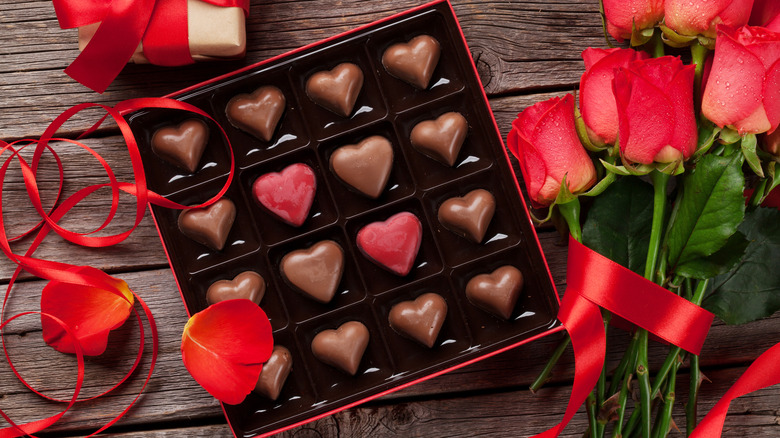 Evgeny Karandaev/Shutterstock
When you're out shopping for a Valentine's Day gift and feeling uninspired by the selection, a box of heart-shaped chocolate truffles is usually an easy-to-find backup plan. Grocery stores and specialty shops fill their shelves a few weeks in advance of this lover's-themed holiday with endless sweets, making it a quick present to grab for any special sweet tooth in your life. (Or yourself, because why not enjoy the bounty of chocolaty goodness during this winter holiday?)
If you're an Aldi shopper on the hunt for a dessert-themed present, you're in luck: The chain is now carrying boxes of chocolate truffle hearts from its Specially Selected brand, as fan account @aldifavoritefinds recently revealed on Instagram. Based on their enthusiastic comments, customers are excited about the product's return. One Instagram user replied, "My absolute favorite truffles!" while another was eager to share, "I loved these last year so happy they are back!"
What's inside Aldi's chocolate heart truffles?
According to @aldifavoritefinds' Instagram photo, the Specially Selected chocolate heart truffles are imported from Germany, and they come in a package of 12 for $3.99. They appear to be made for the chocolate lover who appreciates variety, as the filling flavors range from raspberry, sea salt caramel, and bourbon vanilla to café au lait, mousse au chocolate, and strawberry rhubarb. They're different on the outside, too: The packaging shows that each truffle has its own unique decoration, such as chocolate stripes and swirls and Valentine's-ready pink sprinkles.
The chocolates have 120 calories per two-piece serving and are made with cocoa recognized by the Rainforest Alliance, an organization promoting sustainable cocoa-farming practices. They're not the only holiday-themed sweets Aldi is offering for Valentine's Day this year: The grocery chain also recently released heart-shaped chocolate lava cakes, as well as a unique selection of chocolate mood bars.