Pesto Mac And Cheese Recipe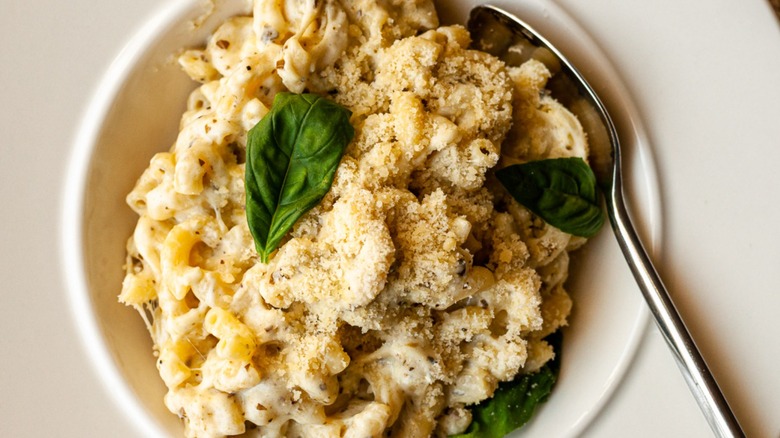 Christina Musgrave/Mashed
Macaroni and cheese on its own might not be the most flavorful of foods, but that makes it the perfect base for an endless variety of customizations. It's kind of like the pasta version of a baked potato. In this recipe, Christina Musgrave of the website Tasting with Tina mixes pesto with mac and cheese for a new taste sensation. As she describes this dish, it's "a great, flavorful, and easy twist on mac and cheese [that is] great for cheese and pesto lovers."
The recipe is a fairly quick and easy one as she uses a store-bought basil pesto, although if you want to complicate things, you can, of course, feel free to make your own pesto. This recipe doesn't take any longer to make than your standard mac and cheese and can be on the table in under half an hour. That said, it does make for a far more elegant meal than anything that comes in a blue cardboard box.
Gather the ingredients for your pesto mac and cheese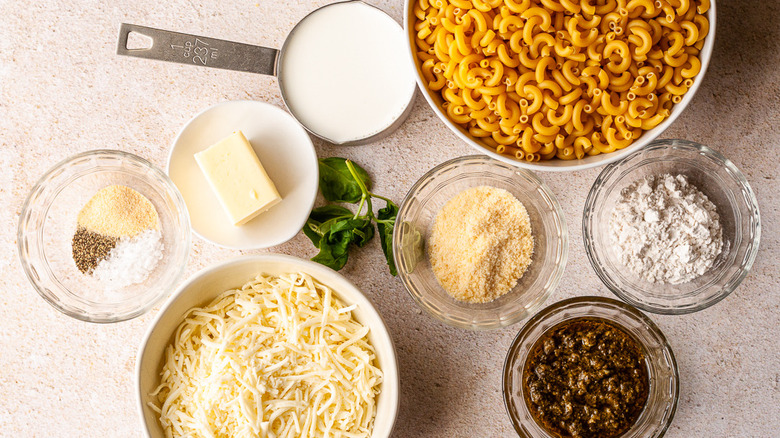 Christina Musgrave/Mashed
Many of the ingredients for this jazzed-up mac and cheese are things you may already have on hand: pasta, butter, flour, milk, garlic powder, and Parmesan cheese. If you have no mozzarella cheese or pesto on hand, though, you might need to run out and pick those up. And, of course, you'll want salt and pepper. The recipe calls for 1 teaspoon each, but you can make adjustments based on your taste preferences. You could also pick up some fresh basil when you're in the store in case you want the finished dish to look pretty. Bonus: a sprig of fresh basil on top of the dish might even give the impression that you made your own pesto from scratch!
Cook the pasta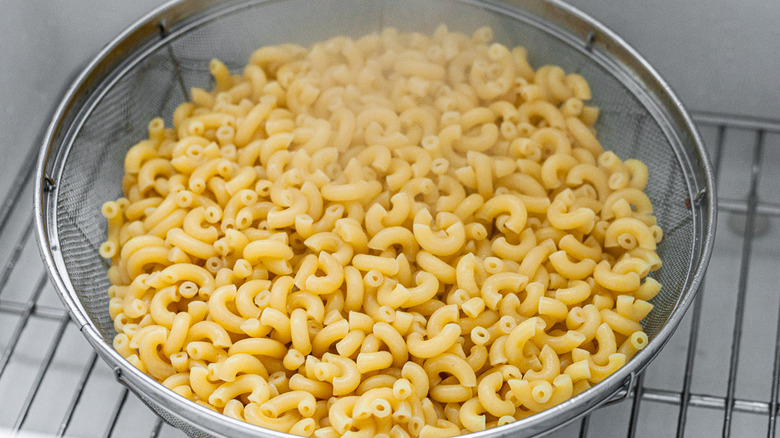 Christina Musgrave/Mashed
You'll start this recipe by cooking the pasta according to the package directions — you can use either the elbow kind, as Musgrave does, or small shells. Musgrave tells us, "I cook the pasta al dente, but you can cook [it] to your liking for this recipe." In a recipe where macaroni and cheese is baked in the oven, it's often necessary to undercook the pasta just a bit to keep it from getting mushy, but in this dish the pasta doesn't get stirred into the sauce until right before you serve it, so you don't need to worry about that.
Once the pasta reaches the desired texture, take it off the heat and drain it. Let it cool for a few minutes while you make the sauce.
Make the cheese sauce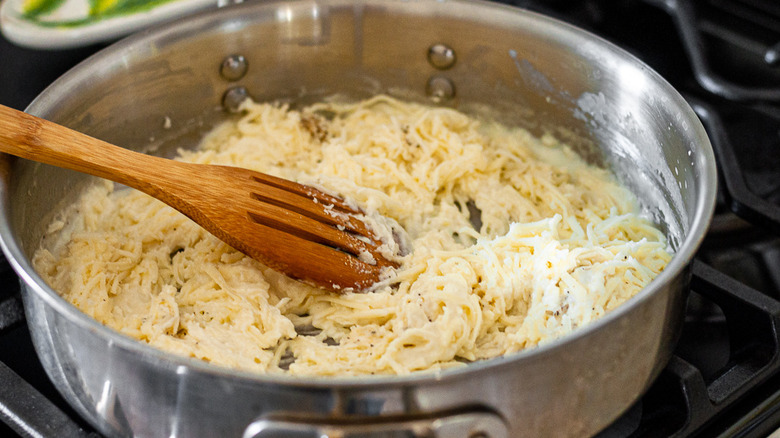 Christina Musgrave/Mashed
Melt the butter in a large, heavy saucepan, then make a roux by whisking in the flour. Cook the mixture for 2 minutes, stirring all the while. Now slowly stir the milk into the pan. Let the sauce come to a simmer. Once it's very gently bubbling, turn the heat down to low and add the cheese, the garlic powder, 1 teaspoon of salt, and 1 teaspoon of pepper. Of course, you may feel free to add more or less of these seasonings to suit your individual taste preference.
Add the pasta and pesto to the sauce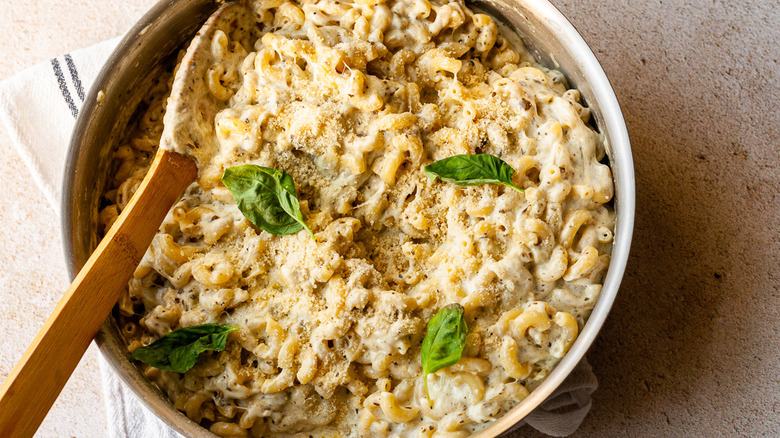 Christina Musgrave/Mashed
Stir the pasta and the pesto into the sauce, then sprinkle the Parmesan cheese over the mac and cheese before serving. You can also, as previously mentioned, garnish the finished dish with basil, or else, as Musgrave says, "You could definitely stir in the basil to the finished product." She also adds that "You can definitely add a crunchy breadcrumb crust" to the macaroni and cheese if you'd like a little more texture than the noodles alone provide. Her suggestion is to toast breadcrumbs in a pan with some butter and then use these as a topping.
This mac and cheese is pretty versatile, with Musgrave saying it would work as either a main dish or a side. She sometimes doubles down on the carbs by serving it with bread and a salad, but suggests pairing it with chicken if you want to use it as a side dish.
Pesto Mac And Cheese Recipe
Regular mac and cheese is fine, but when you're looking to up-level your side dishes, try this simple recipe for from-scratch pesto mac and cheese.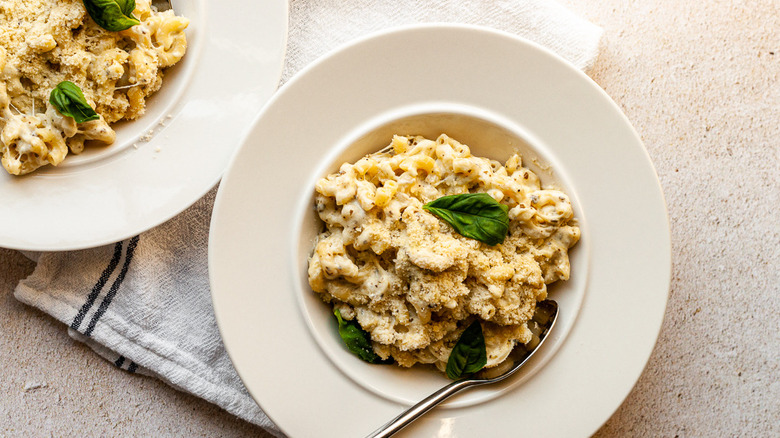 Ingredients
1 pound elbow macaroni or small pasta shells
4 tablespoons unsalted butter
2 tablespoons flour
1 cup milk
2 cups shredded mozzarella cheese
1 teaspoon garlic powder
½ cup pesto sauce
2 tablespoons Parmesan cheese
1 teaspoon salt
1 teaspoon pepper
Optional Ingredients
Directions
Cook the pasta according to package directions, then drain and set aside.
Melt the butter over medium heat in a large pot or deep skillet, then whisk in the flour and cook for 2 minutes, stirring continuously.
Stir the milk into the roux, then let the mixture come to a simmer.
Turn the burner down to low and stir the mozzarella into the sauce along with the garlic powder and 1 teaspoon each of salt and black pepper.
Add the cooked pasta and pesto to the sauce and stir well.
Serve the mac and cheese topped with Parmesan cheese.
Garnish with fresh basil, if desired.
Nutrition
| | |
| --- | --- |
| Calories per Serving | 749 |
| Total Fat | 39.5 g |
| Saturated Fat | 20.8 g |
| Trans Fat | 0.3 g |
| Cholesterol | 105.4 mg |
| | |
| --- | --- |
| Total Carbohydrates | 65.1 g |
| Dietary Fiber | 3.0 g |
| Total Sugars | 5.0 g |
| Sodium | 907.9 mg |
| Protein | 32.6 g |