Aldi Just Launched Its First Checkout-Free Store In London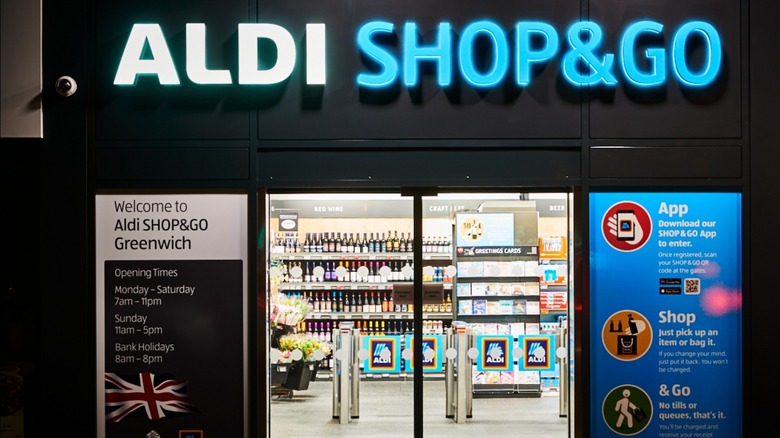 Aldi UK
One London-based Aldi location just got a futuristic upgrade, as the popular grocery chain's flagship cashierless store officially launched to the public this week. According to BBC News, Aldi just opened the doors of their first checkout line-free store, which utilizes a slate of sophisticated technology to provide customers with an automated checkout system.
To enter the cutting edge store, customers must first download the Aldi Shop&Go app, which is used to virtually check out a customer after they exit the market. While customers are shopping, Aldi uses a number of high-tech cameras to track customers' purchases in real time. After exiting, the app charges the payment method on file for the total grocery bill.
The store will also utilize an advanced age estimation technology to assist in alcohol purchases, allowing customers who appear to be over the age of 25 to buy booze freely. Shoppers will also have the option to opt out of the aging technology by presenting their ID to a worker to make any age-restricted purchases.
Aldi is following in Amazon's high-tech footsteps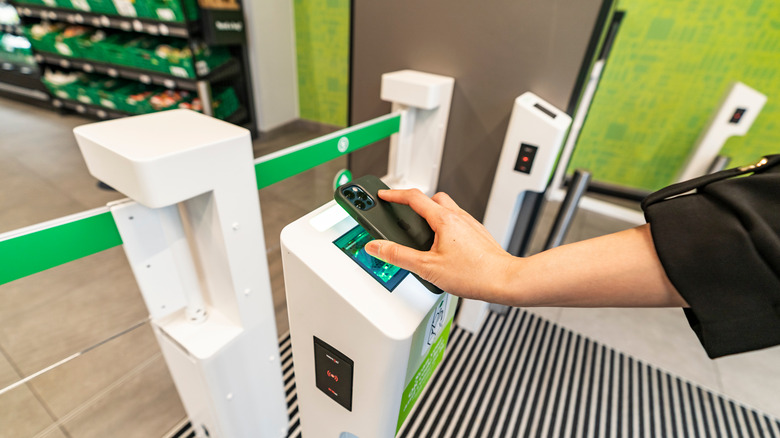 Octus_Photography/Shutterstock
The U.K.-based supermarket's move into the checkout-free supermarket sphere follows in the footsteps of high-tech grocers like Amazon, which launched its first chain of cashierless Amazon Go convenience stores in 2018 and has since opened a full-sized Go Grocery store in Seattle (via Forbes).
According to The Mirror, popular U.K. grocery chains — and Aldi competitors — Sainsbury's and Tesco have already followed Amazon's lead by opening up their own cashierless locations. Last fall, Whole Foods (which is owned by Amazon) also announced that they would be opening a number of cashierless stores, utilizing the Amazon app to automate the checkout process.
Aldi's first foray into this futuristic way of grocery shopping underwent a trial with employees prior to opening doors to the public this week. "This store [utilizes] the very latest in retail technology offering Aldi's award-winning products and unbeatable prices to customers in a new and innovative way," said Giles Hurley, CEO of Aldi UK and Ireland (via The Mirror).
While it's unclear when Aldi may bring the cashierless concept to the U.S., it appears that checkout-free supermarkets may be the future of grocery shopping.