Popular Mendocino Farms Menu Items, Ranked Worst To Best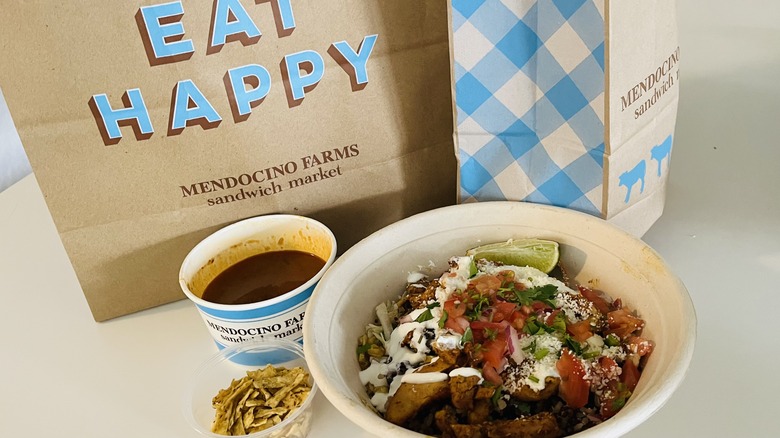 Sarah Gardner/Mashed
For over 15 years, California-based Mendocino Farms has been one of the strongest contenders in the ever-growing fast casual arena. Their globally inspired menu of sandwiches, salads, and bowls made with farm-fresh ingredients is a cut above the competition. Here, you'll truly be eating fresh, and yes Quiznos fans, at Mendo, they also toast their bread.
Unfortunately, for much of the country, you won't find a Mendocino Farms location in your neck of the woods. Currently, there are nearly 40 locations in the Golden State spreading from San Diego to Northern California (via Mendocino Farms). The chain also has a Texas presence, specifically a handful of outlets in Dallas-Forth Worth and Houston, and in 2022, Georgia will get in on the action with a spot in the Buckhead neighborhood of Atlanta.
If you happen to be in the vicinity of one of their stores and are looking to up your fast food game, this list will come in handy. We've highlighted some of the most notable menu items and ranked them from our least favorite to the absolute must-order recipes, though regardless of which culinary path you choose, it's hard to go wrong at Mendocino Farms.
11. Lemonade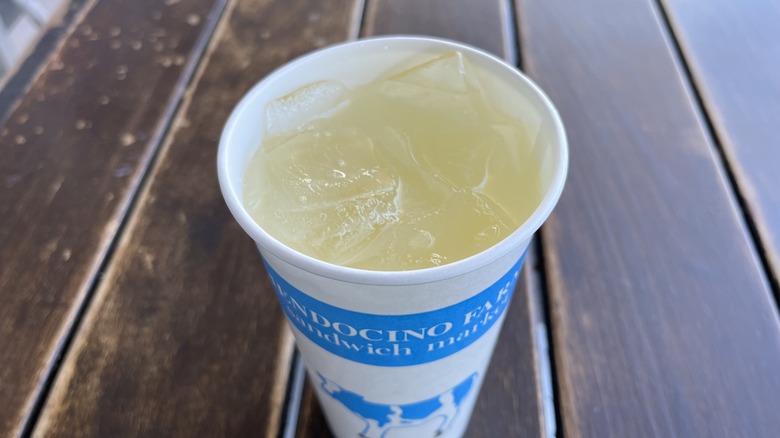 Sarah Gardner/Mashed
If you're thirsting for a familiar soft drink under the Coca-Cola Company or PepsiCo banner, this is not the chain for you. That's not to say that Mendocino Farms doesn't offer soda, as they do provide a fountain equipped with options from Puck's, which focuses on all-natural, sweet fizzy beverages (sorry, high fructose corn syrup fans!). There are also two non-carbonated (non-water) drink options as well, including a homemade lemonade.
Now, this drink may be at the bottom of our list, but it's by no means undrinkable. Rest assured that you won't find any complete misfires at Mendocino Farms in either the food or beverage department. But the issue here is twofold: First, we've had better lemonade on multiple occasions, be it at other restaurants, county fairs, or grandma's house. Mendocino Farms' rendition is too sweet for our taste, and we happen to prefer the presence of pulp, which this version lacks. And considering how innovative the rest of the menu is, we were expecting something more from Mendo, like another ingredient or two to help elevate the beverage. But as is, this is simply a decently made basic lemonade that we feel isn't up to the standards of this chain.
10. Basil Pesto with Feta Pasta Shells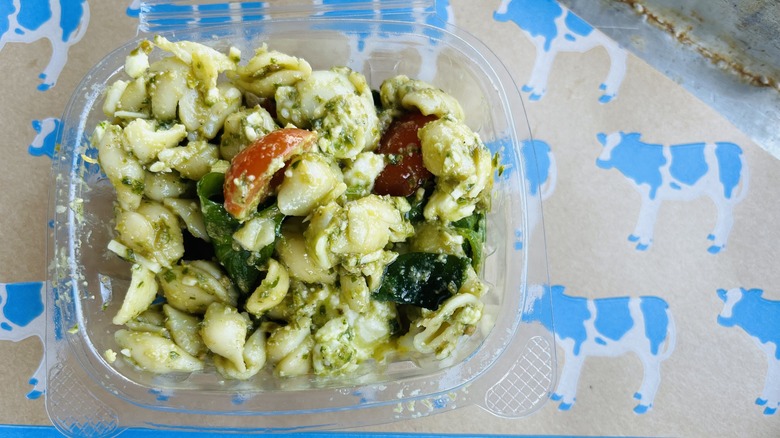 Sarah Gardner/Mashed
Sides are an essential component to a fast food menu, but since Mendocino Farms does things a bit differently, you won't find French fries or onion rings on the menu. In fact, with the exception of a few soups, their roster is limited to a handful of cold deli sides that are mostly permanent fixtures on the menu with a couple of seasonal options.
If you're in the mood for pasta salad, there are two rotating shells: one made with an almond Romanesco, and this version which is tossed in a basil pesto and paired with feta and sliced cherry tomatoes. Everything basically works here, with the chunks of cheese providing a nice tang, the tomatoes lending a juicy burst, and the sauce, which is applied with a light touch, coming with a welcome herbaceous note. It's the focal point of the side, however, that brings everything down. The shells are way too gummy, perhaps because they were overcooked, sat in the fridge for too long, or a combination of both.
9. Spicy Curried Couscous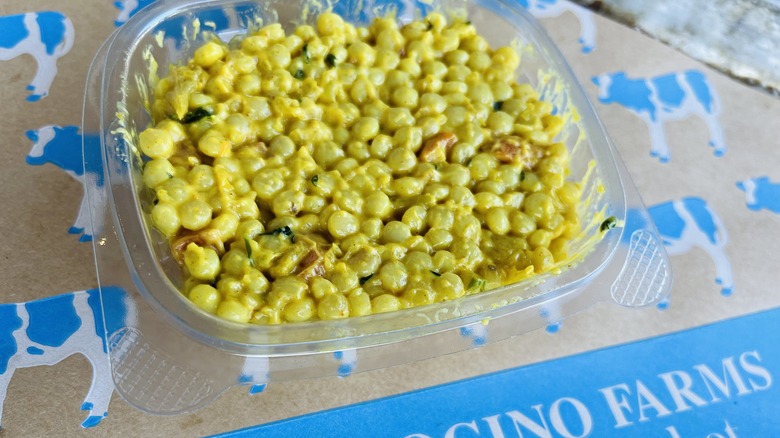 Sarah Gardner/Mashed
Spiced Curried Couscous is a Mendocino Farms staple. Per the chain, the vegan side is prepared with roasted cauliflower, carrots, "Mendo's signature spice mix," and of course, couscous, which in this case, is of the Israeli variety. According to Chowhound, unlike the tiny granules that make up the standard version, Israeli couscous consists of tiny toasted balls. (It should be noted that both versions are made from crushed durum wheat semolina.)
At its best, Israeli couscous offers a delightfully springy chewiness, but these were unfortunately way too dense. The good news is the flavor was on point with the curry shining through and a mild sweetness (courtesy of brown sugar) balancing out the spice. The cauliflower and carrots offered a nice crunch factor, while Veganaise lent a pleasant creaminess to the equation (via Mendocino Farms). While we're not completely down on all sides (keep reading!) they're definitely not a strong suit for Mendocino Farms.
8. Passion Fruit Black Iced Tea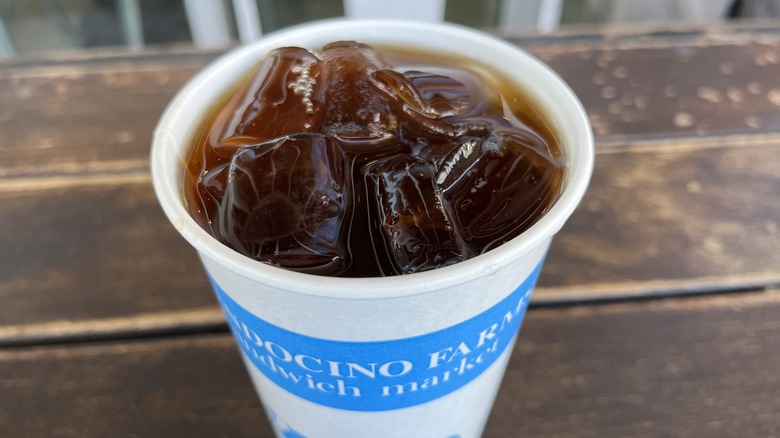 Sarah Gardner/Mashed
When we're not in a beer or wine mood (Mendocino Farms offers both options), Passion Fruit Black Iced Tea is our drink of choice at the chain. To be clear, the drink is unsweetened, so while it won't hit you with a fruity punch, it's also lacking in calories — a mere five per serving (via Mendocino Farms). Even without heaps of sugar, it's immensely satisfying. The leaves are brewed to perfection, and the subtle notes of passion fruit offer a delightful tropical character.
According to Mendocino Farms, the custom blend comes courtesy of Sugarbird Sweets and Tea. The company's founder, Kei Okumura, boasts a Michelin-starred restaurant pedigree, which is no surprise considering the quality of the tea.
While we urge you to sip the Passion Fruit Back Iced Tea solo, if you are craving sweet beverage relief, go ahead and try this simple hack: Fill your cup halfway with the iced tea, then top it off with the homemade lemonade. This twist on the beloved Arnold Palmer is remarkably refreshing and won't set you back too many calories.
7. Chimichurri Steak & Bacon Sandwich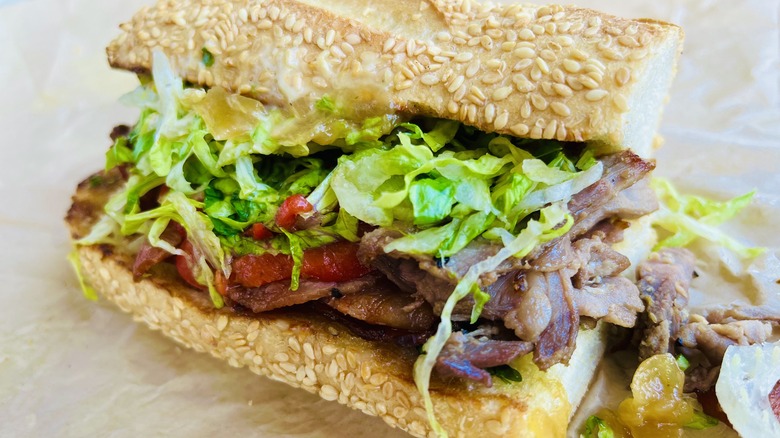 Sarah Gardner/Mashed
One of the many things we appreciate about Mendocino Farms is that they are constantly updating their food roster, whether it's with seasonal specials or potential new permanent menu fixtures. This fairly new member of the "cheffy sandwiches" squad seems poised to be a keeper, but we'd like to see a few tweaks. Though before we offer up some critiques, let's start with some general Mendo praise. Regardless of what sandwich you order, it's a given that the bread will be stellar. The toasted sesame roll didn't disappoint here, with a crusty exterior and the perfect balance of toastiness and fluffiness on the inside.
As for the fillings, while steak may be billed as the signature protein, the nitrate-free applewood smoked bacon steals the show. Now, don't get us wrong, we love ourselves some bacon, but we enjoy steak even more, and the roasted, carved slices in this sandwich get completely overwhelmed by that crispy pork goodness. The other featured player, chimichurri, also gets lost in the shuffle, drowned by its fellow accoutrements: marinated red peppers, caramelized onions, shredded romaine, and an herb aioli.
So if the folks at Mendocino Farms happen to be reading this, beefing up the steak and sauce will lead the sandwich to the promised land. Otherwise, just let the bacon officially take the lead, add some tomatoes, and transform this into an elevated BLT.
6. 'Not So Fried' Chicken Sandwich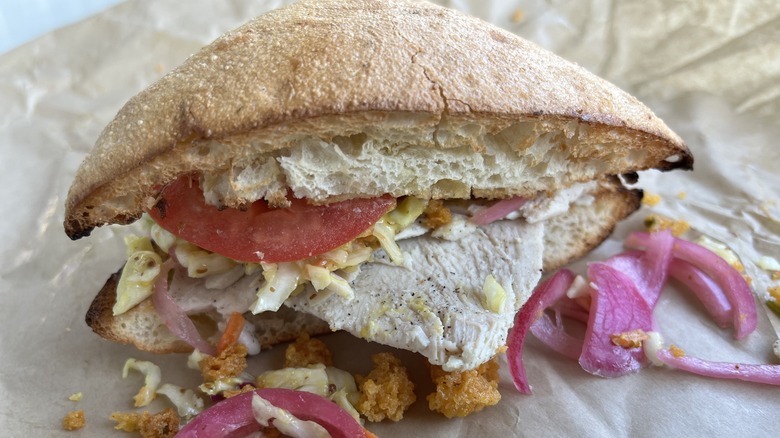 Sarah Gardner/Mashed
During an interview with Mashed, "Top Chef" winner and Girl & the Goat restaurateur Stephanie Izard emphasized the importance of texture in a dish. "It's such an important element to me," she said, "just as much as adding the acid and the spice, the savory and the sweet. It's the crunch."
Which brings us to the "Not So Fried" Chicken Sandwich. As its name suggests, you won't be getting a crispy cutlet in between your ciabatta bun (which is pillowy soft with just the right chew). Rather, the shaved, roasted chicken breast is accompanied by a sprinkle of "Mendo's krispies," which are fried crunchy crumbs that consist of buttermilk, polenta, Parmesan cheese, and fresh herbs (via Mendocino Farms' Facebook page).
The inclusion of the krispies is ideal for someone who doesn't have the stomach for a full-on fried meal. We also were quite fond of the herb aioli, mustard pickle slaw, and pickled red onion, which came through with creaminess and tanginess. It's the dry, uninspired chicken that fell flat here.
We kept going back to the sides of barbecue sauce and pickle remoulade for much-needed reinforcement. Again, Mendocino Farms falls just short of sandwich success. Also, note that the "Not So Fried" Chicken Sandwich is also available "salad-style" but in our mind, the toasted ciabatta is well worth the extra carbs and calories.
5. Spicy Dijon Potato Salad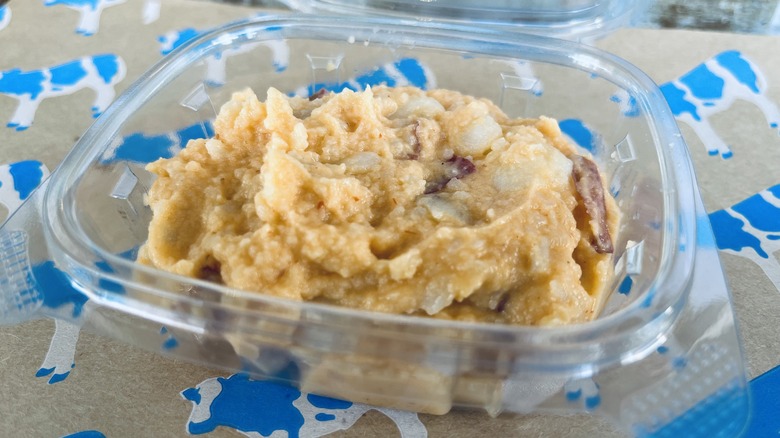 Sarah Gardner/Mashed
We were going back and forth as to where we should rank the Spicy Dijon Potato Salad, but we ultimately decided to place it here due to three key reasons: It's our favorite side, and since it's the best in the category, it stood out in our mind. We're also not usually huge fans of potato salad, and the fact that we enjoyed this one gave it a boost. We've gone to too many picnics where we've faced the disappointment of a gloopy, over-mayoed mess of crunchy, undercooked taters. But these chunks of skin-on red potatoes were cooked just right — tender but not mushy — and the creamy, mustardy dressing wasn't overdone. (Per the Mendocino Farms menu, this is a vegan dish, so we're assuming the creaminess comes by way of Veganaise.)
Most importantly, however, we kept coming back for more. Our only issues with the salad are that it fell short of being spicy (the red tint leads us to suspect that sriracha is the driver that minimal heat), and overall, it lacks the pizazz of some of the other Mendo items. And if ordering a side seems like too much food, Mendo offers a half sandwich and side combo for a few select sandwiches.
4. Smoky Chicken Elote Bowl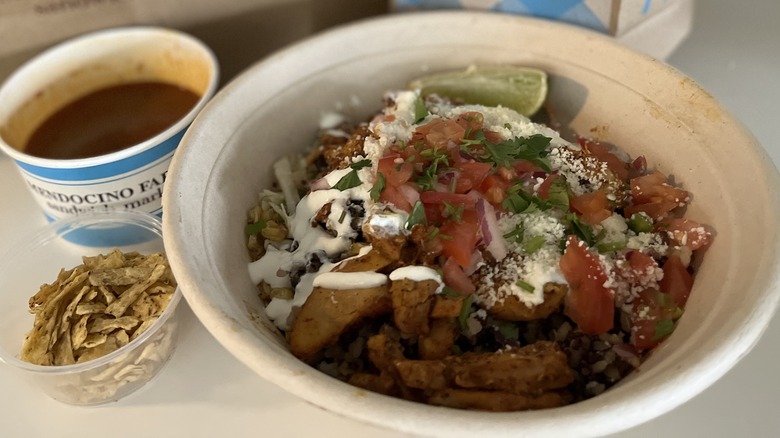 Sarah Gardner/Mashed
Mendocino recently introduced a line of grain bowls to go along with their salads and sandwiches, and we were eager to find out how they fared. The Smoky Chicken Elote Bowl immediately caught our attention. For those unfamiliar with elote, it's corn slathered in mayo or crema and then covered with cotija cheese and spices. We're huge fans of the Mexican street food sensation, so ordering this was a no-brainer.
This is truly a food fiesta, and the attendees include al pastor chicken, corn, zucchini, ancient grains, and shredded cabbage topped with tortilla strips, crema, cotija, pico de gallo, cilantro, and fresh lime. It's a study in texture and flavor, but since there is so much going on, each bite offers a different experience. Keeping with the theme we've established so far, the big disappointment is the bland pieces of chicken, which didn't remind us at all of the highly-seasoned spit-roasted pork that we usually associate with al pastor.
When the bowl arrived, we noticed it was accompanied by a small container. We initially thought that we had been gifted a soup, but it turns out that this was the guajillo broth that comes with the Smoky Chicken Elote Bowl (apparently we neglected to read the fine print). The chili-laced liquid is the main source of smokiness and spice for the dish, so be sure to douse your bowl with it before you dig in.
3. Vegan Banh Mi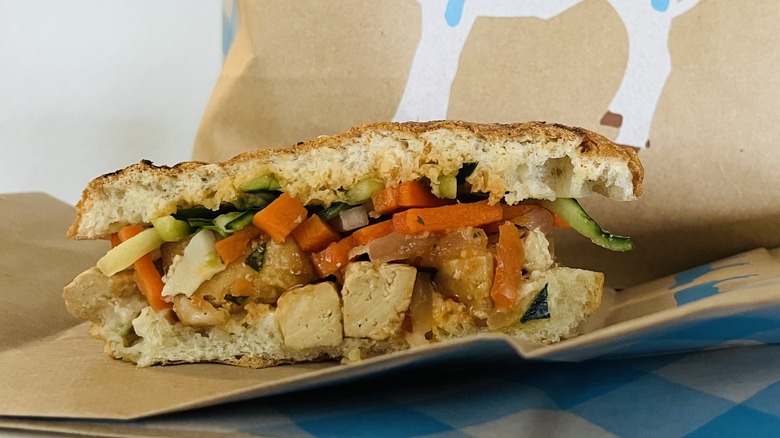 Sarah Gardner/Mashed
Not only is this our favorite vegan option at Mendocino Farms, it's one of the best bites on the entire menu. There is a reason the Vietnamese banh mi makes our list of the greatest sandwiches of all time. This slightly unorthodox version offers a little bit of everything: sweet and sour, pickled and fresh, crunchy and creamy. While meat is the usual filling, the organic marinated baked tofu does an admirable job as the primary protein, asserting its flavor and soft chewy texture amidst a barrage of housemade pickled daikon and carrots, cucumbers, jalapenos, and cilantro. The vegan aioli is a suitable stand-in for the real thing, while a dab sweet chili sauce amps up the spice factor.
Though the traditional French roll is swapped for panini-pressed ciabatta, we had no issue with the substitution. Mendocino Farms also offers a similar banh mi stuffed with caramelized pork belly. We're fans of that one too but find it to be a bit heavy for a lunchtime meal.
2. Pink Lady Beets & Goat Cheese Salad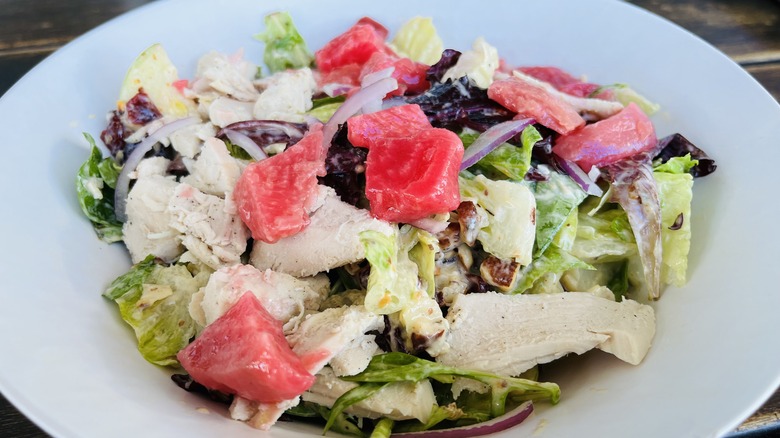 Sarah Gardner/Mashed
If you've already had the pleasure of dining at Mendocino Farms, this salad may seem brand new, but it's actually a longtime favorite. Formerly known as Saved Drake Farm's Salad, the rebooted name gets straight to the point of what's in store for this big bowl of deliciousness that's similar to a Waldorf salad but so much better. The gorgeous wedges of pink lady beets offer sweetness and texture along with plenty of Instagram appeal. Honey and herb-marinated goat cheese bring the tang, while crunch comes courtesy of romaine, green apples, and crushed honey-roasted almonds. The full package is fresh and filling, with the downside being you miss out on that stellar Mendo bread.
The name change may be a bit confusing if you're used to ordering this salad, but we assure you — the flavors are the same, so you're not missing out on anything if this salad is one of your long-time faves.
1. Peruvian Steak Sandwich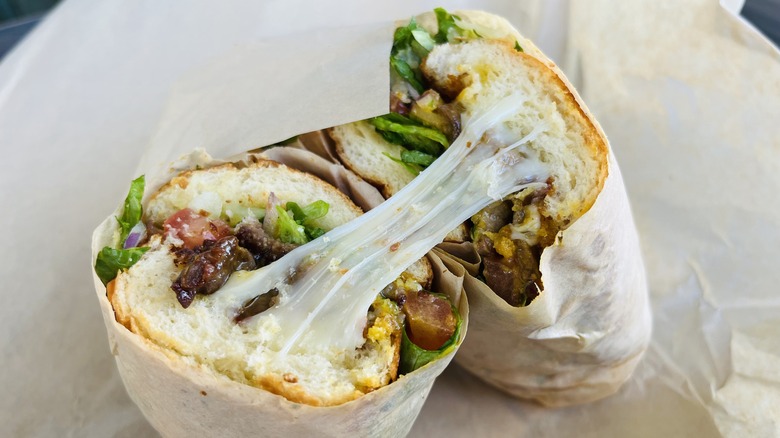 Sarah Gardner/Mashed
While the Chimichurri Steak & Bacon Sandwich didn't exactly mooooove us (apologies, we regretted that one after the third "o"), we have absolutely no beef with this Mendocino Farms classic that also finds inspiration from South America. With this one, the steak is without a doubt the star, tender and oh-so-flavorful thanks to a spicy aji amarillo marinade. Popular in Peru, the yellow pepper adds a noticeable but not aggressive heat comparable to cayenne pepper and tabasco chilis, along with some fruitness (via Pepper Scale).
The other players — herb aioli, red onions, tomatoes, and shredded romaine — lend some creamy, salty, sour, and crunchy assistance without overwhelming the centerpiece steak. And a special shoutout goes to that melty Oaxacan cheese. You also have the option of adding avocado, but the sandwich gets the job done as is. Per usual, the bread (a toasted potato roll) is on point. Just remember to grab a few napkins because things can get messy. If for some reason, you're still unconvinced that you need a Mendocino Farms in your area, this sandwich is sure to sway you.