Keto Granola Recipe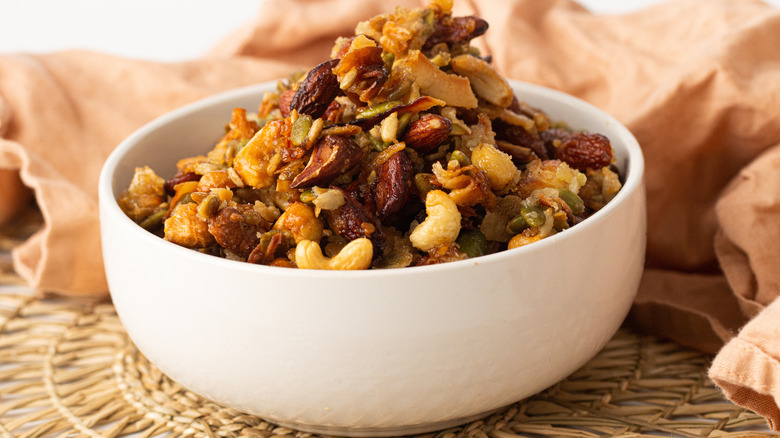 Susan Olayinka/Mashed
Before we jump into this crunchy, tasty, keto-friendly recipe, let's take a second to get on the same page by establishing a good, clear definition of just what "keto" means. According to Healthline, individuals following a ketogenic, or "keto," diet are trying to put their body into ketosis, a metabolic state where the body uses fats for fuel, rather than carbohydrates. But to enter ketosis, you need to drastically reduce the number of carbs you consume. As such, keto diets are very low in carbs and high in fats. 
Got it? Low carb, high fat, and when said fats are the healthy kind and when you get enough exercise, your body becomes very good at burning fat. And this efficient use of fat means that you could lose weight. This recipe from chef and recipe developer Susan Olayinka of The Flexible Fridge? Oh, it's got the good stuff when it comes to fats. As in nuts, seeds, egg, and coconut oil. And of course, the carbs are at an absolute minimum, while the flavor is as big as the jolt of energy you'll feel after enjoying your snack.
Gather your ingredients for the keto granola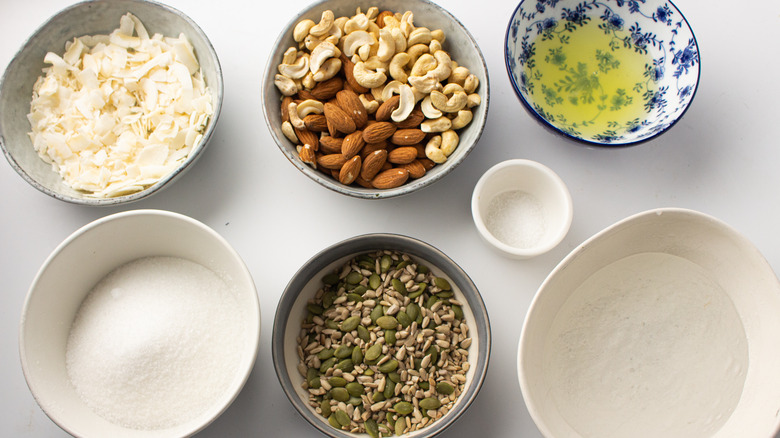 Susan Olayinka/Mashed
As noted, this recipe is all about the fats. Said fats (again, healthy fats!) come from the cashews, almonds, the mixed pumpkin seeds and sesame seeds, dried coconut flakes, and the melted coconut oil. Aside from all that good stuff, all you need is an egg white (offers a little more protein!), a pinch of salt (just a quarter of a teaspoon), and a cup of low-calorie sweetener of your choice. Olayinka suggests xylitol as an example.
Mix together all ingredients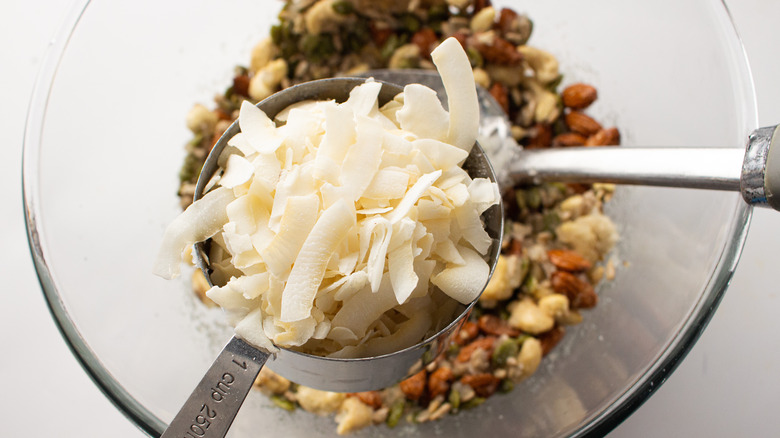 Susan Olayinka/Mashed
Aside from the taste and the keto-friendly nature of it all, the best thing about this recipe is that it's easy. Like, really easy. Like, three steps and done, easy. 
Start by preheating the oven to 185 F, then separate and measure your ingredients. Next, combine the cashews, almonds, mixed seeds, coconut flakes, melted coconut oil, sweetener, egg whites, and that bit of salt together in a mixing bowl. Stir them to blend everything together.
Spread the granola out on a tray and bake it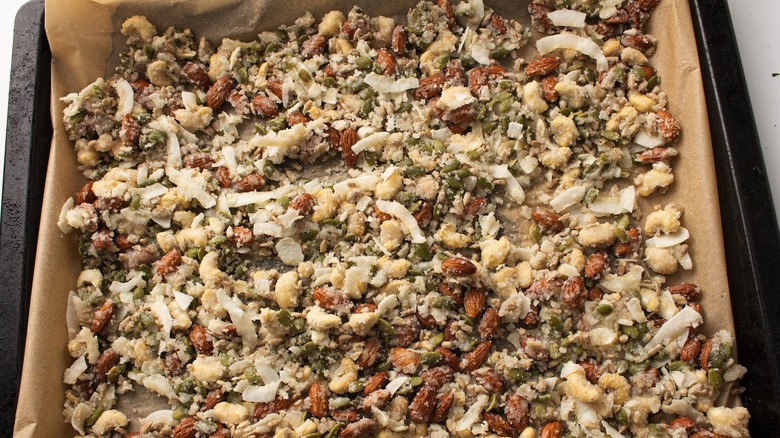 Susan Olayinka/Mashed
Okay, two more steps and you've got this! Place the granola on a baking tray, ideally one lined with parchment paper or a silicone baking mat, and spread it out into an even layer. Now pop that tray into the oven and let the stuff bake for 40 minutes at 185 F.
But pay attention to the time and check the granola the last few minutes of the bake. "Be careful not to burn them, nuts can burn very quickly," Olayinka cautions.
When 40 minutes has passed, retrieve the tray and set it somewhere to cool, leaving the granola to sit for 15 minutes so it can harden. After about 15 minutes, it's ready to be served and enjoyed.
A few ideas for rounding out the meal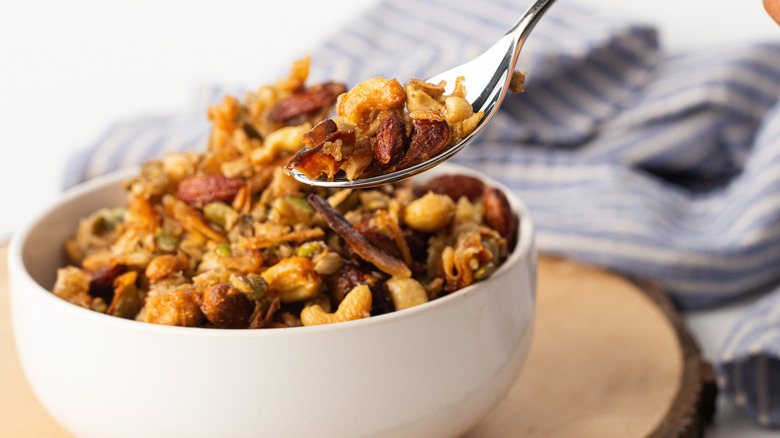 Susan Olayinka/Mashed
While this keto granola is quite tasty, it might not feel like a complete, satisfying meal for some folks. So let's talk about a few foods you can add to the mix without throwing off the keto part of the meal. Lots of fruit is naturally high in carbs, but according to Everyday Health, berries are a decent choice if you're looking to make breakfast a bit richer. Cauliflower and broccoli are both good choices to snack on at lunch, as area lean deli meats. And if you need something to crunch on alongside your granola, try seaweed chips or, of course, more seeds and nuts. You can also eat your granola with milk as a cereal, but make sure you choose a keto-friendly milk alternative, like almond or coconut milk. Just pay attention to added sugars and net carbs. 
Keto Granola Recipe
Granola doesn't have to be carb-heavy. This keto granola recipe is perfect when you're eating low-carb but still want a tasty snack at your disposal.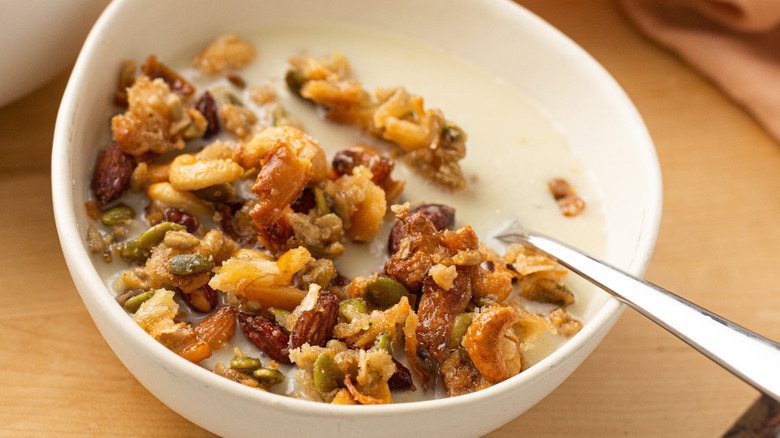 Ingredients
1 cup cashews
1 cup whole almonds
½ cup pumpkin seeds
½ cup sunflower seeds
1 cup dried coconut flakes
½ cup melted coconut oil
1 cup sweetener (for example xylitol)
egg whites from 1 egg
¼ teaspoon salt
Directions
Preheat the oven to 185 F.
Combine the cashews, almonds, mixed seeds, coconut flakes, melted coconut oil, sweetener, egg whites, and salt in a mixing bowl and stir them together.
Spread the granola out on a baking tray and bake for 40 minutes at 185 F.
Remove the tray from the oven and let it sit for 15 minutes to harden. After 15 minutes, it is ready to be served.
Nutrition
| | |
| --- | --- |
| Calories per Serving | 602 |
| Total Fat | 56.7 g |
| Saturated Fat | 27.6 g |
| Trans Fat | 0.0 g |
| Cholesterol | 0.0 mg |
| | |
| --- | --- |
| Total Carbohydrates | 17.6 g |
| Dietary Fiber | 7.0 g |
| Total Sugars | 3.9 g |
| Sodium | 112.2 mg |
| Protein | 14.7 g |