This Type Of Pumpkin Seed Might Become The Next Hummus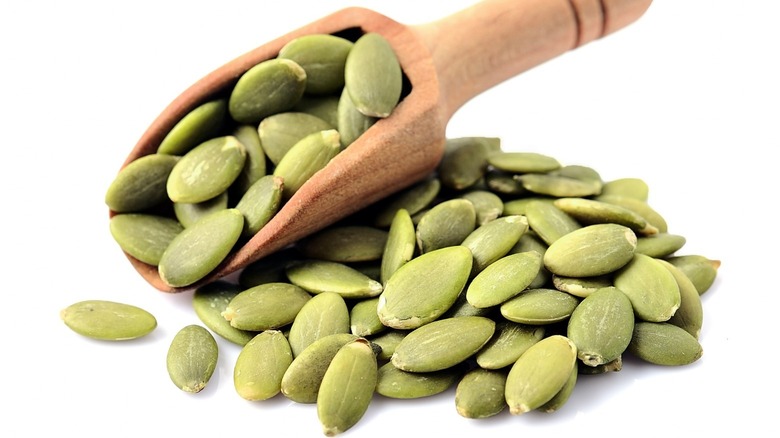 Volosina/Shutterstock
Pumpkin seeds really have a moment in the fall when Americans carve jack-o-lanterns for Halloween, and scoop out the slimy white seeds and then roast them for a quick snack. But, for the rest of the year, they are largely forgotten about by many people. In Mexico, however, pepitas, which are a type of pumpkin seed, have been a staple in regional cuisine for the past 7,500 years (via BBC) — though they are a bit different. While the pumpkin seeds Americans enjoy around Halloween come from smooth, bright orange gourds, pepitas come from calabaza pumpkins, which can range in color from "bulbous and beige, round and green-striped, or bumpy and yellow with crooked necks," per BBC.
According to Today, it's a common misconception that pepitas come from the inside of a white pumpkin seed. But, you can save yourself the hours of cracking them open because pepitas are readily available in most grocery stores. They are also extremely versatile and can be used to add texture to sweet and savory dishes alike. According to Yucatán Today, these green pumpkin seeds are often roasted and ground up to make a variety of dishes, including a traditional Mayan-inspired dip called sikil pak, which translates to "seed and tomato." This dish is one of the oldest dishes in the Yucatan and is making its way onto more and more menus in the U.S., so other popular dips like hummus might want to watch their back.
Pepitas make dips that could rival hummus and guacamole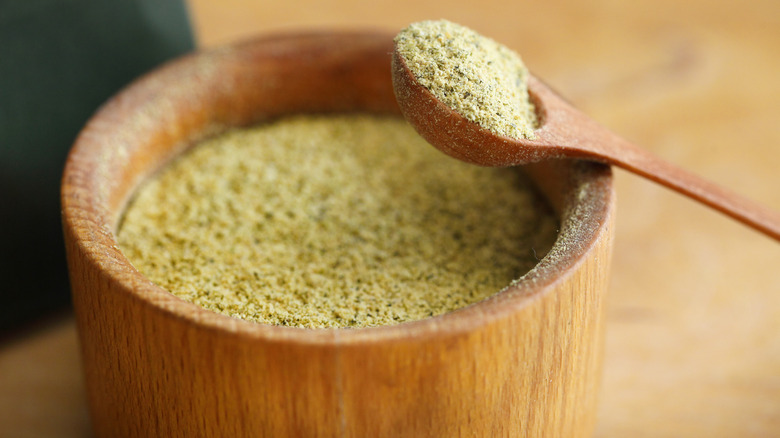 Ivan Galashchuk/Shutterstock
According to SmartBrief's yearly report on upcoming food trends, sikil pak is rising in popularity in the U.S., and the site boldly states that it could become "the next hummus or guacamole." The bright green dip shares a few ingredients with guacamole like jalapeno, garlic, cilantro, and lime juice, but the roasted pepitas add a smoky dimension that differentiates it from its creamy counterpart (via Food & Wine). Sikil pak is in a dip category of its own because the pepitas thicken it to make it more of a spread or paste consistency.
Food & Wine's pumpkin seed dip recipe, from "Top Chef" alum Mike Isabella, adds in a few extra ingredients like orange zest, while a recipe from Yucatán Today offers a simple combination of roasted tomatoes, roasted pepita powder, onion, cilantro, salt, and optional habanero. Although they differ in ingredients, both recipes recommend serving the dish at room temperature accompanied by tortilla chips or tostadas. With the prices of avocados continuing to rise (prices are up 129% in recent years, via Business Insider), sikil pak is a more budget-friendly, but equally delicious dip to enjoy at a restaurant or at home.