Martha Stewart's Hack For Removing Labels On Pots And Pans Is So Easy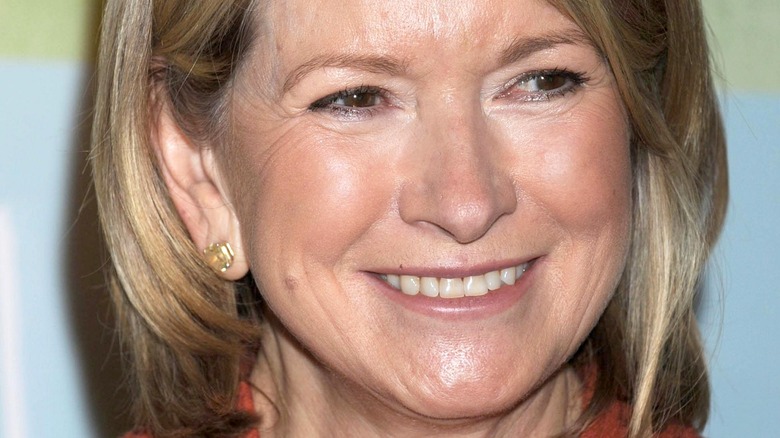 Everett Collection/Shutterstock
Martha Stewart is quite possibly our favorite domestic diva. The media mogul can do it all, whether she is sharing how to make her famous Martha-Rita, the green juice she drinks every morning, or giving up her foolproof garlic-peeling hack. Stewart is always imparting helpful ways to make cooking and entertaining a cinch. And now her brilliance is at it again as she has shared a genius hack to get rid of those annoying price stickers that come on just about everything you buy and never seem to cleanly come off the surface, leaving behind a sticky residue that always seems to linger.
Unlike other tips, Stewart's hack smells better than the solvent combo of vinegar and alcohol, and it doesn't call for a credit card to do the trick (via Molly Maid). Nor will you need to pull out your favorite jar of peanut butter, olive oil, or a can of WD-40 to accomplish this task (as noted at Better Homes & Gardens). In fact, Stewart's trick is really convenient. It simply requires a hairstyling tool and, per Kitchn, just about 30 seconds of your time. It almost sounds too good to be true, and once you do it, you will be glad you tried this trick.
Simply use a hair dryer to remove those stickers
Stewart shared a video on her Instagram demonstrating how you can use a hair dryer to remove these stickers — and all we can say after seeing it is "mind blown." The guru captioned the video, "Here's a solution for getting stubborn stickers off newly purchased items like these pie plates — just use a hair dryer." This is definitely one of the cookbook author's more popular tricks because the post has close to 250,000 views as of publication.
In the video, Stewart holds a powered-on hair dryer and moves it back and forth over the sticker in question until she is able to peel it off with ease. She notes that this hack will work on anything from metal to glass, wood to stone, and says it's really that "simple" — and her fans seem to agree. 
One wrote, "I am going RIGHT NOW to fix everything with sticker scraps still on it that I could not get rid of!!! THANK YOU SO MUCH!! #lifechanger." And another said, "There are reasons to love Martha." While still another simply responded with, "GENIUS!!!" And of course Martha's Instagram community is all too ready to share their own DIY hacks; one of her followers offered, "You can also use Sunblock cream to remove those pesky, gluey residues that remain after you have peeled off a sticker. Believe me — it works!" We will file that one away in case the hair dryer trick doesn't work.