How Much Do Cinnabon Employees Typically Make?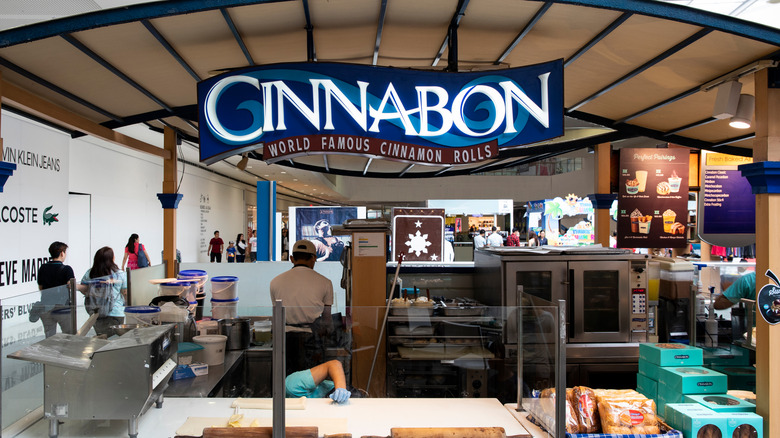 Davdeka/Shutterstock
With over a thousand locations across more than 50 different countries, Cinnabon isn't your average bakery — it's a global sweets empire. Step into seemingly any mall in the world and there's a high probability that the scent of the prolific sweets chain's ooey-gooey cinnamon rolls baking in an oven will tempt your taste buds. And it turns out, for many people, that little bit of temptation is all that's needed — every year, the chain sells a mind-boggling 100 million classic cinnamon rolls, in addition to its other menu items. Even during the height of the pandemic in 2020, the chain brought in $178.3 million in sales (via Nation's Restaurant News).
Cinnabon owes a lot of that massive success to its employees, who not only bake those giant, decadent rolls fresh every hour, but also ensure the stores constantly pump out that irresistible aroma. As far as food service jobs go, the smell of cinnamon and sugar baking in the oven surrounding you all day could seem like a dream come true. Or it could be a curse, depending on your point of view. But how much of that money are Cinnabon employees earning for cooking and serving those ever-popular rolls?
More than half of all Cinnabon employees do not think they are paid enough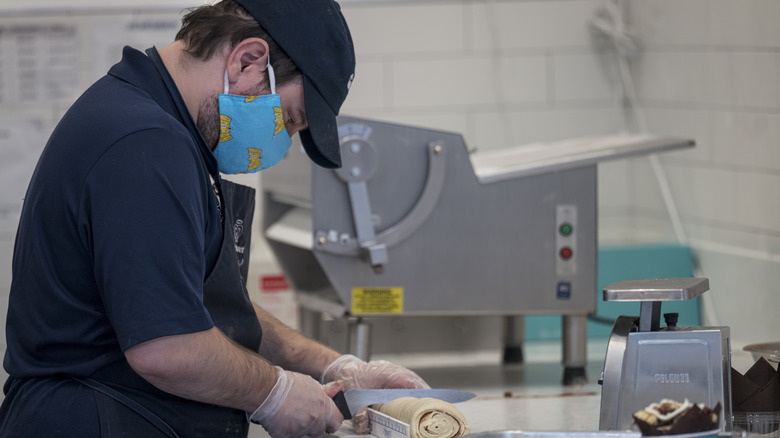 Although wages vary by location, Indeed data shows average Cinnabon crew and team members earn $11.19 and $12.34 per hour, respectively. A look at more statistics reveals cashiers make around $12.09 per hour, while supervisory jobs of shift leaders and shift managers can expect to make $12.40 and $13.11. Food-handling positions of bakers and baristas earn slightly more, bringing in $12.51 and $13.13 per hour, respectively. Assistant managers receive the highest hourly pay of $15.88.
While these figures are in line with the national median for food service workers (via Bureau of Labor Statistics), just 47% of Cinnabon employees who rated their salary satisfaction on Indeed believe they are paid fairly. In fact, one of the top complaints based on employee reviews is low pay. Even management — which earns the most of all the chain's store employees — gets the short end of the stick. Cinnabon's bakery managers take home an average annual salary of $41,410, which is far less than the $61,000 mean national salary for food service managers, according to the Bureau of Labor Statistics.
Still, many other Cinnabon employees are content with their jobs. Several positive reviews of the company praise the flexible scheduling and fun work environment, calling the job a good opportunity for students. One former cashier sums it up: "Pay is pretty much nonexistent, but if you are a teenager with no real bills then this job is okay."