BTS Ate Chipotle For The First Time And Loved It
Right now, superfans of Chipotle might be wondering, "What's not to love?" While the members of the K-pop phenom boy band BTS may be new to the Chipotle party, the fast-casual Mexican chain is quite popular. In 2020, Restaurant Business ranked it no. 2 in the U.S. behind Taco Bell, 24/7 Wall St. Chipotle had done almost $5 billion in US sales at the time. As of September 2021, Chipotle owned (and doesn't franchise) almost 3,000 units from sea to shining sea and overseas (per a Chipotle news release). The chain has found success by embracing a smallish menu and a stated commitment to "food with integrity" that has been the core philosophy for the chain, which uses only fresh ingredients, since its inception in 1993, per Investopedia.
The Chipotle bowls have been a very popular menu item and accounted for about 70% of chain sales before the pandemic caused a shift in customer preferences, according to Chipotle CFO Jack Hartung (via Yahoo! Finance). The bowls are filled with rice, beans, or fajita veggies, and the customer can choose between freshly grilled meats or sofritas (which are plant-based), according to Chipotle's website. The possible toppings include guacamole, salsa, queso blanco, sour cream, and cheese. And it seems that BTS found the bowls yummy enough to light the band up like "Dynamite."
BTS had a blast eating Chipotle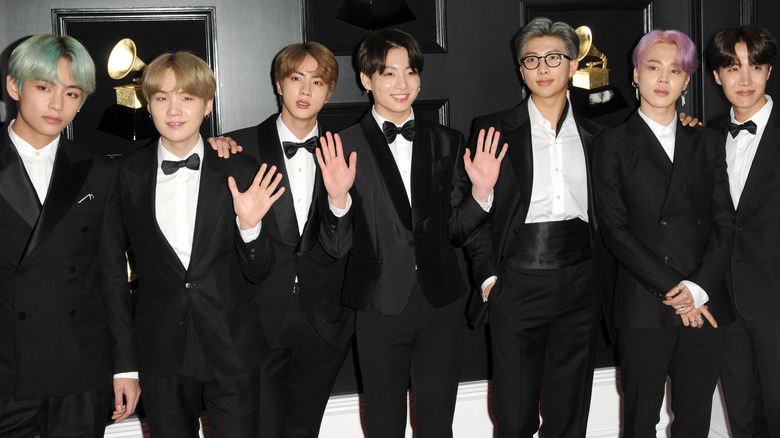 Kathy Hutchins/Shutterstock
The Grammy-nominated band that "changed K-pop," per Vox, didn't break into a rendition of "Dynamite" – BTS' first English-language single and the first-ever K-pop hit to debut at the top of the US Billboard "Hot 100" chart - when they dug into their Chipotle bowls. One band member did, however, do a quick ode to the avocado when he got his first taste after the band wrapped their recent taping of "The Late Late Show," according to The Takeout. The members of BTS  fare not new to fast food (Panda Express is reportedly their favorite), but apparently had not yet tried Chipotle.
When member Jungkook asked after digging into a bowl, "What is this, Chicotle?" Chipotle responded by changing its official Twitter handle to "Chicotle" and retweeted a post that declared, "IF JUNGKOOK SAID ITS CHICOTLE THEN ITS CHICOTLE." Apparently being part of what Rolling Stone called "the world's biggest band" has its perks. A few other perks that the band has experienced: They've appeared on "GMA," "SNL," and at Times Square to perform on New Year's Eve. They've also sung at Grand Central Station and did a food-prep stint with Jimmy Fallon at famed Katz's Delicatessen beforehand (via YouTube). No word as to whether their appearance at the iconic NYC deli evoked the same kind of experience that Meg Ryan had when eating there with Billy Crystal in "When Harry Met Sally" (via Insider), but we're guessing there were some pretty thrilled patrons, indeed.