This Anthony Bourdain NFT Is Selling For Over $7K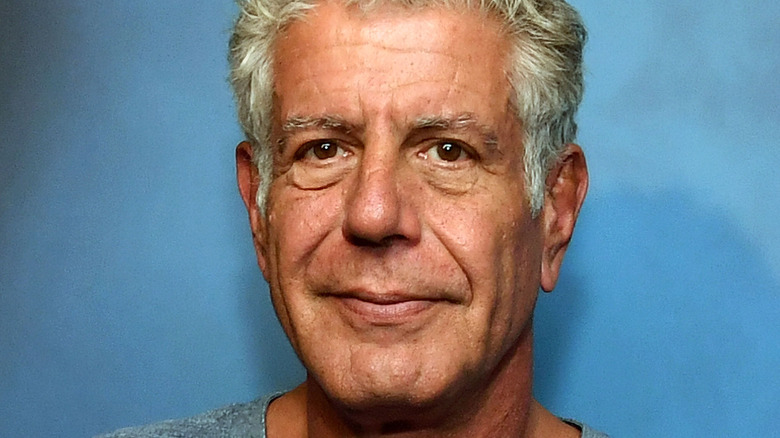 Slaven Vlasic/Getty Images
It seems like the culinary industry is rather keen on NFTs and has started embracing the trend in different ways. According to an Eater piece, several food industry bigwigs such as celebrity chefs Martha Stewart and Marcus Samuelsson, fast food brand Pizza Hut, and well-known chef Rocco DiSpirito are now selling NFTs to fans. In fact, DiSpirito even crafted an "NFT recipe" while collaborating with the company Metaversal that released a statement, "Purchasing the NFT gave the owner (Metaversal) the rights to a unique, never-before-seen recipe created based on their preferences. Therefore, Rocco Dispirito created the recipe after the NFT was purchased."
Meanwhile, last year, Samuelsson created an NFT for one of his most popular recipes, the Fried Yardbird dish; he was optimistic about the NFT trend (via Inside Hook). He said, "I look at NFTs as being as fascinating as when graffiti and street art merged into the art world." Digital art is not going away anytime soon: An NFT dedicated to Anthony Bourdain is currently on sale for over $7,000 on Open Sea.
It's a quirky tribute to Bourdain
Created by a digital artist who goes by the name FreaksNFT, the NFT is a quirky and colorful tribute to Anthony Bourdain. The subject (presumably the chef himself) is seen eating a dish with chopsticks (via Open Sea). A description of the piece offers more details: "A 1 of 1 mint, Bourdain (#229) features a legendary chef and self-identified Freak who influenced millions across the globe throughout his culinary journeys!" 
It adds that the NFT is a worthy investment and is dedicated to an "all-time great." Fans can make an offer for the next four days. The artist has previously created NFTs dedicated to other well-known celebrities such as Taylor Swift, Kanye West, John Lennon, and Lionel Messi. 
In 2019, Anthony Bourdain's family members made the difficult decision to put up many of his personal possessions for sale at an auction that included items such as a painting gifted to Bourdain by the renowned chef and painter, Jacques Pépin, a pricey Bob Kramer chef's knife, watches, books, sunglasses, jackets, and more (via Grub Street). All of the items were sold to bidders who bought them at "amounts significantly higher than their estimates" and helped raise over $1.8 million for the Anthony Bourdain Legacy Scholarship at the Culinary Institute of America, as reported by Food & Wine.