McDonald's Fan-Inspired Menu Hacks Are Becoming A Reality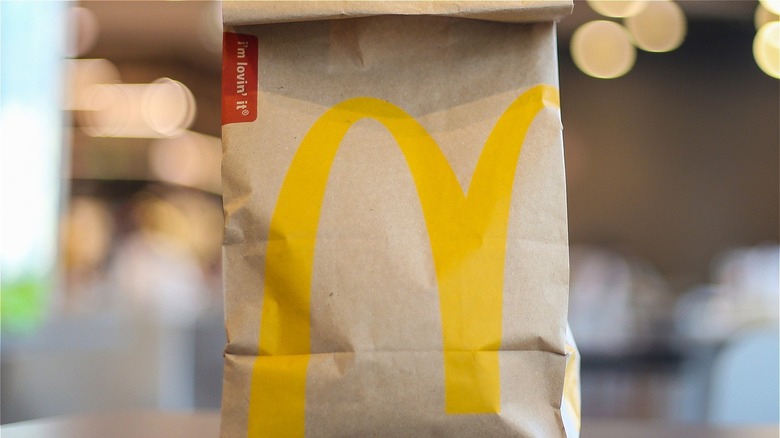 URAIWONS/Shutterstock
It may be hard to fathom a world without social media (especially for millennials and Gen-Z'ers) — one where we're not connected at our fingertips. But, prior to 2005, when the first blog sites appeared on the internet and then YouTube jumped in, per Small Business Trends, there wasn't a way to easily all be on the same page at the same time, literally. Adds the article, Facebook and Twitter jumped in by 2006, and the world changed forever. Today, more than 4.5 billion people in the world engage with social media in some form, according to Investopedia, and it's probably no surprise that millennials are the biggest users with 90% of people ages 18-29 using at least one platform.
With that much engagement, social media has become an invaluable business tool as well. Though its original intent was to connect friends and family, the possibilities — in terms of marketing and customer engagement — have been too big for the business world to forgo. And McDonald's, the world's largest fast food chain by revenue, has been leading the pack in terms of marketing campaigns for years, now choosing to directly engage the social media sphere for menu development strategies. Most recently, it looks like McD's is borrowing a page from a competitor's playbook, and taking the concept of "having it your way" to a whole new level. On January 31, the Golden Arches will roll out a few "Custom Menu Hacks" to its menu — items that originally gained popularity by McD's fans through interaction on social media.
McDonald's is appealing to the masses with new "Menu Hacks"
In a recent press release, shared on PR Newswire, McDonald's has announced that they will be acknowledging their online fans and "spotlighting their creativity by officially debuting four fan-favorite creations on menus across the country." This comes as a response to the many, many menu hacks that have been shared on social media by McD's devotees, who, according to the company, are "always coming up with different ways to make a McDonald's meal uniquely their own."
The four new mash-ups, conceptualized not by marketing execs, but by we, the people, will be available starting January 31. They include The Hash Brown McMuffin–(available during breakfast hours) that features a traditional Egg McMuffin with the hash browns on the inside. There's also the Crunchy Double sandwich, featuring McD's Chicken McNuggets topped with a Double Cheeseburger and drizzled with tangy BBQ sauce. The Land, Air, & Sea option offers a combination of the McChicken, Big Mac, and Filet-O-Fish stacked together. And, finally, there's the Surf + Turf, a melding of a Double Cheeseburger and Filet-O-Fish. The latter will be available to order exclusively on the McDonald's app and through McDelivery, while the other three concoctions will be available for McDelivery, on the app, and at drive-thru's and in-store as well, according to the press release.
While McDonald's has long tapped celebrities to endorse their favorite meals, now it's everyday people's chance to shape the McD menu. In the announcement, a spokesperson stated, "From Hip-Hop icons to Christmas queens, everyone has a unique go-to McDonald's order, including our everyday customers." Power to the people.