Chick-Fil-A Is Bringing Back Its Heart-Shaped Valentine's Day Trays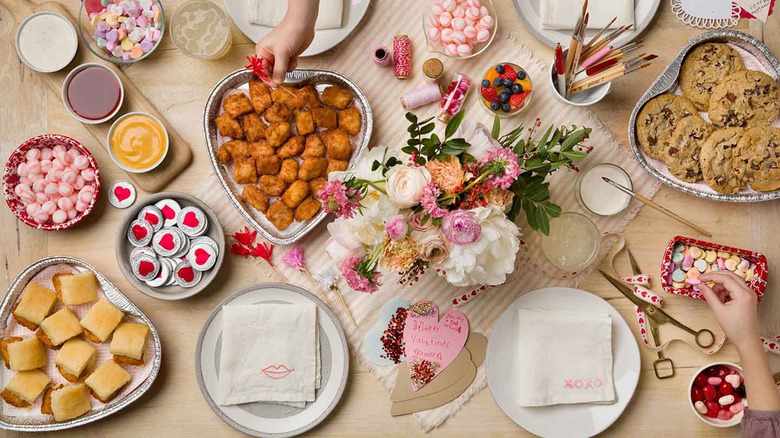 Chick-fil-A
While flowers and a box of chocolates might be a traditional Valentine's Day gift, those items are not for everyone. If your Valentine is the type to prefer more savory than sweet snacks, or you're simply looking for an out-of-the-box way to show your love, then Chick-fil-A just might have the perfect idea. The popular chicken chain is bringing back their much-desired heart-shaped trays to help fans celebrate the season of love, and just ahead of the February 14 holiday. Chick-fil-A first introduced this creative Valentine's offering in 2019, and it has remained such a popular gift item with their customers that they have decided to bring it back for the fourth year in a row (via Simple Most).
The adorable heart-shaped trays come in a few options and feature your choice of fan-favorite sweet and savory menu items, including a 30-count box of classic Chick-fil-A Nuggets, a 10-count order of Chick n Minis chicken sandwiches, a 6-count pack of sweet Chocolate Chunk Cookies, or 12 decadent Chocolate Fudge Brownie halves, according to The Chickenwire.
Chick-fil-A customers can also choose e-Gift Cards and specialty rewards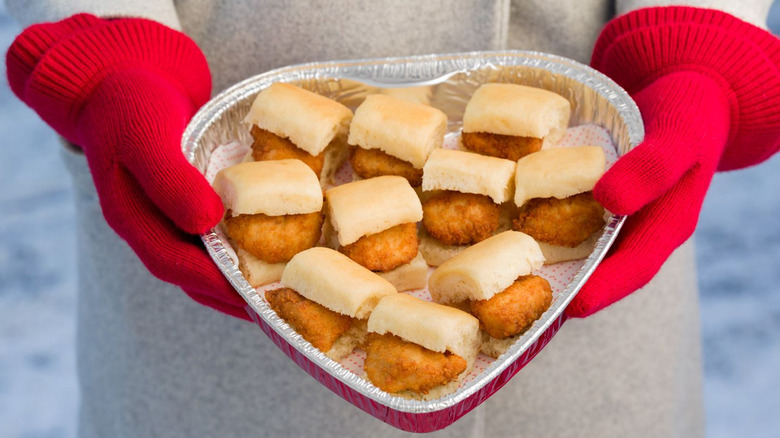 Chick-fil-A
These specialty Valentine's Day gift trays will be available at participating Chick-fil-A locations for a limited time beginning on Monday, January 31, per QSR Magazine. They can be purchased in-store or delivered through the Chick-fil-A app, but only while supplies last. (As well, the company recommends confirming availability with your local restaurant before ordering.) So, whether you want to surprise your sweetheart with their favorite Chick-fil-A dessert, or are just hoping to enjoy a romantic Valentine's Day dinner at home without having to deal with getting dressed up and making reservations, then these delicious trays just might be the perfect way to celebrate the day.
However, this isn't the only romantic treat Chick-fil-A has in store for fans. To help spread the love this winter, die-hards can also use their mobile device to deliver a virtual e-Gift Card straight to their loved one along with a sweet, personalized note. Rewards Members also have the option to give one of their One Rewards to a friend or loved one straight from the app, per The Chickenwire.