This Simple Egg Hack Will Change The Way You Make Avocado Toast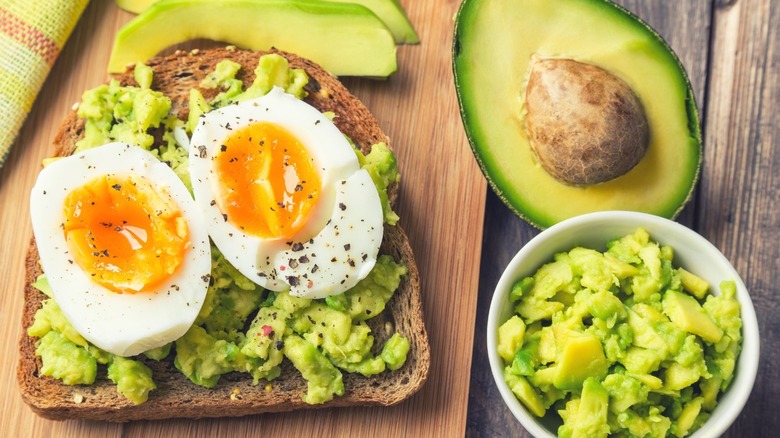 Anastasia Izofatova/Shutterstock
There are a lot of acceptable toppings for toast: a smear of butter, a tablespoon of jam, or, if you've been on social media lately, a dollop of yogurt. However, arguably the most popular toast topping over the last few years is avocado. Avocado toast was named the biggest breakfast trend of 2017 by My Fitness Pal, according to Insider, and it continues to be popular today. There are a lot of benefits to spreading the green fruit over your slice of toast. Because of the healthy fats, fiber, nutrients, and vitamins in the food, adding more of it to your daily diet can help improve your digestive and immune systems and reduce your risk of heart disease (via Healthline).
If you've been on the avocado toast trend since it first started, you might be bored of the combo. Fortunately, there are plenty of ways to elevate your avocado toast, whether you sprinkle on sea salt and red pepper flakes for a savory take or drizzle on honey and ricotta cheese for something sweeter. To add some protein to your dish, you can also top it with a hard-boiled egg. One TikToker recently revealed a fun hack for said egg — and it involves a cheese grater. Here's how to try it for yourself.
TikTok recommends grating an egg on top
Thinking about adding a hard-boiled egg to your avocado toast tomorrow morning? Rather than slice it, you might want to try grating it. TikToker @zzzachariah recently shared a video (inspired by fellow foodie influencer @healthyishfoods) where they tried out the hack. In the clip, they grate the hard-boiled egg over their prepared avocado toast and then add a drizzle of Sriracha at the end for a little kick. People are freaking out about how delicious — and how aesthetically pleasing — the grated egg looks, with many saying their minds are blown.
If you're having doubts, you aren't the only one. However, the poster assures fans it's a must-try. When one person questioned whether or not grating the egg makes the texture weird, they responded, "I know it looks weird, but trust me it's better! It's lighter! It's an egg-stra step but worth it!" According to My Recipes, shredding a hard-boiled egg almost makes you believe you're eating cheese instead, so it's a grate (pun intended) option for anyone trying to cut out dairy.