Heart-Shaped Pizza Recipe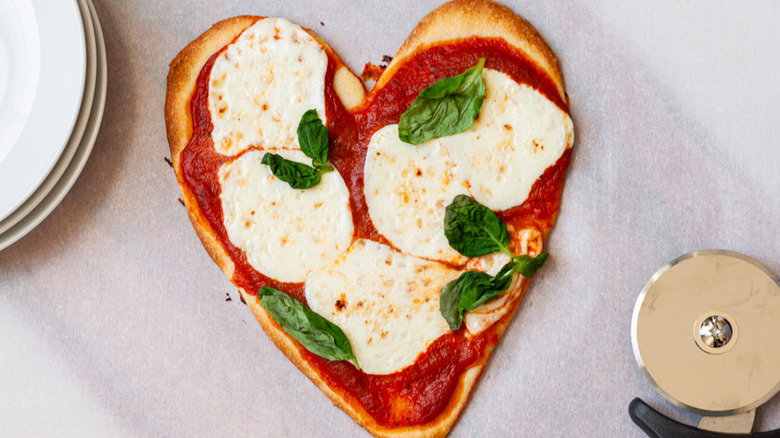 Christina Musgrave/Mashed
As the saying goes, you can often find the way to a person's heart through their stomach. Food is the language of love, and what better way to tell someone you love them than by making a delicious, homemade meal? While people tend to indulge in sweet treats on Valentine's Day, we think pizza would be a great main course to serve on this special day. One of the great parts about this recipe is that it's really easy to make, as you simply use store-bought pizza dough and your go-to sauce brand. Add some fresh mozzarella and basil, and you have one of the best pizzas you'll ever have the pleasure of tasting.
Recipe developer Christina Musgrave of Tasting With Tina came up with this fantastic dish, and there's a lot to love about it. "I love that it's super easy and a great option for [two] for Valentine's Day," Musgrave says. "It's not particularly healthy, but not super unhealthy, either."
If this sounds like something that might please your honey or the kiddos on Valentine's Day, keep reading for instructions!
Gather the ingredients for the heart-shaped pizza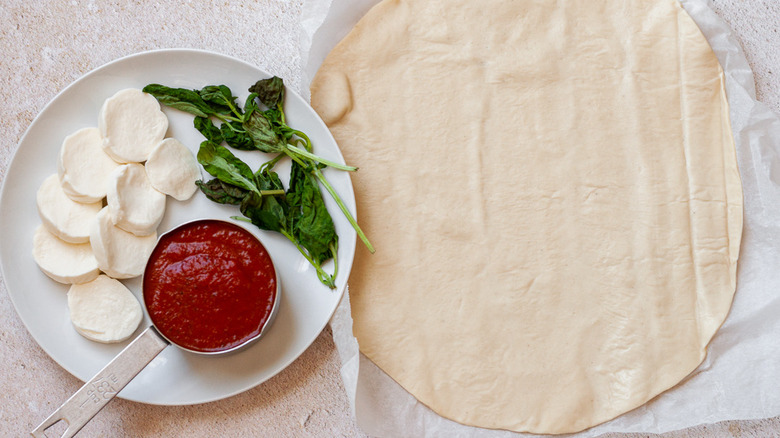 Christina Musgrave/Mashed
The first thing you need to do is to gather all of the necessary ingredients. Start with about 8 ounces of store-bought crust. You can use whichever kind you prefer. You'll also need to pick up some pizza sauce. Feel free to use any type you like; it doesn't need to be a particular brand. In addition, grab some fresh mozzarella and a little fresh basil for serving.
Preheat the oven and roll out the pizza dough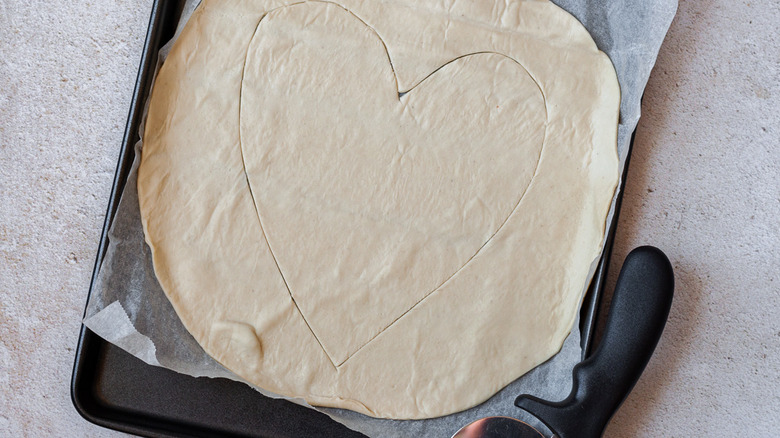 Christina Musgrave/Mashed
Now that you have all of the ingredients in front of you, it's time to get things started. Since you'll be using the oven for this recipe, set the temperature to 400 F. "Preheating the oven is important to make sure that your food is cooked properly. If you add food to the oven before it is preheated, it can cook unevenly," Musgrave explains.
Now, grab the pizza dough and roll it out gently. Shape it into a heart for the day of love. "I found it easiest to shape with a very sharp knife," Musgrave says. If you'd prefer, you could cut the dough into a heart shape with a pizza cutter.
Top with sauce and cheese and bake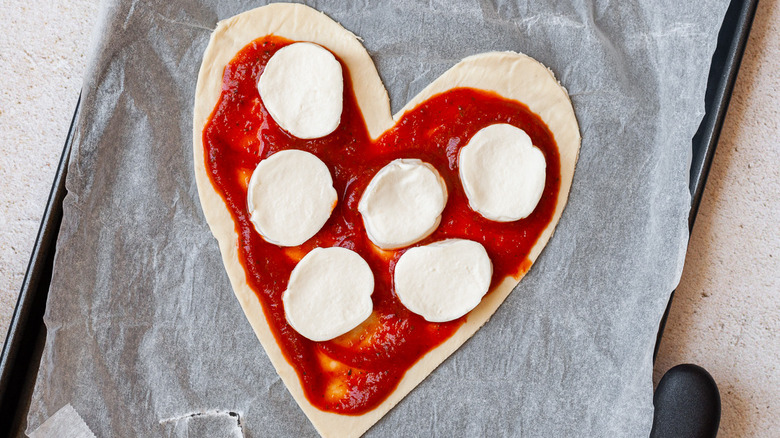 Christina Musgrave/Mashed
Now that your crust is good to go, it's time to put the pizza together. This is one of the easiest parts of the recipe. Top with the pizza sauce and spread it out all over, leaving a little room at the edges. Then, add the fresh mozzarella cheese. If mozzarella isn't your thing, you could always sub it out for something different. "You can substitute any cheese that melts well, but mozzarella is the classic cheese used on most pizzas," Musgrave says.
Pop the pizza into the oven and bake it for about 20 minutes, or until the crust turns golden brown.
Add basil and enjoy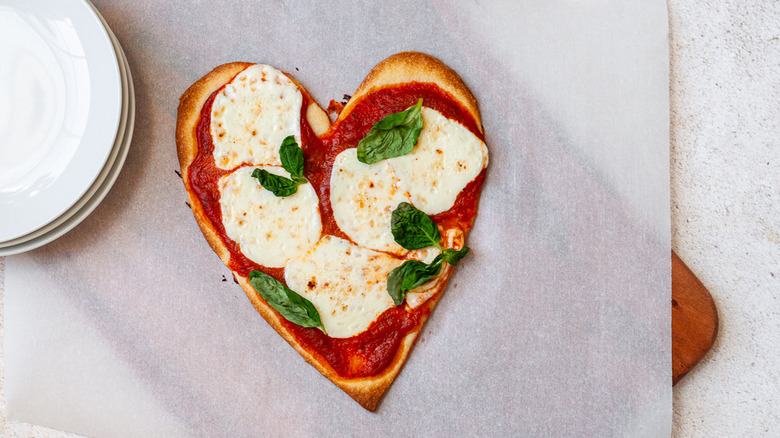 Christina Musgrave/Mashed
Once you take the pizza out of the oven, place it in a safe spot on your counter and top it with fresh basil. If you don't love basil, you can always leave it out. As far as what to enjoy it with? "Serve [it] with a salad and some wine for a Valentine's Day celebration," Musgrave suggests.
And if you happen to have any leftover, Musgrave says it will keep for about 3-4 days in the fridge, or you can store it in the freezer in airtight freezer bags for a little longer. 
Heart-Shaped Pizza Recipe
Make your partner feel especially special for Valentine's Day by whipping up a homemade heart-shaped pizza. It's easy and can be ready in about 30 minutes.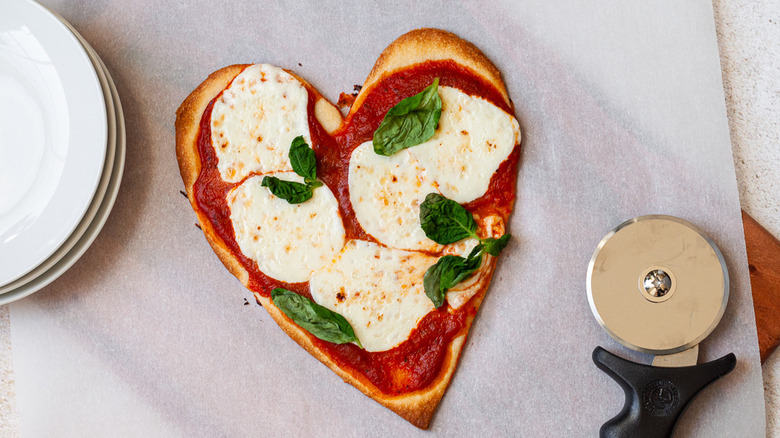 Ingredients
1 8 ounce store-bought pizza crust
1 cup pizza sauce
4 ounces fresh mozzarella
fresh basil, for serving
Directions
Preheat oven to 400 degrees F.
Roll out the pizza dough on parchment paper. Gently shape it into a heart. Or, cut dough in the shape of a heart using a pizza cutter or sharp knife.
Top with sauce and fresh mozzarella cheese. Bake for 20 minutes, or until the crust is golden brown. Serve topped with fresh basil.
Nutrition
| | |
| --- | --- |
| Calories per Serving | 672 |
| Total Fat | 19.7 g |
| Saturated Fat | 9.4 g |
| Trans Fat | 0.0 g |
| Cholesterol | 44.8 mg |
| | |
| --- | --- |
| Total Carbohydrates | 92.2 g |
| Dietary Fiber | 6.9 g |
| Total Sugars | 6.7 g |
| Sodium | 1,774.9 mg |
| Protein | 29.5 g |