Reddit Is Loving This Kirkland Signature Sighting At An NBA Game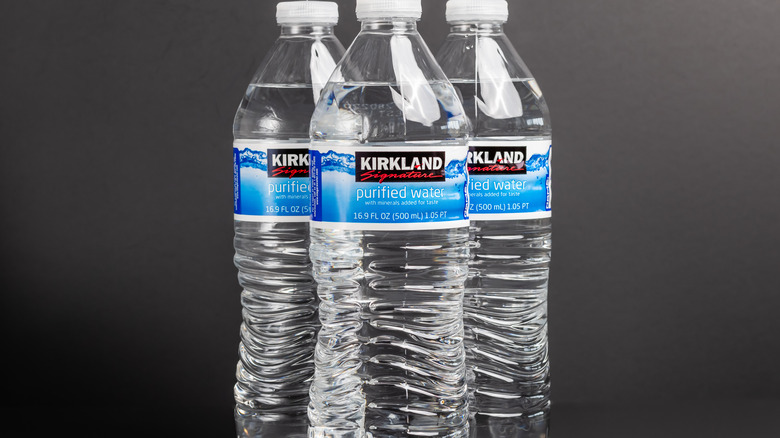 John Mantell/Shutterstock
Costco's in-house brand, Kirkland Signature is a popular brand name that is known to sell a variety of food items, as well as other products including razors, slippers, and plastic food wrap. According to a QUARTZ piece, it's not uncommon to find Kirkland products on other platforms such as Amazon, and in many cases, they're a lot more expensive. 
Social media users, Redditors in particular, have not been shy about showing admiration for Kirkland products, commenting on a thread "...Wines and pretty much all of food items are a great value. And the shampoo and parchment paper are top-notch." Someone else shared that they've discovered many Kirkland Signature items are as good as other brands, including but not limited to protein bars, greek yogurt, wine, dish soap, shampoo, conditioner, cat food, paper towels, and more.
Reddit users in the r/Costco subreddit are currently expressing their excitement over spotting a Kirkland product at an NBA game...and it's not bottled water. 
Fans speculate over who the sweatshirt belongs to
An observant Reddit user spotted someone wearing a Kirkland sweatshirt at an NBA game and took a screenshot, sharing it with other Costco fans and noting that the person had fancy courtside seats to a Golden State Warriors game. Redditors were delighted by the sighting, and someone exclaimed, "Man, given what courtside tickets cost it's pretty funny to see someone wearing a Kirkland sweater" to which a commentator replied, "To be fair, there are a lot of wealthy Costco members."
Some fans speculated that the mysterious sweatshirt belongs to Chris Ying, who posted a story to his Instagram with the caption "repping my brand." One Reddit user exclaimed, "Saw this thread and then saw him on my Instagram feed!" and for proof, attached the link to the photo, which does make it seem like the author may be the NBA fan in question. However, we may never know who the Kirkland sweatshirt-wearing fan is.
These sweatshirts have been popular in the past, as Today reports, the Kirkland Signature Unisex sweatshirt received scores of positive reviews from shoppers and had a 4.8 rating on the website. They're currently unavailable and fans have noticed. One person even posted on Costco's Instagram page and asked, "Are these ever coming back in stock?" Another user lamented, "Can't believe I missed out on this."