Easy Creamed Chipped Beef On Toast Recipe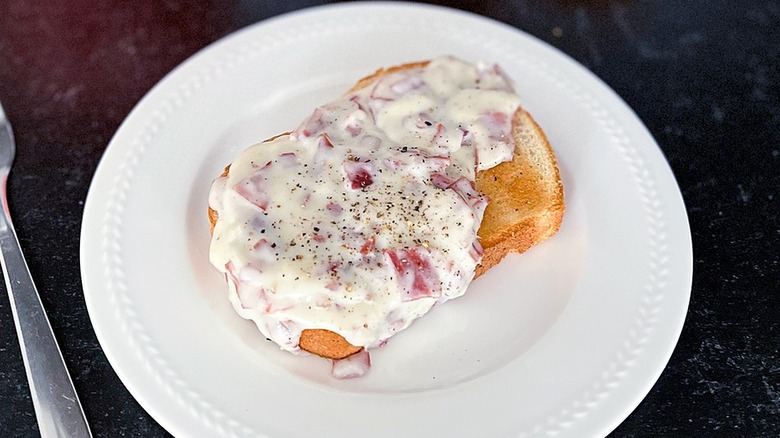 Erin Johnson/Mashed
If you're looking for the perfect comfort food, look no further than this creamed chipped beef on toast recipe. Though it may seem like an unusual dish at first glance, there's nothing unusual about salty beef smothered in thick, creamy gravy that's served on crispy toast. Once a depression-era meal, creamed chipped beef on toast is indeed a masterclass in simple, savory food. And, it's never been easier to make thanks to this recipe from Erin Johnson. 
"This recipe is very nostalgic and takes me back to breakfasts with my grandparents," Johnson says of her inspiration behind the dish. She does have one important note as you get started cooking. "Chipped beef is very salty, and I usually don't need to add any additional salt to the dish; however, let your tastebuds be your guide," she says. So, it's safe to say you won't want to top off your toast with an extra sprinkle of salt! However, if you love savory and salty snacks, this is exactly the recipe you're looking for.
Gather the ingredients to make creamed chipped beef on toast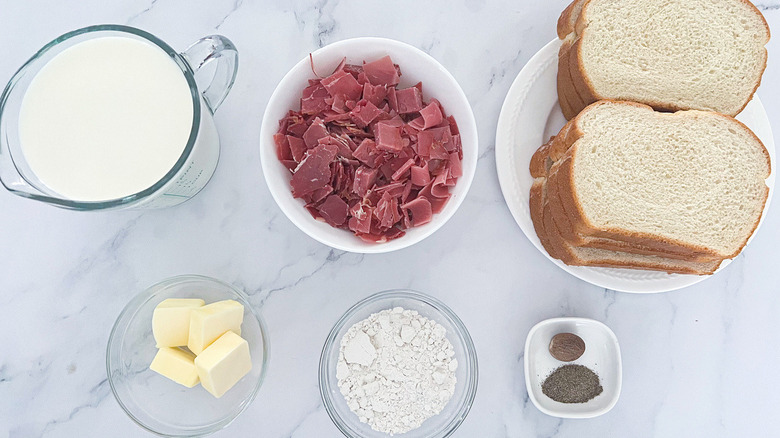 Erin Johnson/Mashed
The process of making this toast is a breeze, but you'll want to make sure you have the right ingredients on hand. For this recipe, you'll need butter, flour, milk, slices of toasted bread, and of course, chipped beef. "Chipped beef is usually in the grocery store near the breakfast meats," Johnson advises. "If you can't find it, you can substitute dried beef, but be sure to soak it first to remove the excess salt." Also, she notes that she uses whole milk for this recipe, but any type of milk should do the trick, even non-dairy varieties. And, if you'd like to add a little spice to the meal, she suggests using fresh-ground pepper and nutmeg, to taste. 
Cook the chipped beef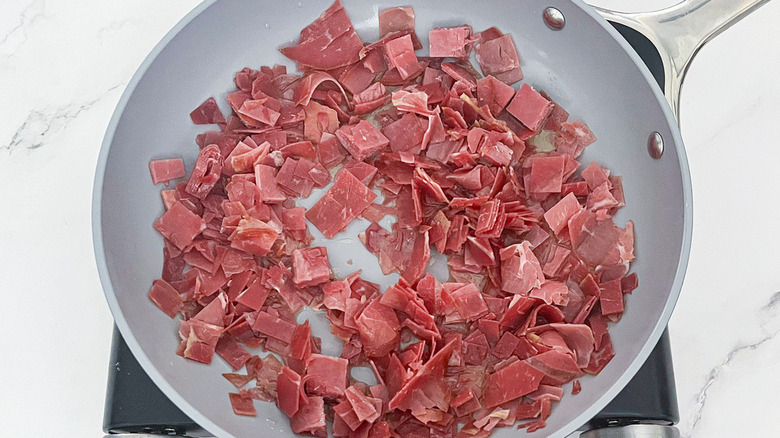 Erin Johnson/Mashed
Now that you have your ingredients sorted, you can jump right into this recipe. Place a large skillet on your stove top and melt all of the butter in it. Next, add the chipped or dried beef, allowing it to cook for 3 minutes. Also, if you haven't yet toasted your bread, you'll want to do that. Be sure to toast all 6 slices of bread so they're nice and crispy — you'll be piling on beef and gravy, so you don't want a flimsy piece of bread at the base!
Make the gravy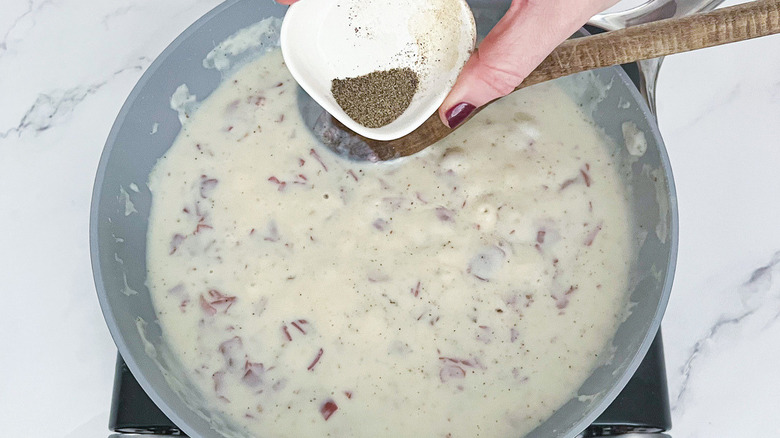 Erin Johnson/Mashed
One of the best things about this dish is that it comes together in one pan. So, you don't need to worry about pulling out a separate pan to start making the gravy — simply build it in the same pan with the beef. First, add the flour to the beef and stir, ensuring that it evenly covers each piece. Allow the flour-coated beef to cook for 3 minutes, then pour the milk in 1 cup at a time, stirring constantly. As you continue to stir, the mixture will thicken. Continue cooking for 5 minutes, until you have a nice, thick gravy. If desired, you can add pepper to the gravy for a slightly spicy flavor. 
Top the toast with creamed chipped beef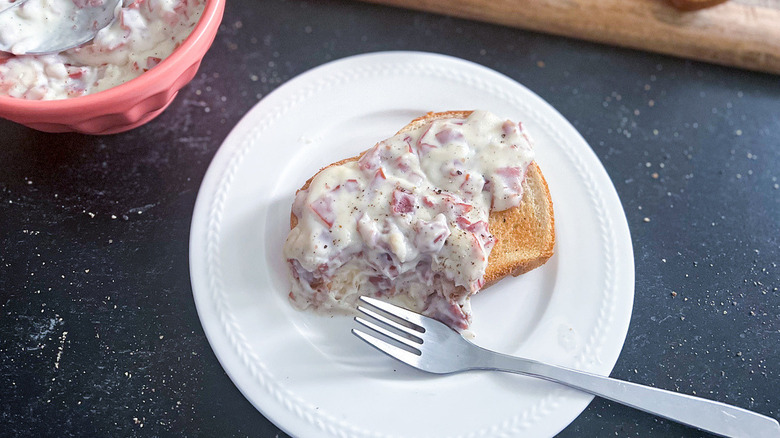 Erin Johnson/Mashed
Now that you've prepared the toast and the creamed chipped beef, it's time to combine the two. Spoon a hearty amount of the creamed chipped beef onto each piece of toast, then sprinkle on some pepper and nutmeg, to taste. Just like that, you're ready to serve and enjoy! Johnson notes that this dish is best when it's eaten immediately, but as long as you don't try to store gravy-topped toast (it'll get mushy real fast), you can store the gravy in the fridge and reheat it as leftovers. "You may need to add a bit more milk when you reheat," Johnson says.  
Also, feel free to switch up what kind of bread you use. "You can get creative and use any bread product you'd like. It's equally delicious on biscuits and waffles," Johnson says. However you serve up this creamed chipped beef, we're sure you'll love the flavors almost as much as you love the nostalgia. 
Easy Creamed Chipped Beef On Toast Recipe
Enjoy a nostalgic breakfast meal with this recipe for creamed chipped beef on toast. It's heart, full of protein, and you can whip it up in 15 minutes.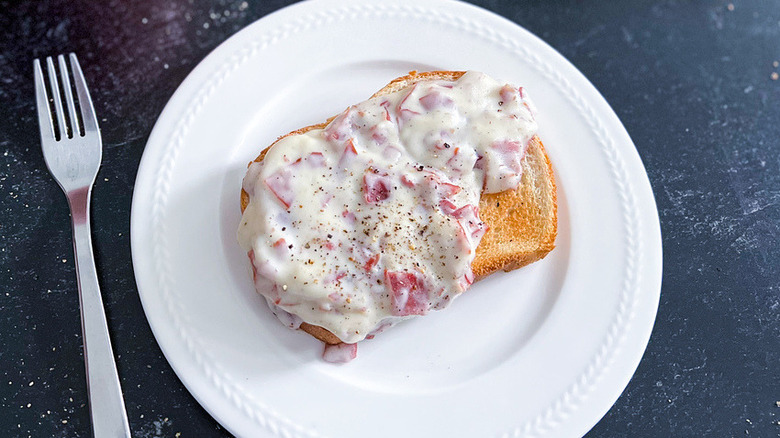 Ingredients
4 tablespoons butter
6 ouches chipped beef, chopped
¼ cup flour
2 cups milk
pepper, to taste
6 slices of bread, toasted
Optional Ingredients
Directions
Melt butter in a large skillet and add the chopped beef. Cook 3 minutes. Toast your bread.
Add flour to the beef, and stir well. Allow to cook for 3 minutes.
Add the milk to the beef one cup at a time, stirring constantly.
As you stir, the mixture will thicken. Continue cooking for 5 minutes. Add pepper, to taste, if you want a spicier gravy.
Spoon the creamed chip beef onto pieces of toast and finish with fresh cracked pepper and nutmeg, if desired.
Nutrition
| | |
| --- | --- |
| Calories per Serving | 659 |
| Total Fat | 27.7 g |
| Saturated Fat | 13.4 g |
| Trans Fat | 1.2 g |
| Cholesterol | 242.7 mg |
| | |
| --- | --- |
| Total Carbohydrates | 23.3 g |
| Dietary Fiber | 1.7 g |
| Total Sugars | 5.8 g |
| Sodium | 452.3 mg |
| Protein | 80.0 g |