Gordon Ramsay Is Unimpressed With This Fiery Grill TikTok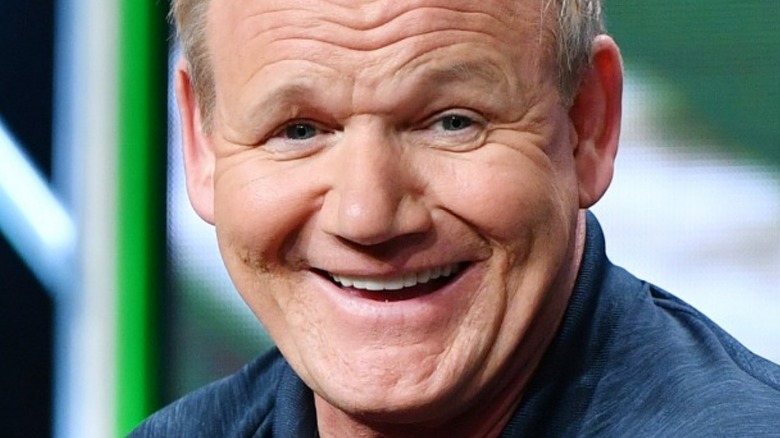 Amy Sussman/Getty
Gordon Ramsay is already known to be a tough one to please on his popular show, "Hell's Kitchen." And on TikTok, he's no different. Ramsay is known for gently "roasting" fans for their culinary creations, from a ketchup and french fry holiday loaf to a possum burger.
The restaurateur and TV star also doesn't tolerate slander when it's directed at himself. When one fan took a jab at Ramsay's unmelted grilled cheese, the celebrity chef responded with, "Oh, hold on a minute, girl, I was in Tasmania! They don't have grills in Tasmania!" However, he then admits his mistake, saying that he didn't leave his sandwich in the pan for the proper amount of time, leading to his mediocre toastie. We have to admit, we didn't expect to ever see Ramsay eat humble pie.
Speaking of grills, Ramsay recently reacted to a TikTok featuring a grill, unimpressed as ever. Though the video was clearly satire, Ramsay called the person in the video an "idiot."
Fire in the BBQ
Ramsay dueted a user's video in his popular #RamsayReacts series. The video was posted by user @soloobek1, who overlaid the TikTok with text which read, "When your friend thinks he's Gordon Ramsay." The "friend" is shown using tongs to move around some items on the grill, which is covered in flames. The person then dumps liquid onto the grill, causing the blaze to grow even more, before shutting the grill's lid. The video then cuts to a burnt pile of food, which was obviously overcooked in the fire.
In his duet (side-by-side video of himself and the flaming grill vid), Ramsay says the person working the grill is "on fire!" In his caption, the star writes, "I think this guy needs to watch a few more of my #recipe videos !!! Seriously ?!?"
It's safe to say that Ramsay wasn't amused by this video, but the original poster couldn't have been more delighted to land on the "Masterchef" star's radar. In the comments on Ramsay's vid, @soloobek1 replied, "WE MADE IT" alongside two laugh-cry emoji. Many more fans seemed to agree that getting zinged online by Ramsay is something of a "dream."