C4 Energy Just Introduced A Candy-Inspired Drink
Although we don't like to admit it, chowing down on a handful of sugary candy like Skittles might not be the best way to energize yourself before a workout. However, if you're someone with a sweet tooth who is looking for a convenient way to get a boost before your exercise regimen, we have good news. As reported by PR Newswire, the popular pre-workout brand C4 Energy has teamed up with candy company Mars Wrigley to make a Skittles-flavored energy drink that's totally free from any sugar, sodium, carbs, and calories. The new collaboration comes just months after the brands linked up for a Starburst-flavored energy drink line. 
The announcement noted the beverage is currently available for purchase in a 12-pack of 16-ounce cans for $29.99 on the C4 Energy website and Amazon, as well as at various retailers around the US. Per the press release, the new Skittles-flavored beverage is designed to give fans of the fruity candy a "new way to taste the rainbow" while providing all the same "explosive" performance-boosting benefits of other C4 beverages. This includes the addition of BetaPower betaine, a beet-derived extract designed to support muscle repair and hydration, as well as CarnoSyn beta-alanine, an amino acid that aids with muscle fatigue (via C4 Energy). Moreover, each drink boasts 200 milligrams of caffeine per serving.
Sip the rainbow with the new Skittles-flavored energy drink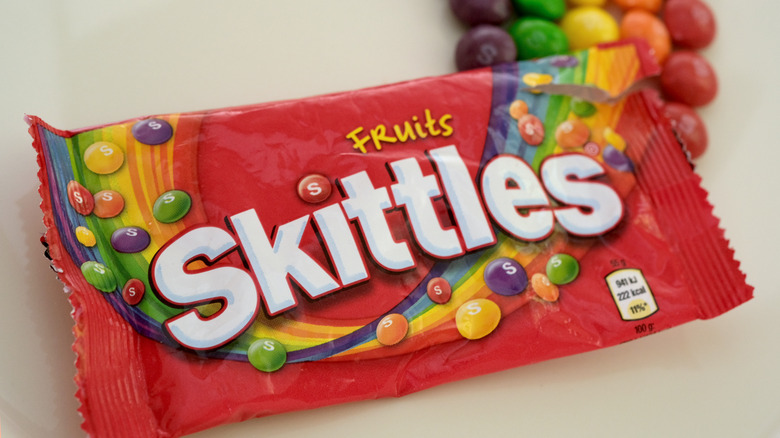 Yuriko Nakao/Getty Images
While Skittles fans have plenty of reasons to be excited about the new energy drink, some may be curious about the taste. Unlike the Starburst C4 line, which consisted of a variety pack named for four different fruity tastes, the new Skittles C4 drink comes as a single offering formulated to "taste like a handful of Skittles" (via PR Newswire). 
Although different fruit flavors in one drink might sound chaotic, some fans who have already tried the drink have given it their seal of approval. The numerous 5-star reviews of the product on the C4 Energy website include comments on how accurately the beverage captures all of the Skittles flavors. "I had heard it was supposed to taste like all the flavors together. It actually does!" wrote one commenter. They added, "... I can definitely pick out grape at the beginning and then start to taste the lemon and lime." 
If you're still not sure, don't fret: You may be able to try the drink before you buy, according to the press release. As part of the product launch, the brand is also bringing back its C4 Energy Mobile Candy shop, which will travel across the US and give fans the opportunity to sample the new Skittles C4 beverage. For more information on when the C4 candy truck will be near your city, keep an eye on the C4 Energy social media accounts.