How TGI Fridays Is Honoring Delivery Drivers
On February 10, TGI Fridays invites all delivery drivers to dine in and tell their server, "I work in the delivery business," (via PR Newswire). The team at Friday's wants to take a moment to show their "heartfelt 'app'reciation" for the hardworking crews who have helped keep all of us running throughout this lengthy pandemic by delivering the foods, goods, and services we all need. The promotion is shared as a way to thank "Every truck driver, every FedEx, UPS, USPS, and DHL delivery person; every courier, carrier, and crusader, who not only made sure holiday gifts were delivered, but also that food makes it to each Fridays™ restaurant."
Delivery drivers, who largely continued working through the pandemic, have seen significant increases in work, and the delivery industry is reaping the benefits. Grocery delivery and pick up, for example, had $1.2 billion in sales in August of 2019, and skyrocketed to $6.4 billion in October of 2021 (via Statista). The Houston Chronicle notes that while food delivery now "generates more than $150 billion worldwide," many of the workers doing those deliveries are still struggling to receive fair treatment.
In short, these drivers have been busy — and TGI Fridays want to say thank you.
How to get your free appetizer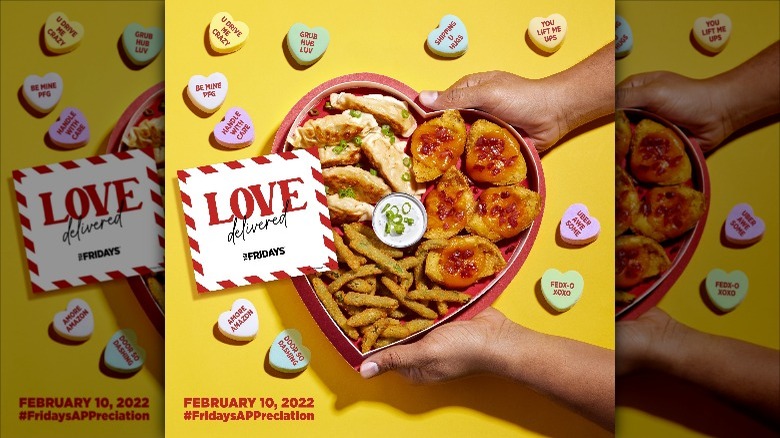 TGI Fridays
Delivery drivers can get their thank you gift simply by mentioning what they do for a living at their local TGI Friday's, and showing up either in uniform or with their work credentials, according to a press release on PR Newswire. These hard workers can then choose their favorite free item from an app selection that includes Green Bean Fries, Loaded Potato Skins, Philly Cheesesteak Eggrolls, Warm Pretzels, Chips & Salsa, Pan-Seared Potstickers, or Spinach & Artichoke Dip. 
"Delivery workers continually feel the stress of supply chain challenges. Despite the pandemic and staffing shortages, they load up and drive, fly and deliver all the stuff the rest of the world is constantly tracking because they know everyone is depending on them," Sara Bittorf, Chief Experience Officer at TGI Fridays, says in the press release. The brand also encourages the general public to share their gratitude with a shout-out on social media using the hashtag #FridaysAPPreciation.
Thank you, delivery drivers.