Instagram Is Swooning Over Alex Guarnaschelli's Parker House Rolls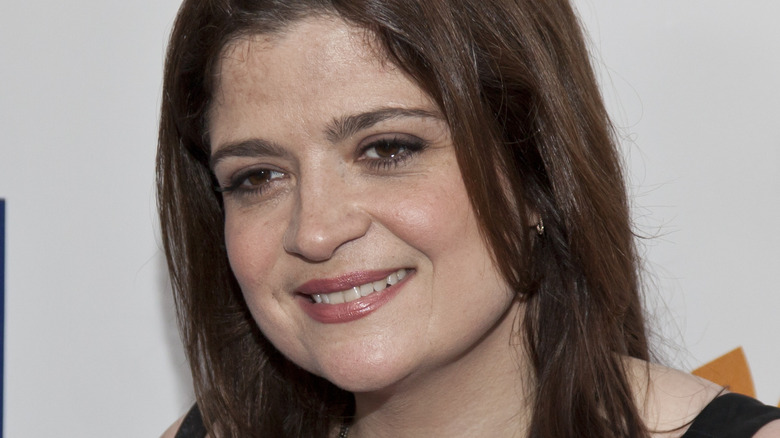 lev radin/Shutterstock
You likely know Alex Guarnaschelli from "Chopped," where she judges contestants as they scramble to create gourmet dishes from bizarre Mystery Box ingredients. However, along with being a Food Network star and celebrity chef, she is also a restaurateur, currently owning and runing Butter Midtown, which is an upscale restaurant in New York City that "uses greenmarket offerings to create a seasonal menu." The NYC institution has existed for years, and is Guarnaschelli's first restaurant as executive chef. Right now, the menu includes delicious foodie-worthy eats like gnocchi mac and cheese and pan-seared Branzino with rainbow chard.
One of the most popular dishes at Butter, however, is arguably the Parker House Rolls, which are Guarnaschelli's take on the nostalgic pull-apart rolls that so many of us ate growing up (and remain popular today). "They are deep Americana," the Food Network chef said of the doughy squares in a past interview with Food & Wine. The star chef recently posted a video of her fluffy, buttery rolls on Instagram, and people are freaking out over how amazing they look. 
The rolls are glazed with butter for added flavor
If you're curious about what Alex Guarnaschelli's famous Parker House Rolls look like, all you have to do is open her Instagram page. There, she has posted a video clip that shows her brushing a butter glaze over the pull-apart rolls. Needless to say, it's making people hungry. Many fans chimed in, unanimously declaring how delicious the rolls look — one person actually said they gained five pounds just from watching the mouthwatering clip. And really, same. Even fellow Food Network host Sunny Anderson had some thoughts. "THIRST TRAPPIN ALL OVER THESE INSTA STREETS," she wrote, with a bunch of heart-eyes emojis.
The Parker House Rolls are one of Alex's go-to bread dishes, and if you're interested in making them yourself, you can find the entire recipe at Food Network. The secret to making these better than what you'd buy in the store? Dousing them with softened butter at the end along with a sprinkle of sea salt. According to her interview with NYC Monthly, Guarnaschelli says the Parker House Rolls were one of her first culinary successes. "They were the first recipe I made in a professional kitchen," she explained. "I serve them at Butter to this day."